Trojan's create excitement after first home game
On Aug. 26, the Trojans Varsity Football team won against Southeast Polk 42-17.
After seeing crowds of people covered in red, white and blue clothing and body paint, holding multiple American flags, one might guess that it is the Fourth of July. But at West High, this only means that there is a home football game.
Students from all grades came together to support the varsity team as they took on Southeast Polk on Aug. 26, celebrating the first home game of the season.
Starting out the game, Head Coach Garrett Hartwig hoped for a successful season.
"[The goals are] to get better every game, to be in a position to win every game and to give our guys a good opportunity and a good experience all fall," Hartwig said.
And those wishes came true. West won the game 42-17 after touchdowns from Andre White '18, Davonte Lane '17, Matthew Huff '17 and Oliver Martin '17. After the game, running back Nick Campbell '18 spoke on the moment after scoring the first touchdown.
"[The highlight was] when we came out and just started going hard. We got the first touchdown, and that is pretty cool," Campbell said. "It hyped up the team and made our attitude get up there since we knew we were going to have a hard game."
The teams post-touchdown excitement was not the only aspect of the energy flowing through the field. Poms member Liz Nodia '19 is enthusiastic about the coming season because of the student section's encouragement.
"I like performing in front of the student section and just being a part of the performance," Nodia said. "[The student section] is always really excited and it's so fun to be a part of that."
Twirler Julia Baker '17 also feels adrenaline from the student section's energy, and is looking forward to the coming season for that reason.
"I'm excited just for the student section because they always cheer us on and they are always having a good time," Baker said.
Cheerleader Brittan Gregoire '18 looks forward to the coming year because of the interactions made between the teams and the student section.
"I'm really excited for this year because home games are my favorite and the cheer team and poms team this year are very interactive and I'm excited for that," Gregoire said.
Adding to the excitement brought about by the football team, twirlers, cheerleaders and dance team, Emma Peterson '17 believes the marching band helps bring energy to the stands and field during halftime.
"I like hanging out in the stands and playing music there because you are with your friends," Peterson said. "It's also fun later on when we do big things for half time because right now it's just kind of mediocre, but once we get out there we do something really cool."
The energy of the stands lasted throughout the night as West fought for the win, rotating between chants, cheers and clapping. After the game, the students cleared, and the football team celebrated their win. Hartwig reminisced on the intense four hours of the game, believing that the hard work had finally paid off.
"[My highlight] was just watching the boys compete," Hartwig said. "We just had nine months of hard work, and the boys played very well."
And with the hard work came many goals for the coming season, including one from Dillion Shephard '18.
"I am most excited to play city this year, because we lost hard last year on a couple of plays we should have beat them on," Shephard said. "This is our redemption."

Hang on for a minute...we're trying to find some more stories you might like.
About the Writer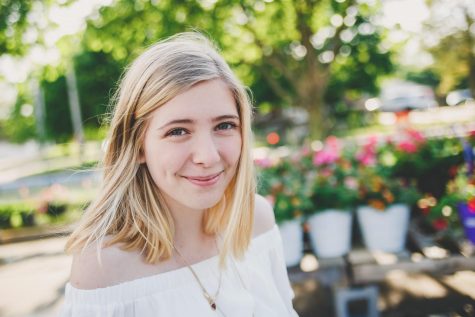 Fenna Semken, Online Editor-in-Chief
Fenna Semken is a senior at West High. It is her third year on staff and she is Online Editor-In-Chief this year. When she isn't working on the website, Fenna enjoys taking long hikes at Macbride, listening to live music on Friday nights, and going on road trips with her best friends. Contact her...