Student mixtape: Jack Paradee '17
Senior Jack Paradee shares his most played songs of the week.
While some high school students may have playlists full of today's pop hits, senior Jack Paradee has a myriad of songs from a variety of eras. The WSS sat down with him to talk about his most played songs.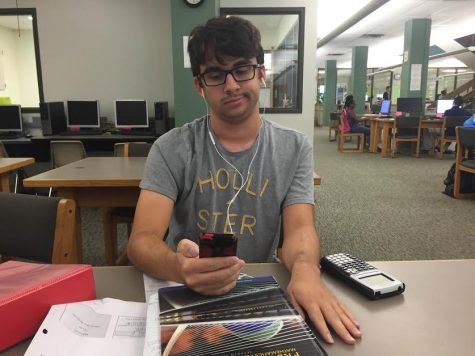 1. "Harder, Better, Faster, Stronger"-Daft Punk
Paradee's favorite tune is from the album Alive 2007 by French electronic duo Daft Punk. Although the song has been covered dozens of times, the Daft Punk version won the GRAMMY award for Best Dance Recording in 2009. Paradee has been a fan of the duo's work for a long time. "The song is repetitive, but it has a nice techno tone to it. I also love Daft Punk, especially their newer song 'Up All Night to Get Lucky,'" Paradee said.

2. "Opening from Soul Eater"
"Soul Eater is a magna show. I lived in Texas for fifteen years before I moved to Iowa City, and my friends back there showed me an episode. I fell in love with the opening song." Paradee said. Since its inception in 2004, the program has been consistently lauded for its music and has been considered one of the best magna series of all time.

3. "Rock You Like a Hurricane" -Scorpions
This 1984 classic released by German rock band Scorpion has been featured in arenas and television shows alike, and Paradee has loved the song since he heard it for the first time years ago. "I like it because I love classic rock. I don't know a lot of other songs by [the Scorpions], but this song is really catchy," Paradee said.

4. "Don't Stop Me Now"-Queen
While "Bohemian Rhapsody" is arguably the most famous song by legendary rock band, Queen, Paradee has a different favorite. "'Don't Stop me Now' is great because it is a nice upbeat song that I like listening to every now and again. Queen has calm songs with a happy tone to them," Paradee said.

5. "Hard Day's Night"-The Beatles
While this song is over fifty years old, Paradee only encountered it recently. "I found this video on Youtube of comedian Gabe Newell spoofing The Beatles, and this song was in it. I ended up really liking it," Paradee said.

Graphic by Leah Dusterhoft