Way back Wednesday: fashion
This weeks WBW will feature a fashion magazine the West Side Story created in 1988.
Welcome to this week's Way Back Wednesday. Today's feature is fashion – special from 1988 where the WSS dedicated an entire newspaper to fashion.
Brothers Shane '89 and Germaine Romberg '91 pose at the back-then infamous protesting site of Iowa City, the Pentacrest. They brought back a familiar 60s style of tie-dye t-shirts which is still prevalent in the halls of West High today. You may also notice the acid wash jeans they are wearing – which are still so in style that I see someone wearing them as I type this.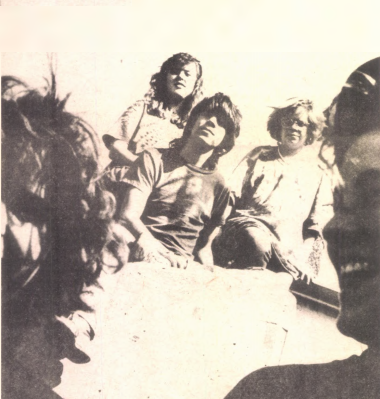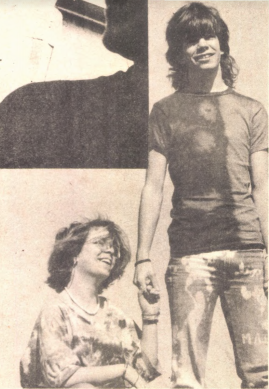 Pictured below is Stacy Stalkfleet '90 and Maggie Fletcher '90 modeling another 60s theme, loose and black. It's crazy how our clothing styles now resemble styles from 1970-1990 with our own mainstream flare.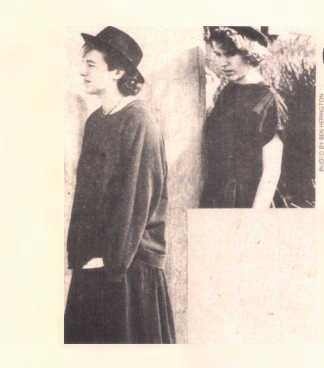 2016 popular brand names include Abercrombie & Fitch, Nike and PINK by Victoria Secret. In 88, those brands were Generra, Guess, Liz Claiborne, Ralph Lauren and Esprit. Though some of those brands are still around, I've never heard of or seen Esprit or Generra. Below is Kristen Deraad '90 and Clint Curtis '90 modeling their brand name clothing bought at Younkers. I'm a huge fan of the way they posed in the same position but different clothing. It's dope.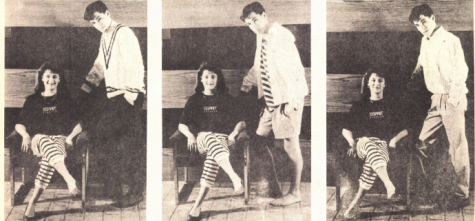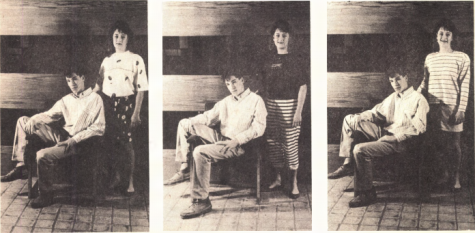 Apart from this fabulous photo shoot, is an even better quote that I think everyone can relate to even today

"

"Every guy I see has Nike high-tops on their feet, Levi's on their butt and some college they'll never make it into sprawled across their chest (and, of course, their fake Ray Ban sunglasses).""

— Mary Anderson '88

: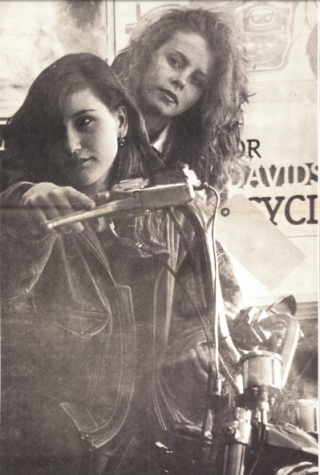 Pictured above is Larissa Graham '89 and Kristine Waerhaug '88 featured on an old Harley Davidson bike sporting their new leather jackets. Though leather jackets have been around for a long time, particularly in bikers, 1988 was the first year that leather jackets were worn fashionably at school.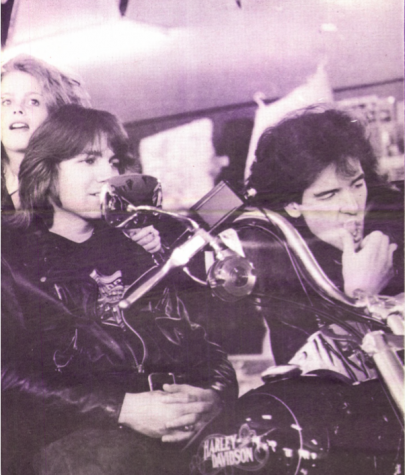 < Look, mom: it's your old best friend Rusty! LOL.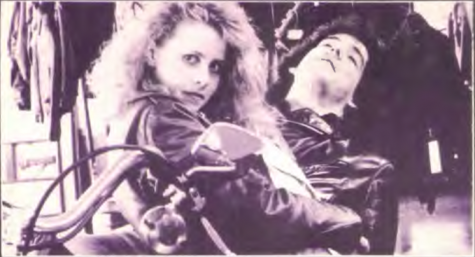 Above is Waerhaug with Rusty Spencer '88 relaxing in their leather at Bernie's Harley Davidson Shop which used to be on Highway 965 in North Liberty. I wonder why it's not there anymore?
And lastly, the infamous thrift shopping. It's funny to think that our generation has created its own "new" look by shopping secondhand like Goodwill and Ragstock. Featured below are people wearing clothes only bought from those two stores. Ragstock was and still is the place for cheap, quality, vintage clothing and Goodwill is great for some great steals on name brand things. But back then, people shopped at Goodwill to find original clothing that a previous owner put their own touches in to make it unique – much like bleaching and hole-distressing.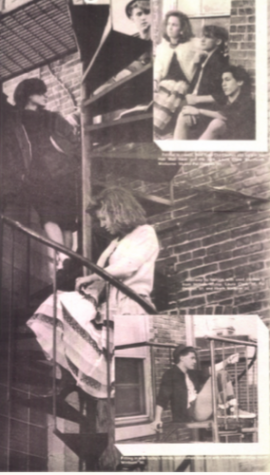 Pictured above from top to bottom is Laura Clark '88, Heath Wimborne '90and Pat Deegan '91 captioned as "modeling the stairway to fashion."
Another little tidbit to end your day, this railing downtown behind Atlas is still all the "buzz" when taking pictures, and this picture was taken in 1988. It's marvelous how we think we're starting new trends when really were just repeating the fashion cycle from years past.
Hope you enjoyed a closer look at fashion in the 80's, see you next week!