Club connection: EATS
West High students meet each week to discuss how to become a more eco-friendly society.
Little things can make a big difference. This is what members of Environmental Activists Teaching Sustainability (EATS) believe to be true.
What originally started as two separate clubs (Ecocentric and Slow Foods), eventually transformed into EATS, combining their core ideas of environmental friendliness and healthy "scratch" cooking.
"What we realized was, all the same kids were in both clubs, so we merged the two clubs together and we called it EATS," club adviser Kerri Barnhouse said.  Since the two go hand in hand, it only made sense that they meet once a week and discuss the same issues.
Shortly thereafter, the West High garden was established.  While it does play a major role in the club, the limited number of students involved in EATS makes it difficult to maintain.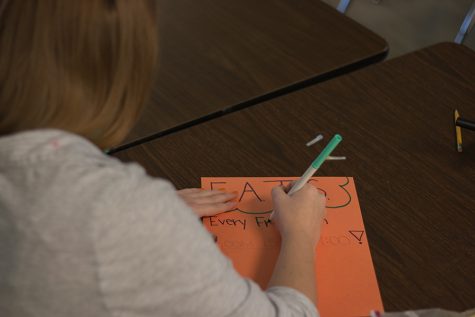 "
…with a small amount of effort, what can start as just a little seed and a little bit of work, [can result in] a bountiful food."
— Beth Long
"Some years we have more kids than others.  And so it's been hard to sustain it the last year," Barnhouse said.  However, while at its peak, EATS has used the garden to give back to the school and community.
"We supplied the West High cafeteria with produce and they made all kinds of salads and they added it to keisch; they added it to all sorts of things.  They used our basil and lettuces and potatoes and tomatoes…everything.  They used the produce in the cafeteria as much as they could," said Barnhouse.  "…We also took a lot of the extra produce from the garden to the crisis center.  We've done that a few times.  That was amazing for the crisis center because they usually just get canned goods and processed things."
Another goal of EATS is to promote healthy eating.  Barnhouse recalled a recent meeting where the club had a cooking day and made kale chips.
"Don't have potato chips; have some kale chips.  And they're amazing; they're delicious," she said.
Club leader Mara Jensen '17 recalled one of her favorite cooking memories.
"…my freshman year, one weekend we went to [Wilson's] apple orchard and we picked apples ourselves," she said,  "…then the next weekend or day we had a cooking day and we made a bunch of apple stuff.  And then I think we also had a bake sale and sold apple muffins and apple crisps," Jensen said.
Along with healthy eating and giving away food, fundraising also plays a large role in EATS.  The club raises money for Heifer International, an organization that allows people to buy various animals for families in need.  "They're not expensive.  We were hoping to get a goat, but [we] ended up raising enough money for two goats and a water buffalo and something else for a family in a small village in South America," Barnhouse said.
The environment is also benefiting from the club.  "We also have purchased acres of rain forest, so now it can't be destroyed," Barnhouse said.  EATS has adopted part of a coral reef as well.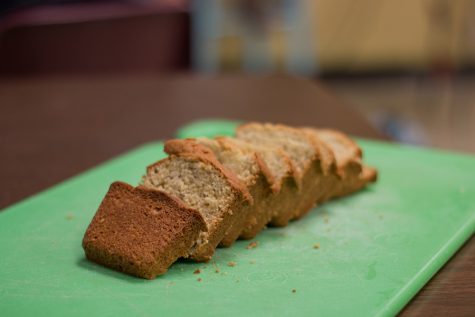 Members of the club emphasize that one doesn't need money in order to make a difference in their own lives.  Co-club adviser, Beth Long, says something as simple as growing a garden out of old food containers can be a great way to stay healthy.
"Tons of things can be a garden.  You can take old containers from yogurt and make that…your pot.  You don't have to go out and spend a lot of money.  Seeds are pretty inexpensive.  You can probably find something in your garage that you can throw dirt in and start growing a garden or a side of the house or a part of your backyard your mom'll let you dig up," she said.  "My boys ate a lot more tomatoes this year because they went out in the garden and picked them and they're like, 'Wow this really tastes good.'"
Jensen agrees.
"[In order to be] environmentally friendly, it's the small things that count more, than really big efforts.  So just simple things like riding your bike, maybe even every once in awhile or walking to a place or recycling…just being more aware of what you're eating and where it comes from [can help]," Jensen said.
Long believes being able to see where her food comes from is important.
"My favorite part is when students get to see where their food came from," she said,  "…and with a small amount of effort, what can start as just a little seed and a little bit of work…[can result in] a bountiful food…everything tastes better when you were part of it."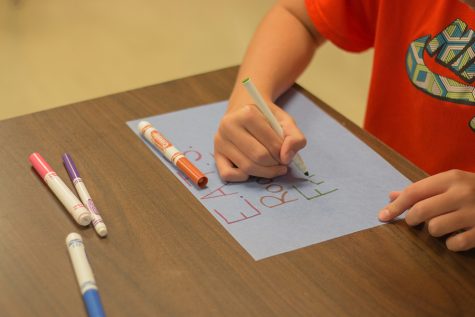 Donate to West Side Story
Your donation will support the student journalists of West High School. Your contribution will allow us to purchase Scholarship Yearbooks, newsroom equipment and cover our annual website hosting costs.
About the Contributors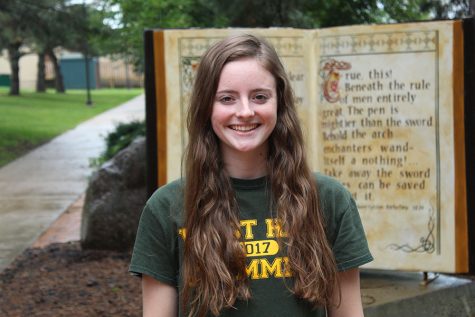 Jessica Doyle, Podcast Editor
Jessica is a senior at West High and is enjoying her third year on staff. Though not a baller, she truly excels when it comes to taking the mic at karaoke...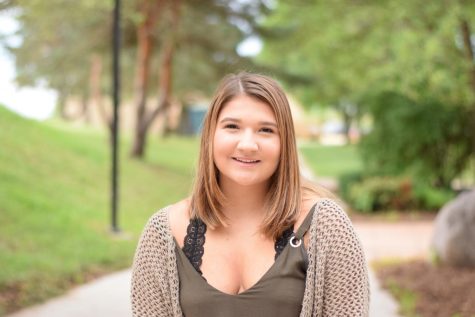 Olivia Dachtler, Photographer









Olivia Dachtler is a junior at West High, this will be her second year on staff as a photographer. If she is not out shooting, she can...