Student mixtape: Anna Tafolla '17
During second period, you can usually find Anna Tafolla '17 in the library with a cup of coffee listening to her favorite tunes. The WSS caught up with her on a windy October afternoon as she shared her most played songs of the week.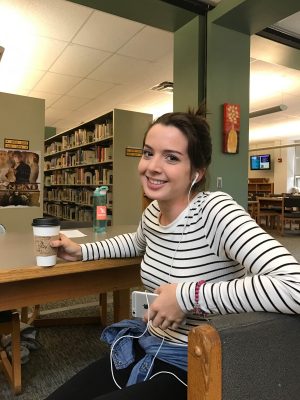 1."Closer"-The Chainsmokers
Tafolla's top song happens to be one of the most popular songs in the country. The Chainsmokers became internationally known with their smash hit "Roses" last year, and have since been a favorite at music festivals ever since. However, "Closer" has made the New York based band a phenomenon. "I listen to 'Closer' in the car and when the beat drops it is really fun to dance to when you are alone." Tafolla said.
2."Famous"-Kanye West
Although "Famous" may have Taylor Swift fans enraged, it is ranks second on Tafolla's list. The controversial song and accompanying video has made Kanye West more famous than he already was. "I love Kanye, and 'Famous' really gets me pumped up." Tafolla said.
3."Kill Em With Kindness"-Selena Gomez
Selena Gomez has come a long way from playing a wizard on Disney Channel. She has established herself as a powerful force in pop music and is the most followed person on Instagram (102 million followers). Although recent medical issues have prevented her from releasing new music, Gomez's 2015 album Revival went platinum. "I love Selena and I saw her in concert, so when I hear 'Kill Em With Kindness'  I think of the great time I had at the concert." she said.
4."Gold"-Kiiara
Although Kiiara is a relatively unknown artist, her single "Gold" can be heard on radio stations across the globe. Its catchy EDM rhythm has caught the attention of Apple, who used the song  in an Apple Watch commercial earlier this year.  "It's different and celebrities  that I follow on snapchat like [model] Meredith Mickelson listen to [Gold], so when I hear it I feel cool." Tafolla said
5. "No Problem"-Chance the Rapper
Chance the Rapper has gone from being a little-known Chicago rapper to performing at the White House Christmas Tree Lighting in two short years. His latest album Coloring Book has received universal acclaim, and everyone from Beyoncé to President Obama has praised Chance's talent. Tafolla's favorite song off of the album is "No Problem." "It's fun, and I love Chance's style. His hats are so cool," she said.