Student mixtape: Spencer Thompson '17
Anyone who says that rock and roll is dead has not spoken to senior Spencer Thompson. His playlist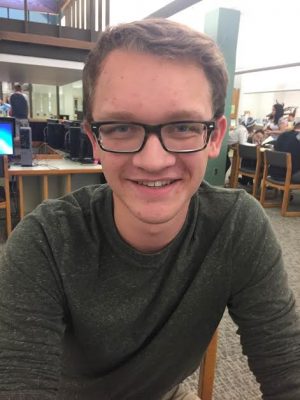 is composed of classic hits ranging from the 1970's to early 2000's. The WSS got a chance to delve into Thompson's most played tunes.
1."Back in Black"-ACDC
This Kinnick Stadium staple became an instant classic when it was released in 1980 by rock band ACDC. Thompson notes that the musicality of the song is what makes it one his favorites. "I really like the guitar as an instrument and I like the rhythm of the drums in the chorus." he said.
2. "Let it Be"-The Beatles
While the entire Beatles catalog only went on streaming services a little over a year ago, Thompson has been a fan of the British band for as long as he can remember. "This song makes me feel a lot more peaceful, and makes me forget about my problems. I also like that it has a historical factor; it was written in the 1960s during great conflict and struggle and [the band] was singing about peace."
3."All Star"-Smash Mouth (from Shrek)
This 1999 hit has found its way into commercials and TV, but "All Star" is often best remembered as the flagship song of the Shrek soundtrack. The song and movie has a special place in Thompson's heart. "Shrek was one of the few movies I watched as a kid, and it meant a lot to me growing up. It's also a very inspirational song."
4. "Sabotage"-The Beastie Boys
The Beastie Boys have been around since the 1980s and have since achieved a cult following. While Thompson does not connect with all of the band's songs, "Sabotage" is one of his favorites. "It's not calming like "Let it Be", it kind of gets me riled up. It gets me in the mindset of 'let's be productive, and not be lazy' like my usual self."
5. "Dream On"-Aerosmith
The quintessential rock song. This 1973 classic tops Thompson's list. "It's my all time favorite. I like how it's not all about sex and drugs, and there is a message in it of following your dreams as far as they will let you go .I also really like the guitar in there and the bass. The chorus is also really great."