Guide to local fall jobs
West High students share their seasonal job experiences.
Whether you prefer lifeguarding or lawn care, seasonal work seems to be pretty popular among teens.  But just because that summer tan and sweat may have died doesn't mean your precious paycheck has to go, too. There are plenty of opportunities in and around Iowa City for those looking to celebrate fall with a job.  Prepare to take note of places you can look into for the next autumnal season.  This is your personal guide to local fall jobs.
First up on the list: Colony Pumpkin Patch, located in North Liberty.  Popular application destination for numerous Johnson County high schoolers, Colony's employees are given various tasks that range from ticket-taking to watching over youngsters on a play structure.  Employees, known as 'corn cops', are also tasked with patrolling the corn maze, making sure people aren't throwing corn at one another, cutting through the corn, or circling around in, well, circles for two hours and 17 minutes.
Megan Paulson '17 started working at Colony this season.  Her responsibilities vary from helping at the register to filling "corn cannons".
"I usually work seasonal jobs.  This one's been by far my favorite job out all the jobs that I've had.  I like working in the scale house, getting to really greet people when they come in and just talking to them…it's just more friendly," she said of her experience.  "It's pretty laidback.  We have a lot of fun and stuff.  Along with working, we hang out and a lot of friends work here."
Along with the relaxed work environment, Paulson also enjoys getting to see families make memories.  
"…Just getting to see the families get to hangout and have fun, play games…it's pretty cool," she said, proceeding to offer to take a picture for a family.
Although Paulson spends a lot of time interacting with others at her job, she doesn't believe one has to be extroverted and people-oriented in order to work at Colony.
"You want to have good customer interactions, but working back there we kind of rotate a little bit…Not a ton of people [play paintball] because they don't want to pay extra…so even back there you can be quiet and have your own time.  We have a lot of reserved people, that [have] definitely been really quiet their first year and come back and get used to it and have fun.  It definitely helps, but you don't necessarily have to be a super open person," she said.
On fall Friday and Saturday nights, Colony might seem like the place to be, with the newly added Zombie Paintball attraction.  For Paulson, dressing up as a zombie is one of the perks that comes with the job.
"I'm a zombie, you can tell by the bruises," Paulson said, referring to her war wounds.  There are various "scenes" throughout the patch where zombies will play dead.  "People drive by on trailers and shoot [zombies] with paintballs…we have protection and stuff, so it's not that bad."
"I think it's fun.  And you can hear people's reactions as they drive by.  Some of them are scared, some of them are just laughing.  And then some kids, you get the little boys that take it seriously [and are like], 'Take them all out!'  It's pretty funny.  It's definitely a fun job," Paulson said.
While Paulson enjoys most parts of her job, she does note that there are some not so glamorous tasks when it comes to working at a pumpkin patch.
"We have to go through all the pumpkins when they're bad.  [Sometimes] you pick out a bad one and the guts will just spill out."
For those considering employment at the pumpkin patch, owner Katie Colony is considering more part-time workers than seasonal workers to assist with off-season work and "…maybe a social media person, helping with off-season mechanics of things."
Next up: Wilson's Orchard, has been an Iowa City tradition for decades.  Another common workplace for teens in the Iowa City area, Wilson's employees can often be found stocking shelves or serving apple turnovers to customers.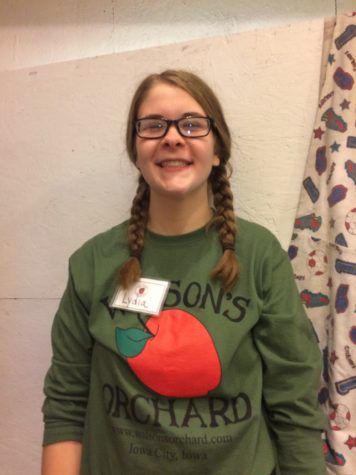 Lydia Youngquist '18 and Elaina Irving '18 both began working at Wilson's this past August after learning about the job through networking.
"We switch off every hour or so what we're doing.  So sometimes we'll be at the apple seasoning table and sometimes we'll be behind the counter, being a runner.  And sometimes we're doing donuts.  There's just a lot of things to do," Youngquist said.
Youngquist feels there is a sense of community at Wilson's.
"This is my first job, so it was good to get in there easily with a perfect small little family.  It's super fun," she said.  "You know everyone who works here because they only work here a short amount of time. (Wilson's is only open for three months.)"
Youngquist also enjoys the relaxed work environment at Wilson's.
"…It's pretty chill.  You know the people who own the place and they're very relaxed."
As for what type of person would work well at Wilson's, Youngquist believes someone who is friendly and extroverted would make for a good employee.
"It's really one-on-one with the customers because they all come up to you and ask you lots of questions…I know a lot more about apples than I've ever known in my entire life," she said.
Irving believes wanting to interact with others is important when it comes to working at Wilson's.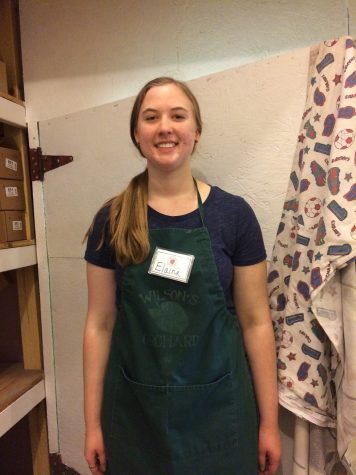 "Someone that's flexible with anything and they like to interact with people and is good at doing multiple things at once [would be good at this job]," she said.
Irving and Youngquist both agree they've gotten better at multitasking since starting their jobs.
Well, there you have it: your personal guide to local fall jobs.  Whether you hear the orchard or zombies and corn mazes calling your name, when the fall application season occurs next year, be sure to keep this one on file.