Skipping into the spotlight
West High's fall play, the Wizard of Oz, will be employing a real dog to play the part of Toto. Read on to learn about their experiences with a dog backstage.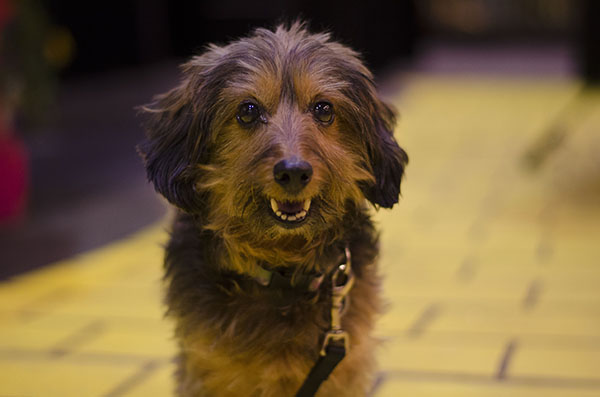 Deniz Ince, Print Editor-in-Chief, Co-Sports Editor
December 2, 2016
West's Wizard of Oz is finally ready for the stage, after the cast utilized a combination of allergy medications and anxiety pills to ameliorate Skipper's stage fright.
Skipper, the pet of Emily Shie '19 and Sydney Shie '17, will accompany Dorothy (Kate Vander Leest '17) as Toto. At the age of ten, Skipper offers advantages that other dogs don't, such as being calm; however, he also gets anxious around all the people, noise and lights, hence the anxiety pills.
"Unlike all the other [dogs], he was just so calm, [but] he does shake," Vander Leest said. "At first it was more of excitement [and] he was wagging his tail all the time. Now it's kind of sad [that] he just shakes all the time."
Because of this issue, owners Emily and Sydney had to get Skipper anxiety medication to take.
"He does shake every now and then because he's old. We had to get him anxiety medicine for it, but I think he's good now," Emily said.

Loading ...
An additional dilemma is Vander Leest's allergy to dogs, troubling her because of the great amount of time she has to spend with Skipper.
"My initial thoughts were [that] I love dogs and this [was] going to be great. Then I had to remember I'm allergic to dogs, which is funny, but I'm fine if I take my allergy meds in the morning," she said.
Despite the minor troubles the actors have faced, the show has continued with great success under the guidance of Katy Nahra, English teacher and theater director. Nahra gained experience,  having used dogs in previous shows such as Annie and Legally Blonde.
"I'd say those experiences helped me prepare for this time around. You just know that we only use [the dog] when we absolutely have to; there's scenes where we won't," she said.
Forcing a dog to bark or run at specific times proved to be difficult, so the cast tapped into their creativity to alter the script in certain ways. One change the cast employed was only using Skipper in half of Toto's scenes, and having Vander Leest carry a stuffed dog in Dorothy's basket in the rest.
"[It] doesn't look completely like our real dog, but it works because it's just too much to have a dog who's not actually meant for theater go out and be a good dog for so long. But Skipper's been a really good dog," she said.
In rehearsals, Skipper has been performing just as the cast hoped he would, aweing the Shie's with his ability to listen.
"I was shocked and very surprised because he's really not trained," Sydney said.
In addition to his performance, the Shie's were skeptical as to why Skipper was picked for the part. Vander Leest, for one, found importance in his appearance, seeing that Skipper resembles Toto in the movie. During the audition process, Nahra and Vander Leest also payed attention to the dog's mood.
"
We'll see what he does. He's really not predictable. We'll see if he pulls it off. I think he will."
— Sydney Shie '17
"We tested their temperament. That was the most important thing. It had to do with how they reacted onstage around a lot of people: if they were too fidgety it wouldn't work for our lead, Kate, to hold the dog," Nahra said.
Skipper was ultimately chosen for his tranquility and small size, making him easy for Vander Leest to carry.
"I don't know what I'd do if he had a little freakout. [He] really hasn't [yet] in the rehearsals [when] we had all the lights [on]. Even though you can tell he's a little anxious because he's shaking, he hasn't had any major freakouts," Vander Leest said.
In a preemptive action for a potential melt-down, the cast assigned people to take care of Skipper when he's not onstage. The stage managers also prepared to get the stuffed dog onto the stage in the case of an emergency. Despite the countless ways Skipper could become galvanized, the Shie's are confident in his abilities on performance night.
"We'll see what he does. He's really not predictable," Sydney said. "We'll see if he pulls it off. I think he will."
Showtimes are 7 p.m.Friday, Dec. 2 and 1 p.m. and 7 p.m. Saturday, Dec. 3 in the Arganbright Auditorium. Remaining tickets will be sold at the door before the shows.