Inside 'The View' filming at West High
The View reporters Clay Aiken and Sunny Hostin interview students today regarding their reactions to the election.
This story has been updated to reflect a change in The View's schedule.
Sunny Hostin, Clay Aiken and The View production team paid a visit to West High today, Jan. 6, to film a segment regarding student reaction to the election.
Hostin is the Senior Legal Correspondent & Analyst for ABC News and a co-host on The View. This morning, she interviewed senior Jade Merriwether and sophomore Lujayn Hamad in the library at around 8 a.m.
"[I am] happy about how smart and insightful the students were that I spoke to. Also, a little surprised how informed everyone was during this election," Hostin said. "These are students that aren't even eligible to vote yet, but are very familiar with the issues. Those that were old enough to vote knew which issues were important to them [and] explained why they voted the way they did. You have many informed voters here and I appreciated that."
Erika Merriwether, mother to senior Jade Merriwether, observed the filming in the library this morning.
"I think that Jade and all that have been interviewed can promote a message of inclusion–and dare I say acceptance–and I am very proud that they were selected to represent the spectrum of political movement and you know, just social views," she said. "I'm proud that she is participating and I'm proud of all the other students as well."
Correspondent Clay Aiken, who was the first runner up in American Idol in 2003 and has since ran for Congress in North Carolina, sat down with seniors Ala Mohamed and Michael Moonjely.
"This school is probably one of the most diverse that I've ever seen. It's really impressive," Aiken said. "We have been talking to a small group of students; they have been open and honest and very forthcoming. I'd say courageous, some of them, which is nice, especially for kids who are sixteen or seventeen years old. And the atmosphere at the school has been pretty welcoming."
The segment is scheduled to air on Monday, Jan. 16 as part of The View's MLK Day show.
Various students were interviewed one-on-one throughout the day and those that were able met in the afternoon for a panel discussion led by Aiken and Hostin. In the discussion, the students, who were from varying idealogical standpoints, had conversations about their response to the election. The students said that there were "definitely" moments of tension, noting that at one point they shouted at each other.
"It's one [thing] to talk about these conversations, but it's a completely different thing to actually take action of listening and sharing your opinion respectfully," Jade said.
"It was such a good experience to sit down and see both sides and see a side you really didn't know," Mohamed said. "Just knowing they feel the same way we do when we're like 'Oh, we're scared to wear our [Hijab] scarf'–they're scared to say their opinion. Knowing both of our choices have consequences was really eyeopening."
"
It was such a good experience to sit down and see both sides and see a side you really didn't know."
— Raneem Hamad '17
Mason Hanson '18 didn't know what to expect from today.
"We were interviewed by The New York Times but that was for something that was written. It wasn't watching the reactions on our faces or talking to each other," Hanson said. "It was what we were individually saying whereas this was a conversation among us. It was definitely nerve-racking not knowing what to expect."
Afterward, however, the students all said they learned from each other and they believe these kinds of conversations should happen more in the future.
"People always feel like they can't talk about [controversial issues] because they don't want to make someone uncomfortable, but I feel like that helped," Hamad said.
"You have to be uncomfortable, because then these things don't get talked about and the problems are still there and it grows," Jade added. "Now, we're trying to obstruct the problem, which is really good… it was definitely a very uncomfortable moment, but there were times like 'Wow.' It was worth it."
View Comments (2)
Donate to West Side Story
Your donation will support the student journalists of West High School. Your contribution will allow us to purchase Scholarship Yearbooks, newsroom equipment and cover our annual website hosting costs.
About the Contributor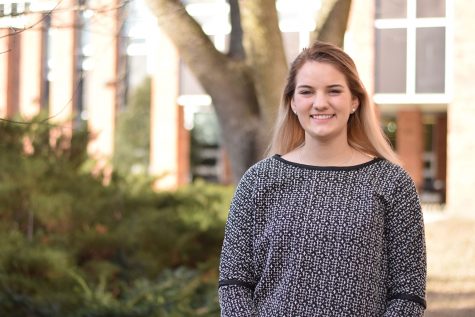 Isabelle Robles, Digital Editor-in-Chief











Isabelle is a senior this year at West and has been on West Side Story staff since she was a sophomore. When she's not working on...