Out with the old, in with the new
The SMARTboard has made an ongoing appearance in ICCSD classrooms, but this West High staple is about to change.
Many students have entertained a class period filled with the complaints of a teacher who is stuck calibrating a SMARTboard. The days of this cruel and unusual punishment are over, as SMARTboards will soon be replaced with interactive whiteboards. These new whiteboards, technical name Epson Brightlink, will use the same software and technology as the current SMARTboards but are cheaper, bigger and can be used as whiteboard or as a SMARTboard.
Over the course of the next four years, these new devices will find their way into each classroom in the district. Adam Kurth, Director of Technology and Innovation for the ICCSD, says this new product has "the interactive functionality of the SMARTboard on the whiteboard."
The interactive whiteboards will provide little to no change in classrooms.
"It is just a projector that has [SMARTboard] components built in," Kurth said. "They are functionally indistinguishable from SMARTboards…even the software won't change."
This change will not only have a low impact on classrooms but will be low-cost as well.. Kurth said the average total cost of a single SMARTboard and its corresponding projector is $3,600. The new interactive whiteboards, worth $1,600 each, save $2,000 per classroom. This extra money will be invested back into the classroom towards other new technologies, the specifics of which are yet to be determined.
With the installation of the interactive whiteboards there will be extra SMARTboards floating around the ICCSD. These boards will be "recycled" back into the school system, meaning that in schools where technology has not been upgraded, the SMARTboards that have been removed from updated schools will replace the outdated ones.
According to Kurth, the current system for technology replacement uses periodic upgrades for one-third of the technology in each building every two years. The interactive whiteboards will not follow this system. For the 2017-2018 school year, Hoover Elementary and Liberty High will be equipped with all new technology, and in the 2018-2019 school year, the three middle schools will follow suit. It is currently unknown when West will be receiving this upgrade.
In terms of length of setup, or time required to turn them on, the interactive whiteboards will provide little change from what teachers are already used to with SMARTboards.
"The biggest change in terms of functionality is returning the whiteboard to a whiteboard," Kurth said.
Due to this, many teachers at West High are looking forward to once again having a real whiteboard..
"It will be freeing for a lot of teachers who like to write and project [at the same time]," said social studies teacher Melissa Nies.
"
It can become a central point of the classroom."
— Melissa Nies, social studies teacher
Nies is also looking forward to the increase in screen size. The current SMARTboards have an 85 inch diagonal, while the new interactive white boards will have a 100 inch diagonal.
"With as much space as we have, there will be more room for students to get up there and work together. It can become a central point of the classroom," Nies said.
With new technology comes training, but for many teachers this tedious task proves worthwhile in the long-term. Math teacher Jean Morsch uses her board not only to teach her classes, but also to save her notes from the day. With the SMARTboard, everything written on the screen can be saved and there are special features to insert various math symbols. With the interactive whiteboards these features will not go away, but will simply be shifted into a different location or function.
"I'm willing to learn new technology and go from there," said Morsch. "I'm going to be able to do a lot more of the math."
In the coming years, students can expect a flow of upgrades as technology rapidly changes to better fit the modern classroom.
Leave a Comment
Donate to West Side Story
Your donation will support the student journalists of West High School. Your contribution will allow us to purchase Scholarship Yearbooks, newsroom equipment and cover our annual website hosting costs.
About the Contributor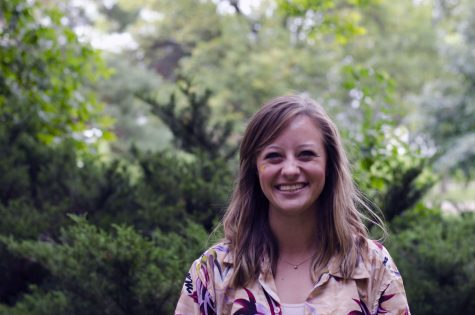 Molly Howes, Reporter











Molly Howes is a reporter for the print edition of the West Side Story. She is a senior this year, and when she isn't writing for...