Tomorrow starts today: an "Andi Mack" review
Disney Channel shakes things up with a groundbreaking series that embraces the ordinary and makes it extraordinary.
Like so many kids in America, I grew up watching Disney Channel. It was easy to get caught up in vibrant lives, whether it was twin boys running around a grand hotel or a brown-haired high school student by day transforming into a blonde pop star sensation by night. They were entertaining and zany whenever they came on, but as more sitcoms have come to replace the old ones, they've become stale.
Every girl has to become a singer, the clothes need to be trendy and hip, the scripts need to put everyone in ridiculous situations and there have to be subplots focusing on all the characters. All of that quickly became monotonous. The shows aren't nearly as funny as the ones I grew up with, no matter how hard they try, and for all the personality the actors are supposed to give, they end up like everything else on the network. There are the goofy dorks (younger brothers mostly), the super girly girls and the sporty girls (some to an exaggerated degree). This is proven by almost every show or movie.
The shows are all something for kids to aspire to rather than relate to. This is why I've turned away from most of those productions and gone back to early 2000s Disney, thanks to "Lizzie McGuire". It's not the greatest show in the universe–there were some early rough episodes and absolutely-crazy-explosions-of-color costumes–but it holds a special place in my heart. I remember falling in love with the movie at about four (the beginning of the Growing Up with Disney phase), and the series itself still holds up because I can relate to it. The situations that Lizzie and her friends get into (school elections, wild parties, a crush who doesn't see you "that way" despite your own feelings) all feel like things I could stumble upon later in life. Also, even with all the absolutely insane things that happen (Lizzie meeting celebrities, her and her younger brother swapping bodies, the Halloween episode), the writers at least try to make themselves self-aware of the ridiculousness or, better yet, paint it in a realistic way. The scenarios always balance between a dream sequence and reality quite well. Plus, I really enjoy watching Hilary Duff because she's so darn likable.
Terri Minsky, the creator of that hit sitcom, is back at the network 13 years after her previous show ended. Her newest creation, "Andi Mack," is actually inspired by a true story involving actor Jack Nicholson, who discovered who he had believed was his sister until he hit 40 was actually his mother. Additionally, Disney Channel president Gary Marsh himself prefaced in a New York Times article that the network needed something that would allow it to be discussed in a different way. How to go about it? Include content that kids growing up faster would find mature while digesting the new, attractive thing known as Disney programming.
I remember stumbling on the pilot for this series during spring break and finding it cute but not thinking much of it. However, I couldn't deny my own interest in knowing who was working on it and what the show promised. With every episode, I became more invested in the characters, the humor and the plot to the point where I'm now in the situation of loving a Disney show as a 17-year-old. I'm not ashamed of that.
Not only does "Andi Mack" avoid the manufactured feeling of recent sitcoms, ditching the stage sets in favor of actual on-site shooting, but it also doesn't go overboard with its more mature content. The writers don't try and shove anything dark or dramatic down their viewers' throats. Instead, they portray it exactly as it should be in life: heart-wrenching yet believable. This is the true magic of "Andi Mack": It's a Disney Channel show that's refreshing for disregarding the steps made by its sitcom siblings. Most importantly, it embraces those differences and is still 100% accessible for the audience, something that parents will appreciate and kids will love.
"
This is the true magic of "Andi Mack": it's a Disney Channel show that's refreshing for disregarding the steps made by its sitcom siblings [and embracing] those differences."
— Luke Reynolds
"Andi Mack" focuses on exactly who the title addresses: Andi Mack. She's a 12-year-old girl approaching 13 with a new attitude: rebellion. Her mother has been trying to protect her for most of her life, and she's decided to try and grow up a little bit. Meanwhile, Andi's older sister, Bex, has returned and is here to stay. She's determined to become a bigger part of Andi's life for all the time she's been away and Andi's thrilled to know she has someone else to rely on. But then a secret escapes, one that completely uproots everything Andi's ever known about her life. Add all the drama that awaits her in middle school (a crush on a boy who has a high school girlfriend, for one), and wow, life is absolutely hectic.
As cliche as it may sound, "Andi Mack" makes this content work. For starters, Andi herself isn't what you'd expect of a Disney heroine. While other Disney actresses have had long hair throughout the runs of their shows, actress Peyton Elizabeth Lee keeps her hair short. Where Disney girls have to be interested in something traditionally girly or the complete opposite, Andi goes for the middle ground: art, where she can embrace both sides of herself. She's even a little more courageous than protagonists have usually been. Lastly, instead of taking the time to say what she wants to say, she goes for it. She calls out her crush's girlfriend for using "Amber Alert" as her greeting because it's used when children are kidnapped. Props to her.
But it's not Andi alone who gets that focus. We have Andi's two best friends, Buffy and Cyrus, who get ample screen-time and feel like more than caricatures. The former gets a very powerful subplot where she's forced to straighten her hair since someone can't see in class, something that African-American girls may connect with. Meanwhile, the latter hints at the possibility of Disney becoming more progressive with their inclusion of LGBT+ characters.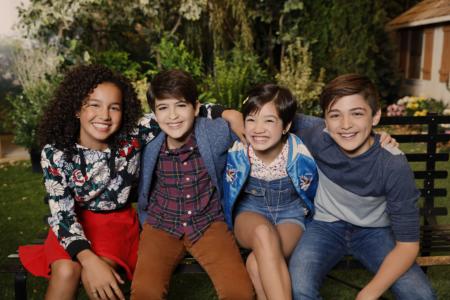 There's also a lot of time spent on Bex and Celia, the other women in Andi's family. Their argument about who really knows what's best for Andi is discussed in many scenarios. Whether Andi can be trusted with Bex and a horror movie or if the two mothers can even get along in the first place to support this teenage girl, they keep going back to the latter throughout the series. That's what makes it work: is Bex truly capable of being Andi's mother? Is Andi all right and happy with that? Is she willing to take more risks than she usually does? Those questions linger and are answered as the episodes fly by. Each new moment presents itself in a different way with the core unchanged.
That's the wonder of "Andi Mack" in a nutshell. I may be a 17-year-old now completely and wholly attached to a Disney show, but at least it's an excellent one. The latest Disney Channel headliner has a big heart and feels necessary in these times, with solid acting (particularly from Lilan Bowden, who plays Bex), bright costuming and direction, actual sets and realistic situations and plot points. Great writing brings all the color and spunk home. This deserves all the attention it gets.
Let's hope the network continues the excellency in its second season coming in the fall, but until then, you can watch the pilot below to try it out.
Disney Channel
Leave a Comment
Donate to West Side Story
Your donation will support the student journalists of West High School. Your contribution will allow us to purchase Scholarship Yearbooks, newsroom equipment and cover our annual website hosting costs.
About the Contributor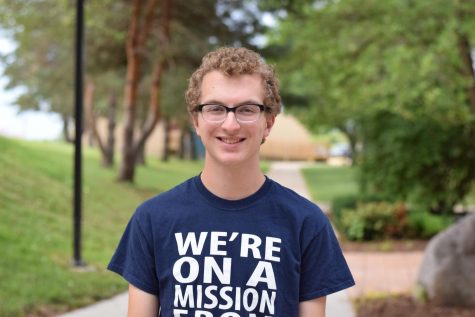 Luke Reynolds, Copy Editor, Anchor, Reporter
This is Luke's first and only year as a member of West Side Story. He'll be kept busy with anchoring, editing and reporting, but he's gonna have fun while...