Ben Folds excels at tour kick-off in Davenport
Alternative rock artist Ben Folds kicked off his fall 2017 tour with a show at the Alder Theater in Davenport, IA.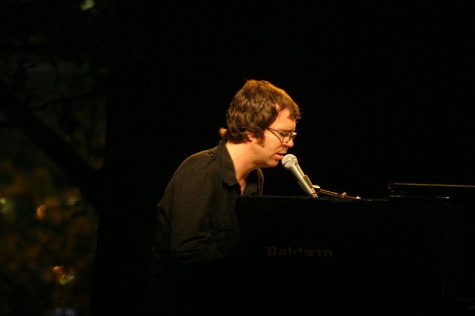 Ben Folds performed at the Adler Theater in Davenport, Iowa last Saturday. It was the evening of August 26th, the kickoff of Adler's own Alternating Festival and the first stop of Folds' 2017 Paper Airplane Tour.
In case you are not familiar with Ben Folds, he is a classically trained pianist. He first received fame as the front-man of the alternative rock band "Ben Folds Five" in the mid to late nineties. After the band broke up in 2000, Folds released a string of successful solo albums as well as collaborations with artists such as Regina Spektor. He is known for a unique "piano-led" style of rock music.
The show was split into two parts. First, Folds played seven songs, all of which were from his solo albums. I noted some emphasis on his last album, 2015's "So There." After he played five of the songs, Folds explained the plan for the second portion of the show. During intermission, paper and pencils would be available in the lobby. Members of the audience were to write requests on the paper, fold it into an airplane and launch it onto stage following a countdown.
When the pianist returned from intermission, the stage was a sea of airplanes. He randomly selected nine songs throughout the performance, and came back for one last encore performance of "One Angry Dwarf and 200 Solemn Faces."
"
Ben Folds is the real deal to see live. If you are a fan of his work, even causally, his concerts are a must see. "
— Harry Westergaard
The show highlighted Ben Folds' immense talent at playing piano solo. Though some of his solo work can be highly produced, he is more than capable of putting on an outstanding show with nothing but himself and the piano. Many of the songs had additional parts that he either substituted on the piano, or that he reached to the audience to help with. That point brings me to another skill that Folds excelled at: harnessing the energy of the audience. It was a rowdy one, eager to play a part in the performance, and Folds more than compensated. The audience supplied claps on "Annie Waits," hums for the horns on "Army" and the Regina Spektor lyrics to the duet "You Don't Know Me." It was a glowing, engaging experience for fans of Ben.
As if this weren't enough, there were other feats of improvisation, including two numbers extemporized. During the first portion of the show, he did the live routine of "Rock This Bitch." A staple of Folds' live performances, it consists of someone shouting the aforementioned phrase, and then Folds coming up with lyrics and a riff, generating a new one every performance.  Along with this, when requested to play a song he had never heard of, "Tennessee Whiskey," he created yet another brand new composition.
An unexpected surprise came during his requested playing of "Steven's Last Night in Town." At the end of the song, a man approached Folds with a portion of a drum set. Folds got up from the piano and fired into a full on drum solo to finish off the song. This was definitely planned, but went surprisingly well with the impromptu song that preceded it.
Ben Folds is the real deal to see live. If you are a fan of his work, even causally, his concerts are a must see. Folds makes a unique, audience-inclusive work out of it, dancing between the lines of performance art and straight out concert. He has boundless energy on stage, and enthusiasm for the experience and the fans. The Paper Airplane tour has only just started.  If you can, I would highly encourage you to catch Folds somewhere across the country this fall. It is a decision you will not regret. 
Here are the songs from the concert in a playlist I compiled on Spotify: