West High Club Fair allows exposure for lesser-known clubs
On Aug. 31, the annual West High Club Fair was held, with many smaller clubs recruiting students.
The West High Club Fair took place on Thursday, Aug.31. The club fair is held annually at the beginning of the school year to help students find clubs that they might have an interest in joining.
Student representatives of the clubs seized this opportunity, especially clubs needing much exposure, such as   the newly formed West High Bike Club.
"We just want to get together as a bunch of casual riders and go out for a bike ride every once in awhile," bike club representative Diego Rivera '19 said.
Rivera and fellow cycling enthusiast Ryan Braverman '18 said that they founded Bike Club in hopes that there could be a place for anyone to come and enjoy a bike ride in the company of fellow students.
"We didn't want to make it very competitive, we just wanted to make it so you can stop in and have people to ride with," Rivera said. "We want people of all levels to be riding with us . . .  so really there's going to be something for everyone," Braverman added. Bike club plans on meeting Mondays and Wednesdays after school, and additionally  holding a longer ride on Saturday mornings.
Another club seeking more student involvement was West High's Model UN club. Model UN, a national event that simulates the United Nations (UN) general assembly, is an historically under-represented club at West High.
One of six members of the club last year, Patrick Taylor '20, represented Model UN at Thursday's club fair.
"We go to a meeting during the first Thursday and Friday of April in Cedar Falls and the rest of the time is spent preparing for it," Taylor said."We discuss global issues, and we do it from the standpoint of our country that our school represents."
"
We didn't want to make it very competitive, we just wanted to make it so you can stop in and have people to ride with."
— Diego Rivera, Bike Club Representative
Although every West High club member represents the same country at this meeting, students receive separate issues to specify in. Model UN has not yet received their country this year, but expects to find out soon.
While recruiting members for West High Science Club, Brandon Zheng '18 and Adam Conrad '18 made a strong case for the competition-oriented club.
"There is an academic competition in March of 2018. We do monthly meetings on the first Wednesday of each month in which we do progress checks," Zheng said.
Science Club members mostly prepare for this competition, as well as discuss how they have made progress in their individual events.
"One person can have up to five events, and there are twenty events that you can pick from," Zheng said. These events range from physiology and anatomy to Scrambler, an event where contestants design a wooden car that must roll a certain distance and stop.
The club fair concluded after many clubs recruited new members. For more information about different clubs at West High, click here.
Leave a Comment
About the Writer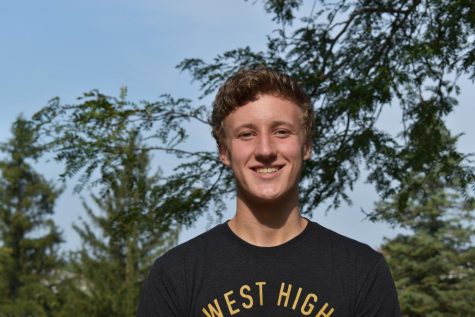 Ken Wilbur, Podcast Editor
Ken Wilbur is a senior at West and a third-year staffer on West Side Story. While not recording podcasts or writing articles, Ken can be found running...