"Thor: Ragnarok" amazes with space opera flair
After two lukewarm efforts, Marvel brings back the Thor character with style in his third solo film outing.
In the past decade or so, we have had more superhero movies than ever. They have become the latest blockbuster fodder. Marvel has been at the forefront of this with their hugely innovative cinematic universe. While many of the beloved characters have been lifted from page to screen effortlessly, there have been a couple that have gotten somewhat lost in translation. Thor, in particular, has proven to be more difficult to do right. This has nothing to do with Chris Hemsworth's portrayal of the character. On the contrary, the casting is perfect and he has brilliant chemistry with the rest of the Avengers. The studio just doesn't seem to know what direction to take his solo films in.
The first Thor film, directed by Sir Kenneth Branagh, was lukewarm at best. The film moved at a snail's pace despite being just under two hours, strayed from Asgard and with that the character's roots and was an example of superhero films at their most underwhelming. The second was not much of an improvement. We all knew that Thor could be subject of an awesome movie; it just needed to be done the right way.
Enter Taika Waititi, a New Zealand-born director known primarily for quirky independent comedies. Though on first glance it may seem strange, it makes sense if you squint a little harder. Waititi's humor and brisk storytelling are just what the series needed.
The story follows Thor, stripped of his hammer and away from his home, Asgard, which has been taken over by the goddess Hela. He finds himself stranded on a planet located on the other side of the universe, and must fight to regain that which has been taken from him.
"
…That's what makes the film such a delight. It is an adventure story in the classic sense, and it reveals in this. "
— Harry Westergaard
It's a classic story shape for sure. The hero is stripped of everything that he thought made him powerful and must channel inner power or some such thing. But that's what makes the film such a delight. It is an adventure story in the classic sense, and it reveals in this.  The film isn't trying to be unnecessarily grim like many of Marvel's imitators. Quite the opposite, the sense of fun in this movie is infectious. The characters don't take themselves or the situations too seriously, which proves to be the fodder for much comedy. It owes a lot more to the Guardians of the Galaxy films than previous Thor efforts.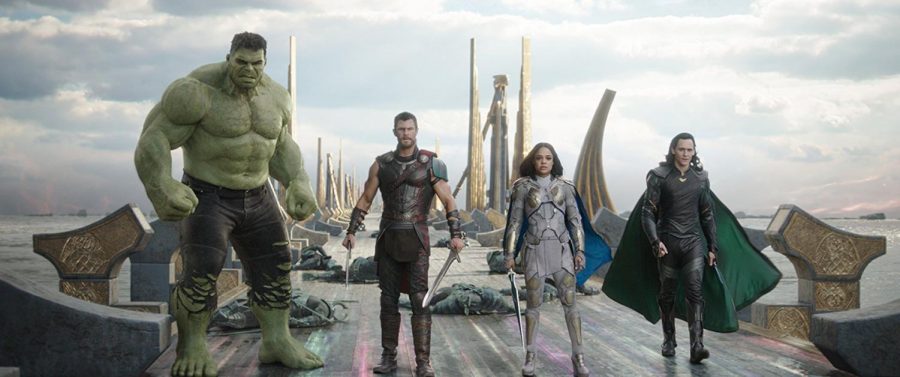 The action takes place mainly off-earth, focusing on Asgard and Sakkar, the planet Thor is trapped on. This is refreshing from the last two installments, which were mainly set on Earth for whatever reason. Out of all of the avengers at this point, he's the only one who's not based on Earth. He can jump back and forth, which makes him different from both the other Avengers and more abstract characters like the Guardians of the Galaxy.  There are so many storylines to be explored with this, so it's a real headscratcher as to why it hasn't been exploited until now. Thankfully, Ragnarok does this.
We visit Earth briefly, but that's to be expected. The scenes on Asgard deliver all of the goods. The cinematography is of course dazzling, and it's great to finally dip into to some more of the actual Norse Mythology. Aside from the event in the title, Hela is derived from Loki's daughter in the myths, Hel. Fenris Wolf makes an appearance, also an offspring of Loki. Don't expect me to provide you with an explanation on that one.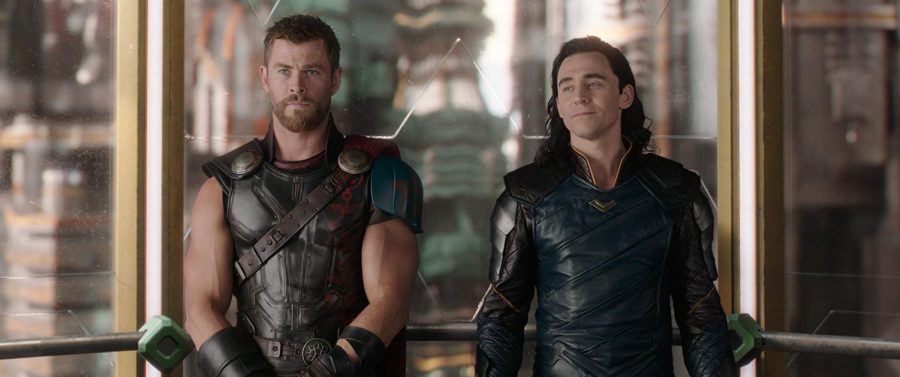 Thor himself also seems to owe more to the myths. In Ragnarok he is portrayed as a hero who is strong and well-intentioned despite being "not the brightest of the Gods," as Neil Gaiman states in the intro to his Norse Mythology. This weakness helps to make a more fleshed-out character. Likewise, it's dealt with in a realistic way. It would be easy to take this as a note to make Thor just a bumbling knuckle-dragger, but the script still does Thor justice. Sure, he's not the smartest, but he's not a complete moron. Chris Hemsworth is on top form as always, building on his previous outings as the character.
Also returning is Tom Hiddleston as Loki. Since the start he has been one of the breakout Marvel cinematic characters, and the role is like an old shoe for him at this point. He has lots of good scenes with Thor as usual, but is given much more to do in the plot than in previous installments. In keeping with the myths, they form an uneasy partnership to solve their predicament. Loki is portrayed as a trickster that fluctuates between making good and bad decisions on a whim.
"
Chris Hemsworth is on top form as always, building on his previous outings as the character."
— Harry Westergaard
Hulk appears, and is actually given a surprisingly significant role that drives the plot. He has more to do than show that this is a Marvel movie by having overlap. It also helps answer the question of where Hulk has been since the last Avengers film and set up his future in the franchise. Mark Ruffalo gives one of his better outings as Bruce Banner, playing him as an awkward nerd, a perfect contrast to the Hulk. The pairing of Hulk and Thor is a curious one, seeing as both of their solo outings in the universe prior to this have been some of the most underwhelming of the bunch. They work better with the larger team, so it could potentially go either way. As it turns out, it works wonders as the two pair up save Asgard.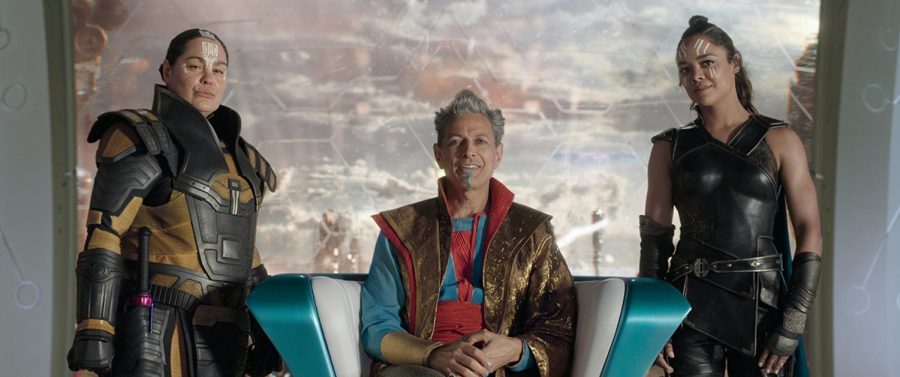 In supporting roles, Jeff Goldblum is also a joy as the Grandmaster, director Taika Waititi takes the director cameo to new places as Korg, and Idris Elba is badass (which is to be expected) as Heimdall. Cate Blanchett provides a formidable if not predictable adversary as Hela.  It's a rather offbeat cast, though star-studded all the same, and they work swimmingly well together. This is in part due, I'm sure, to the large levels of improvisation encouraged on set.
Thor Ragnarok is nonstop fun from start to finish. It's a reminder of how enjoyable a classic adventure story can be when it's done right. From the first use of the Led Zeppelin Immigrant Song to the last, this film never backs down from its breakneck pacing and hilarious one-liners. Even if you aren't typically a fan of superhero movies, it offers a unique experience like no other. If you're looking for a simple great time at the movies, look no further than Ragnarok.
Enjoyed this picture? Here are a couple other things that you may enjoy…