"12 Angry Jurors": Behind the Scenes
On Dec. 1 and 2, Theatre West put on a play that was different from those they've done in recent years: "12 Angry Jurors". West Side Story brings you some of the highlights of the show, as well as some of the challenges involved with a smaller production.
From the 1950s to Now
Fans of "12 Angry Men" may remember men smoking cigarettes and old-fashioned slang, but the Theatre West production is a far cry from this vision. Rather than being set in the past, this version took place in present day New York.
The show centers around 12 jurors deciding whether or not a young boy from the slums should receive the death penalty. Katy Nahra, director of Theatre West, believed modernizing the show would reveal hidden truths about how society hasn't progressed as much as we may think.
"We're actually doing it in the present day to demonstrate the point that not much has changed and that [racism] is still a problem in America," Nahra said.
The choice to change the setting caused only minor changes, such as adjusting some dialogue. The shift also accounts for the change in the title; which was changed to "12 Angry Jurors" in order to include women in the production. In addition, the setting had an impact on how the actors portrayed their characters.
"With our show, we've decided that in today's world, with everything that's going on, people would just come out and say what they're thinking," said Meg Moreland '18, who played Juror 8, the protagonist of the play.
When dealing with such real-life issues, there's always a worry that a cast won't accurately portray it in the right light. The actors took special care to do the play justice and hope that their production can tackle some issues head-on.
"We want to open up for discussion," Nahra said. "If there are discussions that are spawned because of this, that's good. It's a good thing to get people talking."
"
For the actors, it's a lot of pressure. They don't get off stage ever, they don't get a break. It's their show for sure."
— Katy Nahra
No Escaping the Stage
Most Theatre West productions follow the same pattern: scene, fade to black, scene change, repeat. While the time allowed for a scene change may be short, that one minute allows for actors to take a breath and crew members to fulfill their duties. However, in "12 Angry Jurors," no scene changes took place. The entire play takes place in a single jury room, and all the actors are sitting at a table. Some lucky actors have the opportunity to step offstage into the bathroom, but aside from these minor trips, there's no escaping the spotlight.
"For the actors, it's a lot of pressure," Nahra said. "They don't get off stage ever, they don't get a break. It's their show for sure."
But sitting onstage wasn't the least of the actor's worries. With a dense script to memorize and the content all being virtually similar, actors had to be alert at all times in order to not miss a single thing.
"It's been hard because a lot of the language that we use, we're talking about one case, so words will be repeated all the time. So when you're getting your cue, you could possibly have four different lines that could come next," Moreland said. "You have to stay attentive throughout the entire thing. There's not really a chance to space off, [but] it's easy to space off because we're just sitting on stage."
Creating Character
While viewers get to see how the jurors behave on stage in the jury room, only the cast gets to experience all facets of each juror's personality. Normally, actors involved with Theatre West write a character biography before they begin practicing in order to better understand and connect to their characters. In the case of "12 Angry Jurors," these character biographies were essential in the production.
"You really just have to go off of the character you created. You don't get [a] name, you're a number of the juror that you are," Moreland said. "[After writing character biographies] we all connected with our character more and we thought more about the reasons why they were saying what they were saying… and what in their life made them the person in this jury room today."
Sean Harken '21, a newcomer to Theatre West, played Juror 7. In his case, Harken had to interpret his character's apathy towards the trial.
"A big part of his character is he doesn't really care about the trial. He's this really big baseball fan and he has tickets to a baseball game the same night …  they're trying to decide if [the boy] is guilty or innocent," Harken said. "He's kind of like, 'I'm going to vote with whatever I think people will agree with more, the faster I get out the better.' I don't think he understands the magnitude of what his vote is for choosing if this boy is going to die or not … He's just focused on what he wants."
In contrast, Moreland's character took a much deeper and analytical approach. As Juror 8, Moreland was the first character to believe the boy was not guilty, and actively tries to convince the jury of his innocence.
"I had to think about what kind of person would really be thinking to that depth just right off the bat. For me, that would be someone who has experienced death in their life and has lost someone close to them," Moreland said. "When we wrote our character bios, I talked about how my character could have lost like her husband or something, someone very close to her where she now puts so much value on life that the thought of sending the 16-year-old boy off to die without really talking and understanding all angles of this case would be very hard for her."
"
With no set changes, there's not a lot of cues. Everything is already s.et up [because] there's not a lot of change going on"
— Mitch Clements '19
Crew Troubles
Theatre West always has had a goal of including as many students as possible. Therefore, the crew is generally robust and full of promising people to help with whatever is available. In comparison to other theatre groups, the crew plays a much bigger role.
"I knew that there was a big production team with so many students involved and I was really excited to see how that played out. From what I had done with community theatre in the past, the set and props crews were really, really contained. With [having a large crew], you get to meet a bunch of different people," Harken said.
Although this remains true, the show's singular set with no scene changes left little for the crews do to in comparison to other shows. The sound crew had a total of one sound effect, the costumes crew finished their work weeks ahead of time, and each person on the hair and makeup crew was assigned exactly one person.
Even up in the catwalks, the lights crew had a difficult time finding jobs for everyone. Generally, Theatre West shows have many spotlights, but "12 Angry Jurors" is an exception.
"With no set changes, there's not a lot of cues. Everything is already set up [because] there's not a lot of change going on," said Mitch Clements '19, a member of the lights crew.
However, putting on a smaller show provided some advantages as well. For the costumes crew, the lack of elaborate costumes to create gave them extra time to start on their next big project: the spring musical, "West Side Story."
"It was cool because we got to see ahead what the costumes for next show are going to look like," said Ari McClure '20, a member of the costumes crew. "I think it'll be pretty convenient since we can get stuff done ahead of time so there's not a rush at the end like there was with [Les Miserables] or [Wizard of Oz]."
Leave a Comment
Donate to West Side Story
Your donation will support the student journalists of West High School. Your contribution will allow us to purchase Scholarship Yearbooks, newsroom equipment and cover our annual website hosting costs.
About the Contributor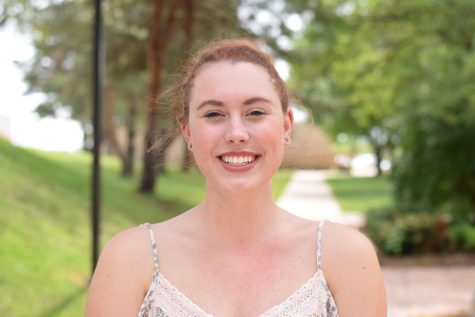 Emma Brustkern, Print Entertainment Editor
Emma is a senior at West High and this is her second year as the Print Entertainment Editor. When she isn't writing, Emma is busy helping Theatre West...