Tragedy in Florida leads to activism in Johnson County
Students Against School Shootings (SASS) was formed less than a week ago, and they are committed to taking more action against gun violence than their parent's generation.
Parkland and Iowa City are 1,442 miles away from each other, but they have been united, along with the rest of the country, in mourning the 17 lives lost in the mass shooting at Marjory Stoneman Douglas High School. The students from Parkland are advocating for more gun control and calling out politicians whose campaigns have been funded by the NRA, such as Marco Rubio. These activists have inspired others across the country, especially high school students, to fight for safety and demand legislation to prevent these tragedies.
Students Against School Shootings (SASS) is a group of students from West and City High School whose main goal is to prevent gun violence in schools. They are pushing for gun control laws such as the reinstatement of the Federal Assault weapons ban, contacting politicians and spreading awareness about the issue. The group formed Sunday Feb. 18. Since then they have organized the walkout in Iowa City on Monday, conducted a forum after school at both City and West where students could contact politicians and register to vote, and on Friday the group attended a town hall meeting where Chuck Grassley was speaking in Manchester, Iowa.
"
I think that's something politicians aren't realizing, how passionate kids are about this and how quickly things can get organized."
— Nick Pryor
Despite the minimal time to plan the walk out and the forum, SASS members were impressed with the turnout of both events. The walkout had more than 300 participants and the combined attendance at City and West for the forums was an estimated 80 to 90 people. Between the two schools, 40 people registered to vote and more than 100 letters were signed. Participants had the option of writing their own letter or addressing a pre-written letter and signing it with their name. People on the phones also managed to fill up the personal voicemail of Bobby Kaufmann, who proposed the "Suck it up, buttercup" bill after the 2016 election.
"Getting that many kids involved on that short notice for [Thursday] was incredible … I think it shows how quickly kids can mobilize in these types of things," said SASS member Nick Pryor '18. "I think that's something politicians aren't realizing, how passionate kids are about this and how quickly things can get organized."
Student activism hasn't been seen as legitimate by some adults. "A lot of people said with the walkout that we organized that people came just as an excuse to get out of school, but [Thursday] we had a combined 80 to 90 kids stay an hour after school. I mean, there's nothing glamorous about calling and writing letters," said Pryor.
The Parkland shooting was the bloodiest high school shooting the United States has ever seen, and it frightened and angered other high school students so much that many decided they had to become an active part of the solution.
"They haven't hit me that hard until this one, and this one has made me really, really upset and I want to do something about it because I don't want it to happen to us," said Olivia Barker '20, after spending an hour after school Thursday making calls to politicians.
In a poll on the West Side Story Instagram, 55% of users said they felt safe at West and 45% said they did not. Some specific concerns students have are how easy it is to get into West and the fire alarms being used as a trap. While in her early bird Chinese language class, SASS member Wala Siddig '18 realized any school could be the next target when the fire alarm went off. Wala recalled, "Some guy in my class was like, 'Oh, isn't this how Parkland started?'"
"
You don't know if it's safer to stay in your class where there could be a fire, or go out where there could be a shooter."
— Olivia Barker
Barker also identified fire alarms as something that causes her anxiety, since the Parkland shooter pulled the alarm to get students out of the classroom. "You don't know if it's safer to stay in your class where there could be a fire, or go out where there could be a shooter."
Superintendent Steve Murley responded to the anxiety this has caused high schoolers in an email, stating that technicians have been coming into West at night to work on securing the doors and by next year students will need to use their ID's to enter. Also, ALICE training will be offered to students in April.
"I think we should take this just as serious as we do with tornado drills and fire drills. I know that the argument comes up that this topic is sensitive and some people will get anxiety from it, so I think we should at least have something that's optional," said Safeya Siddig '18, another SASS member.
However, the most progress can be made by politicians, which is why on Friday some SASS members left school at 1:00 and drove up to Manchester, Iowa where Senator Chuck Grassley was attending a town hall meeting. In the days prior, students had been meticulously preparing which questions to ask, anticipating his responses, researching his voting record and studying how he acted in previous town hall meetings.
"Students are passionate about this, [they] do their research, maybe even more than adults do, just to prove themselves," said Safeya.
They met at a park before the meeting and then split up into small groups when they walked in to not draw attention to themselves. Before the meeting they worried he would notice a group of liberal high schoolers and dodge their questions.
The court house was full of people and some audience members had to stand or sit on the floor. Throughout the meeting, Grassley was mostly questioned about farming and guns.
Wala Siddig '18 was able to ask him about the money he received from the NRA and also addressed that Grassley hasn't been to a town hall meeting in Johnson County for five years.
"
Is the money that the NRA is giving you really worth more than my life?"
— Wala Siddig
"You not coming to Johnson county today [means] I missed school in order to come here early. You are making me miss out on my education to come and talk to you," said Wala, who was met with a mixture of boo's and applause. Some people near her pointed out it was her choice to come. She responded, "I am missing out on my education because I am here for my life right now and I want policy action to be done … Is the money that the NRA is giving you really worth more than my life?"
SASS members felt defeated after the meeting because only two of them were able to ask questions publicly. Towards the end, the group was standing up and shouting his name so he would pick them, but they plan to attend his town hall meetings in the future.
The high schoolers currently demanding action have grown up in a society that has normalized mass shootings as part of life in America. As this generation enters the voting pool, the topic of gun control will likely be at the forefront of many debates.
Safeya advises her peers to "use your fear and put it into action."
View Comments (1)
Donate to West Side Story
Your donation will support the student journalists of West High School. Your contribution will allow us to purchase Scholarship Yearbooks, newsroom equipment and cover our annual website hosting costs.
About the Writer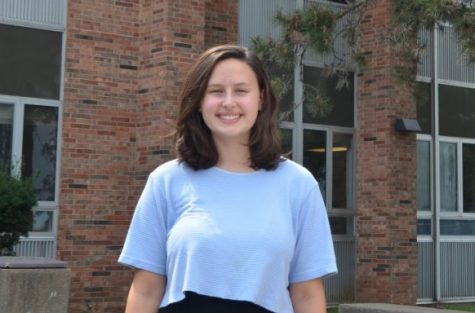 Natalie Dunlap, Online Editor-in-Chief
Natalie Dunlap is a senior and the Online Editor-in-Chief for the West Side Story. She is also involved in theatre and West High Democrats. When she's...