Rachmaninoff's Rhapsody: an eloquent orchestra
Orchestra Iowa, directed by Timothy Hankewich, made it's Voxman Hall debut on Friday, May 4. The orchestra showcased Grammy-nominated pianist Joyce Yang who gave the concert an air of expertise in addition to Orchestra Iowa's rich sounds.
Located on a busy intersection downtown Iowa City, the Voxman Music Building is the stunning venue of Orchestra Iowa's concert. The Voxman Concert Hall is acoustically designed to distribute sound to the audience equally, and the majority of the building is dedicated to the study of musical performance.
Orchestra Iowa had a rich tone and handled the more difficult rhythms with professionalism. With an air of professionalism, the musicians managed to play passionately and with excitement. This may be in part due to the nature of directo Timothy Hankewich, who brought a certain energy to the concert hall with funky dance moves and light hearted nature.
Throughout all of the songs, the dynamics were impactful and used when necessary without being excessive, especially in quieter parts like the third movement of Sergei Prokofiev's 5th symphony. The usage of these dynamics proved to grasp audience's interest and attention. In addition to stellar dynamics, the orchestra's depth in instrument variety allowed for a rich and blended sound.
While all the songs were well executed, my personal favorites were the encores. Before intermission, Joyce Yang played Nocturne by Edvard Grieg as her encore, which was light and passionate. The song insinuated feelings of nostalgia within the audience and was played with strong emotion. Within the piece there were many decrescendos and crescendos that were executed expertly. The piece went from light and quick-paced measures to rich and blended parts almost seamlessly.
The orchestra encore was another favorite of mine. Orchestra Iowa played Saber Dance composed by Aram Kachaturian for the big finish. It served as a way for both the band and the audience to have fun with the upbeat rhythms and fast-paced nature. Overall, the blend of Hankewich's conducting with Yang's stellar piano skills and the variety of instruments in the orchestra served for a wonderfully blended and full sound that allowed for great audience engagement.
Leave a Comment
About the Contributor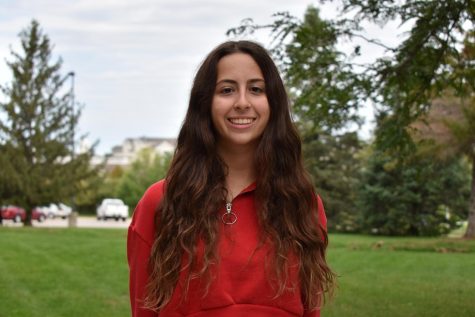 Carmela Cohen Suarez, Entertainment Editor
Carmela Cohen Suarez is a senior at West high and this is her third year on the West Side Story. She is the online Copy Editor and Entertainment Editor....