"Bohemian Rhapsody" is a delightful Queen biopic
The latest musical biopic to come to theaters, "Bohemian Rhapsody," tells the story of Queen and Freddie Mercury. But does it hit the legendary status that the band set? Read one WSS reporter's review.
Any fan of the musical hits from the late 20th century should be familiar with Queen, a band that distinguished themselves through their wide range of songs and the distinctive voice of lead singer Freddie Mercury. Even those who aren't familiar with the music of their time period will likely recognize them in some shape or form; their songs have appeared in many facets of pop culture and they have had a clear popularity, as well as impact, around the world.
Long story short, it came as no surprise when it was announced that a biopic dedicated around the band was going to be put out this year by 20th Century Fox. The production crew consists of Bryan Singer in the director's chair, who, despite having been involved in a number of controversies behind the scenes, has proven himself to be a wholly competent director ("The Usual Suspects," "X-Men") and an adequate fit to helm. The main star of the film is Rami Malek, who gave an excellent character performance in the drama-thriller series "Mr. Robot."
"Bohemian Rhapsody," which is named after the identically-titled Queen song released in 1975, starts the story off from the very beginning. It's 1971 and a young Freddie Mercury (Malek), known at the time by his birth name Farrokh Bulsara, works a moderate job as a baggage handler in London. However, as luck would have it, he is able to bring his dreams of being a singer to life after a local band consisting of guitarist Brian May (Gwilym Lee), Roger Taylor (Ben Hardy) and bass guitarist John Deacon (Joseph Mazzello) hires him.
From here on out, the story splits off into two sections, with one chronicling the band and its rise to fame and the other focusing on the personal life and struggles of Mercury. Let's talk about each in turn.
"
Unlike the ventures of the band, [the film] abides to a cookie-cutter 'band biopic' template"
The first thread of "Bohemian Rhapsody" revolves around Queen; we get to see their unique way of creating each song, how their biggest hits came to life and their impression upon the public eye. This area of the film is where it is at its weakest, not that it isn't enjoyable, because there is undeniably a lot of pleasure to be taken out of it. The real issue with this side of the plot is simple: it's generic. Unlike the ventures of the band itself, it doesn't try anything new and abides to a cookie-cutter 'band biopic' template. There are fast-paced sequences where we see Queen performing with parallels to the audience's reaction; there are scenes where the band is frowned upon by oblivious musical executives (one of whom is played by Mike Myers, whose single purpose in the film is to make self-referential tie-ins to the opening scene of "Wayne's World"); and to top it off, there are internal conflicts in the band as they split apart only for them to reunite later on because they "need each other."
Okay, so it tells the story of the band through a bland medium. But, like I said earlier, there is a lot of fun to have while watching. The concert scenes in particular emphasize this. The film crew has an obvious understanding of how concerts are done, and as such they are played out very well. These sequences are directed in a smooth, free-flowing manner by Singer. The enthusiasm of the audiences is infectious and their energy is enough to make you feel like you are there on the scene. Add in the fact that these segments are gorgeously shot and have top-tier set design and you have some of the best parts of the film in tow.
"
Malek acts the ups and downs of Mercury's personality expertly"
The second story thread spans the personal life of lead singer Freddie Mercury. Particular attention has to be given to the performance of Malek here. When he appears in the public eye, he captures Mercury's larger-than-life persona near flawlessly. And then when Mercury is on his own, Malek also does justice. He personalizes the ups and downs of Mercury's life expertly, and does a great job at showing off the human side of Mercury.
The primary personal struggle that Mercury faces are his troubled relationships. His chief relationship is with Mary Austin (Lucy Boynton). The film could've given more screen time to flesh out this relationship, but otherwise it is portrayed well, in large part due to the writing and Malek and Boynton's performances. His other relationships aren't as substantially portrayed, but are still there. Mercury gets into a relationship with his personal manager Paul Prenter (Allen Leech), and at the very end with Jim Hutton (Aaron McCusker.) "Bohemian Rhapsody" can get credit for not shying away from portraying Mercury's fluctuating sexuality, but I felt that his latter relationships were not brought on as impactfully as they could've been. Whereas a large chunk of the personal side of the film was reserved to develop Mercury's relationship and eventual heartbreak with Austin, his onward relationships feel like they were rushed in, thus making it hard to feel anything when tragedy strikes twice for Mercury.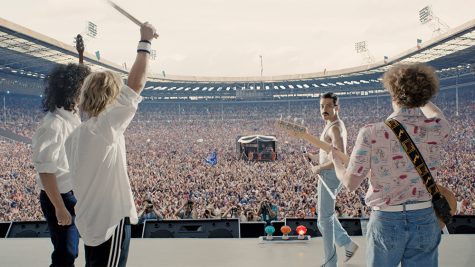 "Bohemian Rhapsody" ends with a partial recreation of Queen's 1985 Live Aid performance. This scene alone is by a wide margin my favorite in the entire film. It faultlessly brings together all the threads of the film, and the ultimate payoff is extremely satisfying. The set design captures every small detail of the real Live Aid concert, and despite the stage being the only real set piece created for the film, it comes off as realistic in the final product. Malek's performance onstage is once again captivating, and even viewers who are not huge Queen fans will likely feel a profound effect as the scene plays out.
In conclusion, while the latest Queen biopic "Bohemian Rhapsody" suffers from a derivative plot, it is bolstered by enrapturing performances and a multitude of delightful sequences. While it doesn't exactly touch the legendary status the band hit it is still a perfectly enjoyable, well-rounded musical biopic for all types of audiences to appreciate. Grade: B+
Images courtesy of 20th Century Fox
Leave a Comment
Donate to West Side Story
Your donation will support the student journalists of West High School. Your contribution will allow us to purchase Scholarship Yearbooks, newsroom equipment and cover our annual website hosting costs.
About the Contributor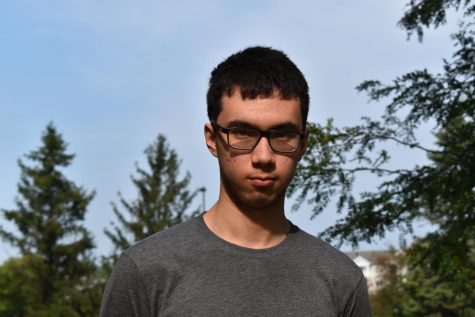 Edward Keen, Arts Editor
Edward Keen is a senior and this is his second year on staff, where he is Arts Editor. In his free time, he enjoys reading.