Chris Hemsworth and Tessa Thompson fail to save disappointing "Men in Black: International"
WSS film critic Edward Keen '20 gives his take on "Men in Black: International," a dispiriting entry to the franchise.
Star Wars, A Nightmare on Elm Street, Toy Story. All are franchises that have fallen to the "rinse and repeat" strategy that so many studios have wrought out over and over again, where they will be quick to reboot or remake significant films, or stack sequels upon originals if only because of the financial success they can barter from these resuscitated movies.
When it was announced that Men in Black, the oddball comedy sci-fi Will Smith and Tommy Lee Jones led trilogy that began over 20 years ago and "ended" seven years ago, was to be revived for a soft franchise reboot, I had rather mixed feelings. "Men in Black 3" was a satisfying series topper. Moreover, without the original crew and the Smith-Jones duo involved, there seemed no purpose in bringing the saga back. Sadly, my doubts were proven right, as "Men in Black: International" fails on multiple counts to breathe new life to the series.
"International" follows veteran London MIB agent H (Chris Hemsworth) alongside newfangled recruit Agent M (Tessa Thompson) to solve the worldwide mystery of a new alien species that could bring the entire galaxy down.
The very first thing that popped into my mind while viewing this was how inanely bland it felt. From the cinematography, to the directing, to the visual effects, there is absolutely nothing that truly stands out in terms of the film's look. This is especially disappointing since director F. Gary Gray's features are known for their energetic tones, even if the movies themselves may be hit or miss at times. Yet, any style or flair is predominantly sucked out altogether. It looks like it was shot for a made-for-TV production, not a big-budget action spectacle, and especially not one as exuberant and fun as this is aiming to be.
Another dismaying aspect of the film is the special effects.  Men in Black through and through have been dignified for their excellent prosthetics use and makeup work done to bring the extraterrestrial species to life. In this movie, all the aliens are created using CGI, and it's noticeable. Not all of the visual effects are bad per se, it's simply unsatisfactory that Sony seemed to ignore one of the best aspects of the originals in favor of lazy computer creations.
Sony also forgot one important thing about the earlier movies; let's be real, nobody sees these to follow intricate and complicated plots. However, for a broad amount of the runtime, a huge amount of effort is taken to get the viewer interested in the storyline. The story in and of itself is exactly what it shouldn't be: convoluted, unnecessarily drawn out and frankly, boring. A better laid out plot would have sufficed much more so that the filmmakers could have focused more on the actual strong points of the film, which I'll get to later. In short, the storytelling is extremely muddled and overdone.
The last major criticism I had with "International" is the screenplay. Many of the film's problems stem from this area. It's not like I was expecting any better, though, considering Art Marcum and Matt Holloway also wrote the horrid "Transformers: The Last Knight" and reportedly had a script so bad for "Iron Man" that Jon Favreau and Robert Downey Jr. were forced to improvise a lot of the dialogue. Their script makes all of the characters come off as one-dimensional, for starters. Agent H is a goofy knuckle dragger, Agent M is an intelligent foil to him, and it doesn't get any further than that. Any other characters are purely forgettable and only there to move the story along. Additionally, Marcum and Holloway's attempts at humor fail a majority of the time. There are more unintentional laughs in "International" than actually effective jokes.
The good news is that "International" nails the whole oddball alien extravaganza feel of the latter entries. Tonally, it's got that same fervorous eccentricity that make its predecessors special. You've got talking pugs, a gooey purple alien species that combusts when touched, crass-mouthed miniature minions, a tentacle infested octopus-like creature with hundreds of eyes and much more. This is the little part of the film where creativity is at its peak.
Chris Hemsworth and Tessa Thompson's chemistry is once again a strong point, having worked together previously in "Thor: Ragnarok" and "Avengers: Endgame" as Thor and Valkyrie respectively. They're not the same as Agent J and Agent K at any rate, but they aren't trying to mimic them. Hemsworth and Thompson bring their own talents to the table, and they work together marvelously as partners in crime. Their winsome chemistry is able to alleviate the admittingly one-dimensional characters they are given to portray. If there is another Men in Black film down the line (highly unlikely), I'd like to see Hemsworth and Thompson reprise their roles again, for they are by far one of the best parts of "International."
Summatively, "Men in Black: International" is a massive disappointment that is plagued by a convoluted plot, an unnecessarily bland directional approach, and a repugnant screenplay. The same offbeat tone is there, and Hemsworth and Thompson both delight enough to alleviate their onscreen scenes, but "International" all but proves it is time to put this franchise to rest. Grade: C-
View Comments (1)
About the Contributor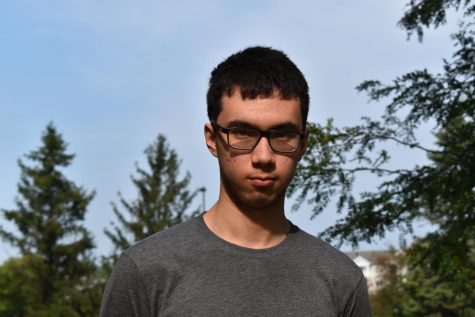 Edward Keen, Arts Editor
Edward Keen is a senior and this is his second year on staff, where he is Arts Editor. In his free time, he enjoys reading.