Twirling through the ages
Lizzy Slade '21 and Arielle Comellas '18 share their experiences as feature twirlers.
In perfect unison, the marching band struts onto the football field. They stand still, waiting in anticipation until the shriek of the conductor's whistle cuts through the air. As they start to play, one ensemble member breaks away from the group dressed in a green leotard. Lizzy Slade '21 starts to twirl, performing tricks that send her baton flying into the air.
Slade is the current West High feature twirler. Twirling at West was started by the first West feature twirler, Nicole Jenson, in 2008. Before Slade, Arielle Comellas '18 twirled at West from 2015 to 2018. Comellas started twirling when she was eight after helping a baton twirling team in a parade.
"I was supposed to hold the banner in a parade for a family friend and it happened to be for a baton twirling team in Miami, Florida," Comellas said. "I picked up one of their batons, learned the routine right then and there, and performed with them in the parade. I fell in love with the sport instantly and someone else ended up holding the banner."
Comellas moved to Iowa from Miami, Florida her sophomore year of high school. She was a feature twirler at her previous high school, but they did not have a football team so she performed mainly at pep rallies. When she moved to West she joined Ambition Baton Twirling and Dance, the baton studio that Slade twirls with. Slade and Comellas met there and became close friends.
"[Lizzy and I] have been through long practice days and tough competitions together," Comellas said. "We constantly support each other not only as teammates but as friends and I am so grateful to have met her through this sport. We always believe in each other and push each other to accomplish our goals. Twirling alongside your best friend is something you never forget."
Now Comellas is a sophomore in college double majoring in business marketing and psychology. She is the Florida State University feature twirler and performs with Intrepid, a nationally and internationally ranked team.
"
Twirling in high school was so much fun, but there is nothing like earning a position as a feature twirler for your dream university."
— Arielle Comellas '18
"Twirling in high school was so much fun, but there is nothing like earning a position as a feature twirler for your dream university. The tryout process for twirling at the collegiate level is rigorous and you must train at an extremely high intensity to perfect the necessary skills," Comellas said. "In high school it was a lot less competitive and a lot more relaxed. I am thankful for both experiences and am grateful to represent my school in the sport I love."
Slade took over as the feature twirler in the fall of 2018, she started twirling when she was five after seeing 2007-2011 University of Iowa Golden Girl Chelsea Russell perform.
"I stayed and I watched her for about an hour and then I signed up for classes and I've loved it ever since," Slade said.
At West, Slade twirls for football games and for some basketball games. For some football games, Slade twirls with fire batons. When Comellas was at West, they were not allowed to perform with fire, however, she does so now at Florida State University. Slade likes being a part of the marching band because it helps keep it entertaining.
"It gives the band more of something to look at because we don't move for all of our songs," Slade explained. "I like to think I'm kind of cool because I'm moving and nobody else is. But it's a great group of people and it's just a whole bunch of friends that I get to go hang out with."
Margaret Penning '21, who plays the mellophone, a type of French horn, in the marching band likes having a twirler.
"It's nice because [having a twirler] makes our band look better and more professional and it just adds a fun factor to marching band," Penning said. Penning thinks it is especially fun when Slade twirls with fire. "It looks really cool and everyone loves it."
"
[Having a twirler] makes our band look better and more professional and it just adds a fun factor to marching band."
— Margaret Penning '21
Aside from twirling for West, Slade twirls in competitions with Ambition. Currently, she is in the Senior Competition Team, the most advanced team at Ambition. The Senior Competition Team is made up of five people including City High feature twirler Josie Gillette '21. As the oldest and most experienced twirler, Slade is also the Twirling Assistant Coach for Ambition.
"[I am] there to fix any issues and help co-teach our team and it seems to work out really well. I really enjoy it," Slade said.
Slade has also twirled in the Miss America's Outstanding Teen Organization pageant and in parades like the Coralville Independence Day parade, Solon Beef Days parade and Tiffin Creek Fest parade. Each type of twirling is a little different to get the desired result. For twirling in pageants and games, the main goal is to keep the audience engaged. Competition twirling, on the other hand, is meant to show off your skill.
"[Twirling] competitively you throw a lot harder tricks since you're on the gym floor instead of grass or concrete where it's harder to twirl. You can spin faster and do more tricky stuff like that," Slade said.
"The routines [for pageants] need to be simplified because of the ceiling restrictions. It's also really hard to see the batons with the bright stage lights so it takes a lot of focus and training to make sure everything goes as planned during the performance," said Comellas, who ranked in the top five for the 2018 Miss Iowa competition and holds the title of Miss Central Florida.
Like Comellas has done, Slade hopes to twirl in college after she graduates. The ability to twirl at the college is one of her main requirements when looking at colleges.
"I would love to twirl in college," Slade said. "Right now, I'm looking at either Michigan or Wisconsin, just because they both will have twirlers [positions] open and they're not super far away."
About the Writer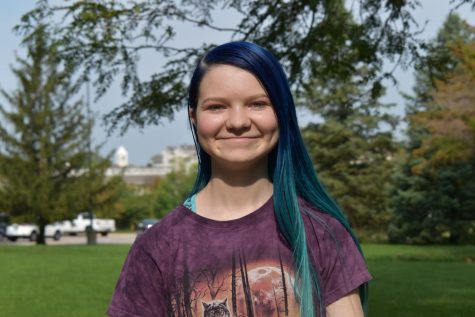 Bess Frerichs, Online Managing and Feature Editor
(she/her) Bess Frerichs is the online managing and feature editor. As a senior, this is her third and final year on staff. She enjoys reading, writing...