World-renowned author visits Iowa City
Markus Zusak, best known for penning the compelling modern classic "The Book Thief," stopped by the Iowa City Public Library on Monday to chronicle several anecdotes that shaped his career as an author and give advice to aspiring writers.
In an event brought to fruition by the Iowa City Public Library and the Prairie Lights bookshop, Australian author Markus Zusak visited the library on Oct. 21 in promotion of his 2018 novel "Bridge of Clay" to share his experiences as a writer and take questions from attendees. Though Zusak has written six novels in his name since his first work debuted in 1999, it was his fifth and penultimate novel, "The Book Thief" that catapulted him to fame as a rising author. Narrated from the first-person omniscient view of Death, it tells the coming-of-age story of a rebellious German girl named Liesel Meminger who learns to read and befriends a Jewish man while the second World War rages on in the background. Upon its release over a decade ago, critics all over the globe lauded it for its writing and unique storytelling approach. Since then, it has evolved into a modern classic with numerous awards and a 2013 film tied to its name.
Though the event was set to begin sharply at 7, the bulk of those in attendance arrived nearly half an hour prior to the lecture, filling in nearly every available seat in the meeting room that the library had set out for the occasion. By the time it began, the room was completely packed with many having to stand off to the side or in the back to view Zusak. The attendees consisted of people from all walks of life, from wizened seniors to young children, most of whom carried their very own copies of "The Book Thief" and "Bridge of Clay" to get signed.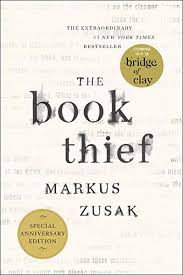 Zusak began his presentation right on time, met with thunderous applause. He began by wisecracking to the audience, asking why they bothered to show up on a late Monday night when they could've used their time better in many other ways. He then promptly launched into full gear, recapping several stories that shaped his early career as a writer. His first stories pertained to his debut novel, "The Underdog," and how a whimsical experience going to the dentist after abstaining for four years as well as his lack of finding a close one in his younger years prompted him to tell a similar verse in the book.
The rest of the presentation flowed in a similar manner, Zusak switching between reading excerpts from his works and inserting his own tales into the mix. His anecdotes varied from the time on Christmas when his father destroyed his cherished stopwatch and his mother upsided his father with a Monopoly board; the moment when his young daughter told him he wasn't a hard worker, and afterwards he discovered that he had only averaged  a mere 1.9 words per day on "Bridge of Clay" since he began writing it; both of these among many other cherished debacles. These memories, though, were not told without reason. Each of them applied to a book he wrote and the process of writing them. For example, it was times like the Christmas narrative that gave him the inspiration to write "The Book Thief" in the episodic, grounded format he wrote it in.
Further on "The Book Thief," Zusak mentioned how he originally planned on writing it as an 100-paged novella based on an idea he had of a German man giving a Jewish Holocaust prisoner a piece of bread. Slowly, he said, the idea gained form and turned into what it is today. Zusak made sure to the audience that he never expected this novel to gain as much attention as it did especially due to its nearly 600-page length and that he felt pessimistic of its chances when it was first released. In an answer to a question asking about how he felt about his massive success, Zusak pronounced that the true definition of success to him was not critical acclaim or making a bestselling novel, but rather on self-fulfillment and a person's own passion for their work.
"
He put it out to the crowd that the best characters that an author can write are realistic and unique in their own ways, and that telling every small detail about them is beneficial
An intriguing point Zusak made was about character writing. He put it out to the crowd that the best characters that an author can write are realistic and unique in their own ways, and that telling every small detail about them is beneficial in the long run. In "Bridge of Clay," Zusak cited that even a grubby Monopoly piece carried by the main character Clay added depth and clarity to the story. He additionally further emphasized that a great deal of character moments he wrote were taken from his own comings and goings.
The entire event, from beginning to end, was a delight. Zusak exuded a certain bubbly charisma that made the audience rapt in following his every word, even at the times when he delved into rambling. He thrust a copious number of lively tongue in cheek humor in nearly every other sentence, leading people to burst into chuckles an innumerable number of times throughout. There wasn't a single moment where anyone seemed bored or his words became dry. His immaculate skill to entertain everyone while gesticulating thought-provoking advice led to his hour in the limelight to be a memorable gem.
At the very end, Zusak revealed plans for his next book, which will center on a young girl and her horse, tracking how she connected 500 pieces of her existence into a jigsaw that could fix the lives of her entire family. Whenever he plans on releasing this or if he decides to maneuver into writing a completely divergent book is a question that only the future can tell.
Leave a Comment
Donate to West Side Story
Your donation will support the student journalists of West High School. Your contribution will allow us to purchase Scholarship Yearbooks, newsroom equipment and cover our annual website hosting costs.
About the Contributor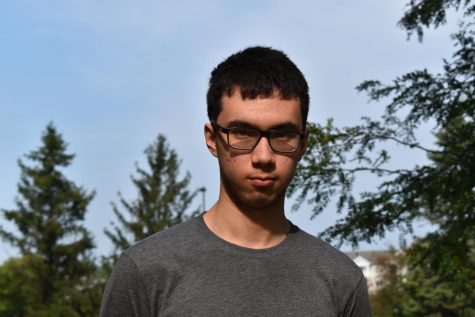 Edward Keen, Arts Editor
Edward Keen is a senior and this is his second year on staff, where he is Arts Editor. In his free time, he enjoys reading.