Student Senate to hold first monthly webinar
Student Senate will host its first school-wide webinar on Aug. 27 to update West High students, families and staff about the club's policies and progress.
Student Senate, a student-run club that creates policies and initiatives for West is holding its first school-wide webinar on Aug. 27 at 6 p.m. The webinar will provide information about the new policies Student Senate created, striving for a more inclusive environment for students at West. According to Advika Shah '22, the event coordinator for Student Senate, the club is hoping to hold the webinar on a monthly basis and will advertise the webinar date on the Student Senate Instagram account. 
"Student Senate decided to do this webinar because we believe that we have not done a good job in the past of being transparent with the student body and we also have not been successful in collecting their opinions about some of our policies," Shah said. "Basically, we want to improve the communication between the senate and the rest of the students as well as teachers."
After a brief presentation outlining initiatives to support anti-racism at West, there will be a live Q&A session at the end of the webinar for the West High community to participate in.
"The webinar will be a meeting where all students, teachers, other staff members and even members of the community will be welcome to attend and the information [provided will] pertain to Student Senate's current goals as well as progress," Shah said.
Shah strongly encourages the West High community to attend the webinar, and hopes to connect with as many people as possible. 
"We want students to be vocal with us on how we can improve some of our efforts and we want them to trust Student Senate since we want to advocate for their goals," Shah said.
Paras Bassuk '21, the school board representative for Student Senate, echoes this sentiment.
"We hope to get more voices involved in our policy-making process. We are a small group of students attempting to represent a large diverse student body with complex needs. Bringing our initiatives first to the community we represent, gives us stregth moving forward and clarifies our goals," Bassuk said. 
Student Senate also set up a Google Form for anyone to submit questions or suggestions directly to the club, and the webinar can be joined by using this Zoom link.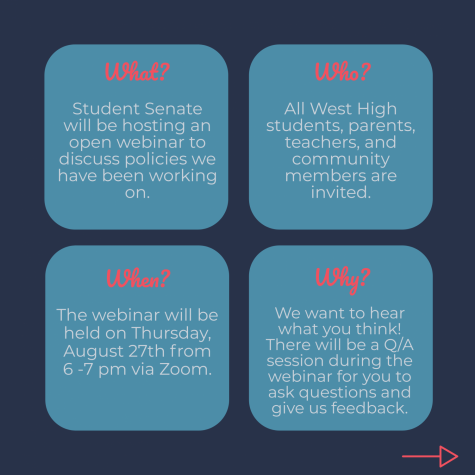 This story is still developing.