Girls swim team impresses at virtual MVC conference meet
Byron Butler's girls swim team kept their winning streak alive Oct. 17 at the Mercer Aquatic Center. Their win comes behind multiple MVC and meet records against City High.
The Mississippi Valley Conference Super Meet is usually step one in the girls swim team's road to regionals and then state. When the MVC announced a couple of months ago that there would be no MVC Super Meet they went right to the drawing boards in hopes of finding a way for all 10 MVC swim teams to compete.
To limit the number of athletes and coaches in one facility to stop the spread of COVID-19, the conference came up with a four-site model where teams would compete locally in groups of two to four. This created what the conference calls a virtual MVC Super Meet where all the results from around the state will be combined to determine all-conference awards.
"It really did not feel like conference [because] usually at conference there's a lot more competition with teams … It kind of felt like practice when we were racing each other," said senior Jenny Geng. 
Without a home pool, the Trojan Bolts were set to face off with cross-town rival City High at the Mercer Park Aquatic Center Oct. 17 in replacement of the usual MVC super meet. The girls swim team defeated the Little Hawks with a team score of 141- 42.
Stanford commit Aurora Roghair '21 started the meet off strong in the 200 freestyle where she broke her own MVC and meet record with a time of 1:51.28. Aurora leads the state in the 200 freestyle with a time of 1:49.65. 
Junior Scarlet Martin won the 5o freestyle with another state-qualifying time of 24.54 while also breaking her own meet record from 2019 in the 100 backstroke. Ella Hochstetler '22 placed first in the 100 butterfly with a state-qualifying time of 59.18.
"The meet honestly felt similar to a dual meet because of the number of teams there, but Byron told us to remember that this meet was conference, so we needed to imagine that we had super strong competition next to us because in reality there were fast swimmers all over the conference competing with us," Hochstetler said.
The 200 freestyle relay consisting of Martin, Jade Roghair '23, Olivia Taeger '22 and Aurora broke a meet record of their own with a time of 1:39.12.
To wrap up an unusual MVC conference meet, the 400 freestyle relay of Jade, Taeger, Hochstetler and Aurora set a meet record with a time of 3:37.95. The 400 freestyle relay team leads the state with a time of 3:31.02. 
Not being able to swim against the rest of the talented MVC didn't stop the Trojan Bolts from pushing themselves and looking forward to their regional meet Nov. 7 and state meet Nov. 13-14 in Marshalltown where they hope to bring home some more hardware.
"Personally, for the rest of the season, my goal is to place in the top eight of both of my individual state events, whichever those might be," Hochstetler said. "All of us really want to be able to go to state and compete with other teams and have an opportunity to showcase our talent."
About the Writer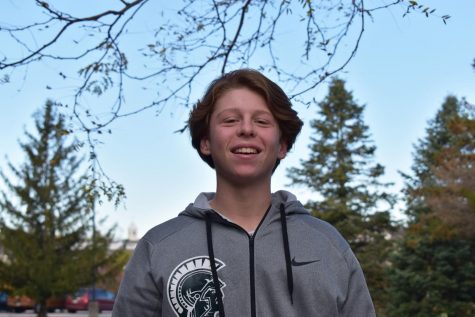 Owen Aanestad, Online Editor-In-Chief
Owen Aanestad is a senior at West. This is his third year on staff working for the online publication as the online editor-in-chief In addition to playing...