Overview of new Iowa COVID-19 restrictions
Throughout the ongoing pandemic, Iowa Gov. Kim Reynolds has released many regulations in order to stop the spread of the disease.
The first COVID-19 cases in Iowa were reported on March 9, 2020. Since then, cases have been rising not only in Iowa but around the country and the world. In response to this, Iowa Gov. Kim Reynolds has released many new mandates in hopes of reducing cases in Iowa. But what are the implications of these new restrictions, and what has been the result of past restrictions? Here is an overview of some of the most influential and relevant regulations made so far. 
March 17:
Fitness centers, theaters, casinos, gaming facilities, bars and eat-in restaurants were closed. However, it did allow restaurants to have take out, delivery, and drive-thru. Gatherings of more than ten people, both indoors and outdoors, were also banned.
March 22:
This proclamation ordered the closing of salons, medical spas, barbershops, tattoo establishments, tanning facilities, massage therapy establishments and swimming pools.
March 26:
All non-essential medical and dental services were to be canceled or postponed. Bookstores, clothing stores, shoe stores, jewelry stores, luggage stores, cosmetic stores, florists, furniture and home furnishing stores were also closed. All hospitals were required to screen all staff for COVID-19 symptoms.
April 4:
All schools were ordered to be closed, although the Iowa City Community School District had already been closed since March 18.
April 6:
Malls, tobacco or vaping stores, toy, gaming or music stores, indoor entertainment and recreation, parks, playgrounds, campgrounds, and door-to-door sales were to be shut down.
April 16:
People who had to leave their homes were encouraged to maintain social distancing. Businesses were encouraged to have employees work at home when possible, and that in-person business should take precautions to protect employees and customers. They should take measures such as health screenings, social distancing, and cleaning more often. However, businesses will not be closed down if they cannot do so, unless instructed by the Iowa Department of Public Health.
April 24:
Surgeries and health visits previously deemed non-essential were reenabled, as long as they met certain guidelines put forth by the CDC and Iowa Department of Public Health. Hospitals were required to test patients with symptoms for COVID-19. This proclamation also stated that limits on social gatherings did not apply to any voting procedures.
April 27:
In 77 countries not including Johnson County, fitness centers, malls, libraries, malls, retail stores, and restaurants were able to reopen at 50 percent capacity. However, they were required to maintain a social distance of six feet and were not allowed to have groups of more than six people in restaurants and 10 people in fitness centers. Self-service establishments, such as buffets, salad bars, and drink machines at restaurants were prohibited. The play areas, food courts, and common eating areas at malls were also not allowed to reopen. However, restaurants at these malls were allowed to serve carry-out.
Churches could reopen with social distancing and increased cleaning, but not for weddings or funerals.
May 6:
Drive-in movie theaters, dental services, campgrounds, tanning facilities, medical spas, and social or fraternal clubs that serve food were allowed to reopen if they complied with the rules stated for restaurants. Additionally, reopenings  were allowed in certain counties on April 27 were allowed to reopen statewide.
May 13:
All restaurants, fitness, centers, malls, other retail establishments, salons, barbershops, massage therapy establishments, tattoo establishments, campgrounds, race tracks, libraries, drive-in theaters, social and fraternal clubs were allowed to meet everywhere if they maintain a social distance of six feet between groups, and no more than six people per group, unless everyone is from the same household. 
May 20:
Movie theaters, museums, aquariums, zoos, swimming pools, school-related activities, and wedding receptions were allowed to continue, but West High sports did not start official practices until June 1. Other non-athletic school activities resumed on July 6.
May 26:
Outdoor performance venues, casinos and gaming facilities, amusement parks, bowling alleys, arcades, bingo halls, skating rinks and skate parks, outdoor playgrounds, parades, festivals, conventions, fundraisers, non-school sporting events and live performances were all allowed at 50 percent of their maximum capacity, with social distancing of at least six feet, and increased cleaning measures. 
June 10:
The rules for 50 percent maximum occupancy were dropped for restaurants and bars, fitness centers, casinos, race tracks, theaters, malls, and all other establishments, but social distancing is still to be maintained.
July 17:
Gov. Reynolds states all schools need to be opened and in-person unless the district applies for an exception. This directly conflicted with the unanimous vote by the Iowa City Community School District school board to remain online that was made on July 15. 
Aug. 27:
In certain counties, bars were closed, and restaurants prohibited to sell alcohol except from 6 a.m. to 10 a.m. and 8 a.m. to 10 p.m. on Sundays. 
Sept. 15:
Gov. Reynolds reopened bars and the alcohol restrictions were dropped in all counties except Johnson and Story.
Oct. 2:
Bars in Johnson and Story counties were allowed to reopen.
Nov. 10:
Individuals older than the age of two were required to wear a mask in social gatherings with groups of 25 or more people indoors and 100 or more people outdoors unless they are eating or drinking.
Sporting events, restaurants, bars, indoor entertainment and recreation, salons, barbershops, massage therapy establishments, tattoo establishments, tanning facilities, and wedding receptions were only allowed to meet outside, with a requirement of at least six feet between groups, and no groups over eight people, unless everyone in the group is from the same household. At sporting events, each participant could only invite two spectators.
Nov. 16:
All people two-years-old or older must wear a mask when in an indoor space that is open to the public, and within six feet of people from different households for 15 minutes or longer. There were exceptions outlined for athletes, people sitting at restaurants and bars consuming food or beverages, someone giving a presentation or performance, deaf people and those communicating with them, a public safety worker, or someone verifying their identity, or someone with a medical condition or disability that prevents wearing a mask or face covering. 
Indoor gatherings of 15 or more people and outdoor gatherings of 30 or more people were prohibited. All group fitness activities were prohibited at fitness centers. Sporting and recreational gatherings were banned, except for high school, collegiate or professional sports. Religious and spiritual gatherings are still able to meet. Restaurants and bars were allowed to open only from 6 a.m to 10 a.m., with the exception of drive-through, take-out, and delivery, and masks were required when not seated in a restaurant.
Nov. 18:
Gov. Reynolds permits group activities in fitness center if people maintain social distancing of six feet. Sporting and recreational activities are reallowed, but with six feet of space between all people. Sports that cannot accomplish this, such as wrestling or basketball, are prohibited. This does not apply to high school, college, or professional sports. Spectators are only allowed during an event, not before or after. 
Most proclamations from Gov. Reynolds were made in the spring, while the cases were still low and relatively constant. In March and April, most proclamations closed businesses and schools, limiting social interaction. It was not until late April that these businesses were allowed to open back up with precautionary measures. This, however, did not lead to a drastic increase in the number of cases. Cases instead rose most dramatically in late August, when schools and colleges started, and in late November, when events and gatherings started moving indoors due to colder weather. Recent proclamations have been made in response to this increase. But instead of outright closures, they have implemented restrictions, encouraging mask-wearing and limiting maximum occupancy. The idea is to keep people safe and minimize economic damage. Recently cases have decreased, but not to levels seen in the spring and summer.
About the Contributor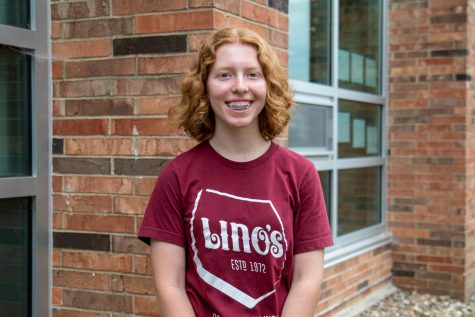 Vivian Polgreen, Co-News Editor
Vivian Polgreen is a sophomore at West. She is the co-news editor for the online publication ad it is her second year working on staff. In her free time,...