Highlighting local dessert places
Reviewing local dessert places chosen by West High students. WSS staffers tried their most popular items along with a choice of their own.
We've taken recommendations from the WSS Instagram in order to find out the best dessert places in Iowa. The students of West High recommended Insomnia Cookies, Cold Stone Creamery, Cookies and Dreams and Nothing Bundt Cakes. In order to review these places we asked the employees for a recommendation and also picked out something that we wanted to try.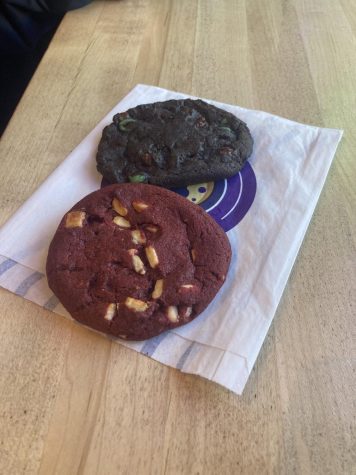 Employee Recommendation: Double Chocolate Mint
Our Choice: Red Velvet
Portion Size:  They are not that much different from a normal cookie and they also sell cookie cakes
The whole vibe of the store was great. It had really comforting purple walls and it made you feel like you were getting a warm hug. It was also very inviting with its window seating and its warm, fresh cookies. A bit of a problem with this is that they don't take cash so make sure you have something else on hand. Another thing that you should be careful of is the Cookie Monster recording that booms from their speakers every couple of minutes. 
Double Chocolate Mint Cookie:
With this cookie, you could visibly see the chocolate but you just couldn't taste it at all. It was all mint. It tasted a lot like Spearmint or like a Junior Mint. Overall it was a pretty good cookie but they really needed to lay off the peppermint extract. It could have been great but the peppermint was just a little too overpowering.
Red Velvet:
 The cookie wasn't anything outstanding but it wasn't bad. That doesn't mean that disappointment wasn't there. It was definitely lingering since the shop design, the look of the desserts and the aesthetic of the whole experience were so great. The taste of the cookies just wasn't up to the standards that they set for themselves.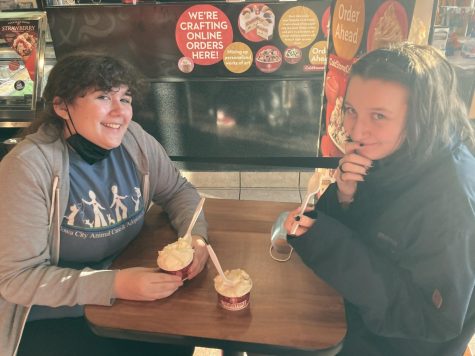 Employee Flavor Recommendation: Cheesecake
Our Choice: Cookie Dough (no dough chunks)  w/M+Ms
Portion Size: If you're looking for only a small bit of ice cream just ask for a sample, the smalls are still large portions. 
Everyone and their mom has been inside of a Cold Stone so this will be kept brief. The amount of space in the shop was great and the way that they laid out all of the options for flavors was really inviting, especially since every flavor will be great tasting no matter what you choose.
Cheesecake:
There was a definite cheesecake flavor, although we also tasted a hint of strawberry even though it's supposed to be plain cheesecake flavored. It wouldn't even have mattered that much if they had just advertised it as strawberry cheesecake. It's still really good. It's just disappointing that they didn't bring up that it tasted like strawberry on the label. 
Cookie Dough w/M&Ms: 
This flavor had no cookie dough in it and the majority of the people who went to the shop for this article forgot that the flavor that we tried was cookie dough since it tasted a lot like peanut butter in it and there weren't any cookie dough chunks in it. We have lovingly named this flavor Cookie No Dough.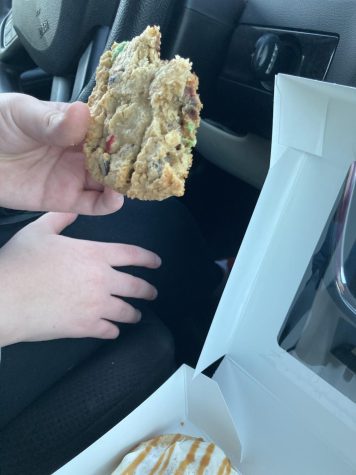 Employee Recommendation: Monster Cookie
Our Choice: Snickerdoodle Cheesecake  
Portion Size: Very large
We recommend you try these delicious humongous cookies! These were the same price as Insomnia but were about 2x larger! As Eleanor says, "got more bang for your buck." These sweet, foaming at the mouth cookies definitely earned the title of being one of the top local dessert places. 
Monster Cookie:
This was a perfect example of the classic monster cookie. The combination of peanut butter, M&Ms, chocolate, and oats work together splendidly to create a mouthwatering cookie. I liked the ratio of chocolate to oats which can easily ruin a monster cookie. 
Snickerdoodle Cheesecake:
This cookie was to die for! It was a classic snickerdoodle with the enjoyable twist of a cheesecake filling. The flavors balanced themselves out perfectly and the texture was soft but not difficult to hold onto.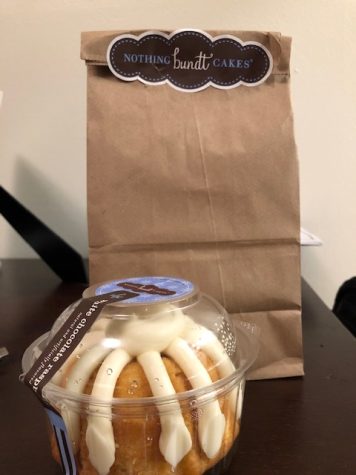 Employee Recommendation: White Chocolate Raspberry
Our Choice: Carrot
Portion Size: There is a variety of different sizes that you can choose from
Bundt Cake Definition: A Bundt cake doesn't have a certain recipe it is just a cake that is made in a certain pan that's circular with a spike in the middle. That's where the famous shape of a bundt cake comes from. 
Nothing Bundt Cakes is a really cute shop. It's like walking into a cotton candy dream with its bright colors and beautiful frosting work. Even though it has no seating, the experience was really calming and the people there were all really nice. 
White Chocolate Raspberry:
It was an amazing experience to eat this cake! I loved the sweet cream cheese frosting even though there was a little bit too much of it at some points. I was glad that the raspberry came through in the cake. It had a light and spongy texture I thoroughly enjoyed.
Carrot:
It was really good. Even though it was a bit too sweet, it really reminds you of baking that you get from your family and you can really tell that a lot of love was put into it. Really good spice cake!
Leave a Comment
Donate to West Side Story
Your donation will support the student journalists of West High School. Your contribution will allow us to purchase Scholarship Yearbooks, newsroom equipment and cover our annual website hosting costs.