Column: Aromatherapy
Opinion Editor Renee Gould '22 discusses the issues within the essential oils industry, as well as how aromatherapy can be helpful, despite a lack of scientific reasoning.
Aromatherapy is the practice of using aromatic compounds for therapeutic benefits. There are a lot of common and well-known ones; such as lavender being calming, and mint as a pain reliever. And an entire industry has sprung up around selling essential oils, diffusers, roll-ons, and many other products to allow people to tap into the benefits of aromatherapy. However, this industry is populated by multi-level marketing schemes and misinformation. I have found the health benefits of aromatherapy to be wildly overhyped, with insubstantial scientific evidence, and the practices of many of the companies borderline illegal. 
I buy products from doTERRA; a multi-level marketing company started by former executives of Young Living. For those unaware, Young Living has faced complaints and lawsuits, including a lawsuit where it was determined that there was no medical benefit to using Young Living's products, despite them being advertised as therapeutic. doTERRA doesn't have clean hands here either, with a lawsuit that alleges that doTERRA had 23 times the maximum allowed amount of bergamot oil in doTERRA products. There is also some fighting between doTERRA and Young Living, which includes possible faked lab tests and theft of trade secrets. In short, it's a whole bunch of drama that I would quite like to stay out of.
"
I do think that aromatherapy absolutely has benefits. While the research into aromatherapy is limited, there is some initial research that shows aromatherapy may have medicinal uses."
Both doTERRA and Young Living are multi-level marketing schemes and make promises about their products that have no scientific evidence. I do use doTERRA products, but it's important that you consider how much you want to support these companies. While this article is a bit wordy, it goes into some great places to get essential oils that are not multi-level marketing schemes, links to articles explaining more about the industry and does in-depth reviews about many essential oil companies. If you're looking to get into essential oils and aromatherapy, I'd recommend checking it out, buying from a company that is not a multi-level marketing scheme, and doing some research on the company before buying. 
I do think that aromatherapy absolutely has benefits. While the research into aromatherapy is limited, there is some initial research that shows aromatherapy may have medicinal uses. But it is also important to note that the research is tentative at best, and that essential oils are currently not being regulated by the FDA, and so it's extremely important to make sure that you do independent research on the ingredients being used in the oil, especially if you are ingesting it or putting it on your skin. I will re-iterate thought that I do fully believe that aromatherapy can have medicinal benefits. At this point with the scientific research, I would say that I highly doubt the actual aroma is causing the medicinal benefits. But the placebo effect is absolutely amazing. The belief in the placebo effect is in itself a placebo effect! It's crazy. But that's how I use aromatherapy; as a placebo. Because I fully believe in the placebo effect and that the aroma is the placebo, I do in fact get the effects! The effects are varied, and I purposefully use different scents, delivery methods, and even places of use to aid this. 
Lavender in a diffuser in my room to relax me and help me sleep. Motivate rolled onto my wrists when seated at my study desk to get my homework done. Breathe rolled between my nose and lip to calm me while at school. Lavender rolled onto the backs of my hands to stop myself from strangling people while at work. Lemon in tea in the kitchen to unwind from a long day. And it works. I feel motivated when I sit down and rub Motivate on my wrists. I feel calmer when I start up my diffuser. It does genuinely help me feel significantly better.
"
I would highly recommend that anyone give aromatherapy a shot."
I would highly recommend that anyone give aromatherapy a shot. Probably not with doTERRA or Young Living, but I would still recommend it. Because it can do wonders for you, even if there is no scientific evidence or reason for it to do so. I'd also recommend not touching the multi-level marketing drama stuff with a ten-foot pole. 
Before I leave you… 
Some petty reasons to dislike doTERRA. The website crashed my Chromebook twice while I attempted to write this article. Sometimes when I clicked on something it sent me back to the home page, loaded for a minute, then sent me to the page I wanted. It took me like thirty minutes to get all the links to the specific stuff I use.
Leave a Comment
Donate to West Side Story
Your donation will support the student journalists of West High School. Your contribution will allow us to purchase Scholarship Yearbooks, newsroom equipment and cover our annual website hosting costs.
About the Writer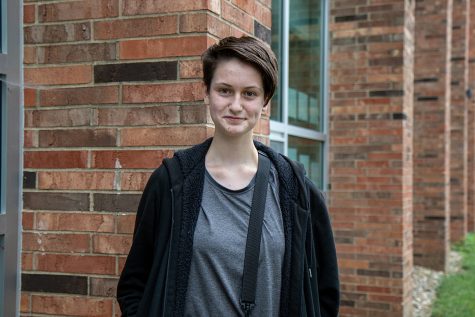 Renee Gould, Opinion Editor
(all) Renee Gould is a senior at West, it is their third year on staff and is currently the opinion editor for the online publication.