The Avila Siblings Pre Game Routine
 Do you have a routine? One that calms the nerves? Mentally prepare you? Wins competitions? Maybe you jam to music. Stretch your body. Meditate. As athletes, you're dependent on a pre game routine. Especially for wrestlers and siblings, Jannell 23' and Justin Avila 25'.
Justin and Jannell Avila have been around wrestling for as long as they can remember. So they take the sport very seriously, especially a pre game routine. While they don't overthink their routines, by doing superstitions, wearing the same socks, etc, there is no doubt they have been effective.
Justin Avila 25' ranked 3rd at 160 pounds. Competed at Tom Lepic Invitational, where Avila went 4-0 with four pins, on his way to the championship match. 
Jannell Avila 23' is a four-time state medalist and two-time finalist. Recently Avila finished runner-up at the state meet with two of her three losses on the season coming against state champions. 
Justin Avila 25' is "just a simple kinda guy" says his twitter bio. 
When it comes to routines he doesn't overwhelm himself with too much. Keeping his mindset clear is important to him." I dont overthink because anything could happen in the match". Starting with a stretch and jog to get warm, he listens to beats or classical music, nothing with words.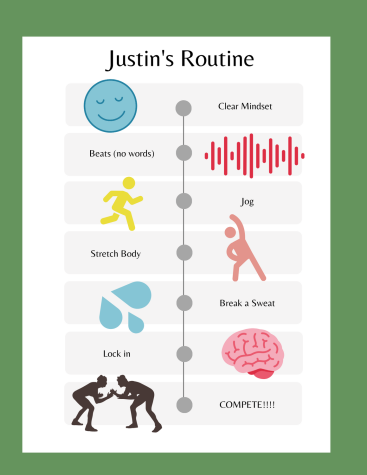 Jannell Avila 23' describes her routine as "focused".
She has a lot of nerves running through her body during pre game. Keeping her snacks light, some fruit snacks or grapes, she makes sure to stay hydrated all day prior. Listening to upbeat music (with words unlike her younger brother) she gets warmed up and flushes the nerves.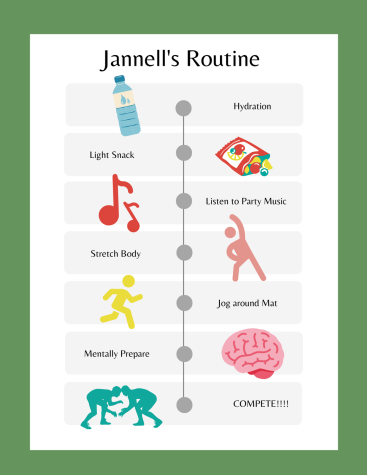 As siblings, they learn from each other, either on the mat or mentally. Justin 25' says his older sister has taught him to be more focused, and not let the little things get to him. "She does a good job". He has helped Jannell 23' learn almost everything she knows. She studies his moves, and picks up on things to try.  
Motivation is key for staying in the sport and performing the best one can. 
Jannell's main motivation is the chance to be able to succeed at something she loves. 
"To go and accomplish something myself… and being able to know I can while doing other things at the same time, motivates me." says Jannell Avila 23' 
Justin has been around wrestling his whole life, especially since his older brother Robert Avila Jr. is now wrestling at University of Virginia. Wrestling is important to Justin, because when he started at 7, he was good at it, so he continued.
"It would be weird for me if I didn't do it." says Justin Avila 25'
Jannell 23′ recently finished her wrestling season the week of February 3rd, 2023, but Justin Avila 25′ isn't done yet. You can catch Justin Feburary 15-16th at Wells Fargo Arena 
Leave a Comment
Donate to West Side Story
Your donation will support the student journalists of West High School. Your contribution will allow us to purchase Scholarship Yearbooks, newsroom equipment and cover our annual website hosting costs.