High School sweethearts and heartbreak
While most relationships in high school do not last into adulthood, that doesn't mean they're not worth it. Find out the science behind high school relationships.
Most teenagers have seen the movies where the nerdy girl gets the gorgeous football player, but that's not what high school relationships are about. They're about finding your identity, what you do and don't like, as well as building healthy relationship habits that last into adulthood according to the Office of Public Affairs.
While most high school relationships are short—typically lasting six months among 16-year-olds—they enable teens to grow and learn about themselves. Having a romantic partner allows you to have emotional support when other things in your life aren't quite going so well.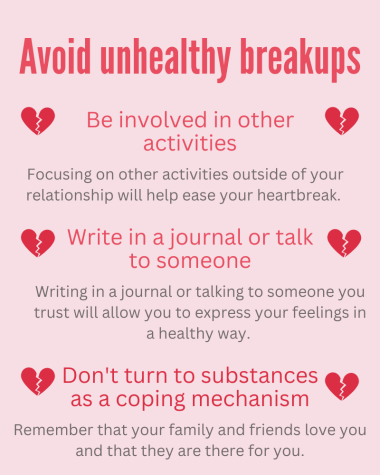 It is vital to have healthy relationships during your teen years in order to develop healthy ones later in life. For example, it's important for both you and your partner to have good communication skills. Relationships should be built on mutual trust. You should be able to express your emotions including any misgivings you may have safely. The OPA notes that being calm and understanding is essential to getting your message across so you don't compromise the relationship you both have built together.
It is also imperative to understand the three stages of teen relationships: the honeymoon phase, the adjustment phase and the stability phase. Knowing what stage you're in can help you move past arguments and understand your feelings says Teen Relationship Psychology.
Honeymoon phase: This is usually at the beginning of the relationship when you and your partner are head over heels for each other or are in a period of "intense infatuation."
Adjustment phase: This is when you get to know each other better. Typically couples argue as they begin to learn that relationships are more than just liking one another. Remember to understand where the other person is coming from when this phase occurs.
Stability phase: This happens when you both are more committed to each other. You begin to mature and realize what being in a serious relationship is like. There are still arguments but you are willing to do what it takes to get past them because you are committed to each other.
These stages are not linear; couples can jump around between them, especially when there is a significant change in their lives. It's okay not to get to all of them too. Sometimes things break off right as you are beginning to know each other. Not all relationships are going to work out and that's part of what high school is for; exploring what you like or don't like in a relationship.
Because of other commitments in high school and lower maturity levels than adults, most high school sweethearts do not get married. Only 2 percent of all marriages dated in high school according to Daniel Dashnaw, a family therapist. Additionally, individuals who married while in their teens had a 46 percent chance of not being married 10 years later.
While these statistics are a bit dismal, because of the benefits mentioned above, teens should still take the chance of being in a relationship.
Leave a Comment
Donate to West Side Story
Your donation will support the student journalists of West High School. Your contribution will allow us to purchase Scholarship Yearbooks, newsroom equipment and cover our annual website hosting costs.