West High jazz bands attend Liberty Jazz Festival
The West High jazz bands showed out at the Liberty Jazz Festival on Feb. 17.
A relatively new addition to the Iowa jazz community, the Liberty Jazz Festival was held on Feb. 17, 2023. Established in 2017, the festival has since grown to accommodate its maximum attendance of 28 local bands. The IC West High Jazz Ensemble and the IC West Symphonic Band both performed at the festival. The Symphonic Band, directed by Rob Medd, performed first at 1:30 p.m., winning third place in their category. At 2:30 p.m., the Jazz Ensemble performed, directed by Ryan Middleton.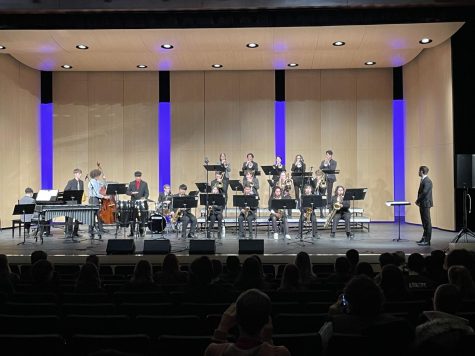 This festival was a special one for both Middleton and the Jazz Ensemble, as it is his first competition with a West High band. "I thought it went well. [It was our] first time out with this music […] and it was just good to go out and play and here's some other bands and get some feedback." said Ryan Middleton. The Jazz Ensemble placed third in the 4A category. 
The Symphonic Jazz Band and Jazz Ensemble will perform again at the Coe College Jazz Summit on Feb. 24.