High school students file into classrooms at the start of the school year, brimming with curiosity and anticipation. However, students face a dramatic shift in the educational landscape this year as the first lesson begins. Gender orientation, sex and other possibly controversial topics are missing from school curricula.
Over the past few months, Iowa has undergone significant legislative changes in the K-12 education system. Newly enacted laws related to media censorship, curricula changes and LGBTQ+ youth are now enforced within elementary and secondary schools. Although Gov. Kim Reynolds implemented the legislation with the intention of protecting parents' constitutional right to moderate their children's education, conflicting viewpoints persist on the legislature's basis and impacts. Educators and Iowa lawmakers continue to grapple with distinguishing the fine line between exposure and censorship.
Media Moderation
Senate File 496, or the "Don't Say Gay" bill, prohibits instruction in public schools on gender and sexual identity from K-6 in all programs and curricula. Books depicting sexual content must be removed from K-12 school libraries, questioning media such as "The Hate U Give," "The Catcher in the Rye," and a staple of English 10, "1984." According to Section 702.17, material containing descriptions or visual depictions of sexual acts is not "age-appropriate."
Each school district must establish a comprehensive literary program that aligns with these educational standards by 2024. Iowa City Community Schools (ICCSD) librarians collaborate on an extensive spreadsheet with a detailed record of which books may violate Section 702.17, and non-compliant texts are then stored. 
Andy Ham '24, whose mother is Head Librarian Jill Hofmockel, describes the challenges of revising the literature available to West's student body. 
"When students come up and ask, 'Can I check this book out for my class?', [my mom] has to look through each and every book and figure out whether there is a depiction of sex and if it could be legally challenging; it's a long process. I know that a lot of books will have to be pulled by Jan. 1," Ham said.
Of the 200 books flagged for inspection, the ICCSD has removed nearly 50 so far, with more expected to be eliminated. This censorship spans beyond books. Teachers must examine numerous media types that are featured in classrooms, from videos to music. 
West faculty, including AP Psychology teacher Travis Henderson, are responsible for complying with the laws in their classrooms.
"We talk about books and movies, [but] it could even be music that depicts a sex act that we can't use anymore," Henderson said. 
Ham notes that sexual content is rooted in numerous forms of media, making it difficult to distinguish and remove. 
"Sex is depicted in so many different books, plays, movies, shows, everything," Ham said. "It's fascinating that now people are getting worried about it and [are debating] things like, 'What's the line? What depicts sex in a terrible way, and what depicts sex in an okay way?'" 
Ham argues censoring sex is counterproductive, and that access to information is essential for safe practices.
"Regardless of if you want to read [about sex], it's informative and important for teenagers. If we don't provide resources like that, people either get hurt or go to worse sources," Ham said.
Principal Mitch Gross acknowledges some books that have to be pulled have crucial themes and messages besides sex.
"[The legislation] doesn't differentiate between rape or sexual assault and a consensual sex act," Gross said. "So for example, Maya Angelou's 'I Know Why the Caged Bird Sings'—in that book, she explicitly chronicles her being molested by a family member. Now, that book cannot be used, and that's a real disservice to a victim."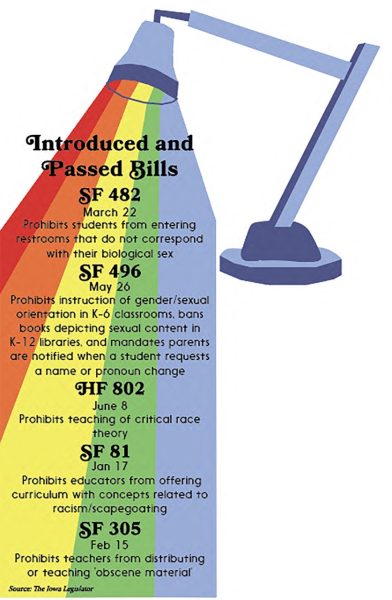 Curriculum Changes
House File 802 restricts classroom curriculum regarding critical race theory. The law prohibits instruction on how the legacy of slavery and systemic racism continues to impact American society.
"[The legislation says] that you can't teach ideas that an individual, by virtue of race or sex, is inherently racist, sexist or oppressive," Gross said. "You can't teach anything in which anyone would feel discomfort, guilt, anguish or any other form of psychological distress because of one's race or sex."
Gross believes these limitations downplay how history shapes current issues.
"It is impossible to ignore the racial injustices that have been at the cornerstone of this country since the 1600s," Gross said. "Teachers are now having to do a real eggshell dance, making sure that they teach facts but also aren't violating the law."
This ban isn't limited to Iowa. Florida's Department of Education (FLDOE) ruled to exclude AP African American Studies because the course "significantly lacks educational value." FLDOE also wrote in its curriculum standards that enslaved people "developed skills which, in some instances, could be applied for their personal benefit."
"The notion that Florida curriculum now talks about the 'benefits of slavery' is just preposterous. It's insulting. It's historically inaccurate," Gross said. "At some point, you can't teach the history that people wish had occurred. We have to teach the history that actually occurred, and the byproducts of that history are oftentimes not flattering and are difficult. But that's even more of a reason why it needs to be taught."
At some point, you can't teach the history that people wish had occurred. We have to teach the history that actually occurred…
— Principal Mitch Gross
Ham agrees, believing that teenagers should be able to determine how they consume media.
"I understand the desire to keep your child safe or to keep them from learning about something dangerous or unhealthy," Ham said. "But at a certain age, children have their own autonomy. If they are just learning, it's not a problem."
Fern Fraer '26, a member of the LGBTQ+ community, emphasizes the importance of staying informed.
"The less you're exposed to controversial topics, like gun control and women's rights and transgender issues, the less you're going to care about them," Fraer said. 
In Florida, there have been motions to remove material from the AP Psychology exam which tests information about gender identity and sex. The College Board stated that the AP Psychology exam will keep the challenged topics, but Senate File 305 prevents Iowa schools from discussing some sexual content classified as "obscene material." 
Henderson has removed sections of his curriculum discussing sexual motivation and its response cycle, as he fears violating the law. He faces another significant challenge with censorship: unclear guidelines.
"A lot of districts are left unclear on what we can and can't do. … There hasn't been Department of Education guidance on [the legislation]. There hasn't been a public comment [or] administrative rulemaking process yet," Henderson said.
The ambiguity of the legislation makes it difficult for teachers to know where to draw the line, which may cause them to over-censor their curriculum in fear of violating the law and losing their teaching licenses.
"[The lack of guidance] obviously leaves people nervous because the law is the law," Henderson said. "The reason people are scared is because it is highly unusual that an enforcement mechanism for a piece of legislation is a teacher's license … It made it personal for a lot of teachers. This is my career; it's my livelihood."
The law's vagueness produced unease in teachers; many West staff members declined an interview, directing West Side Story to the ICCSD administration instead. 
ICCSD Director of Community Relations Kristin Pedersen released a statement to WSS on the district's measures to navigate the legislation, reiterated by ICCSD administrators Carmen Gwenigale and Eliza Proctor.
"[ICCSD] will ensure our compliance with the State's requirement to have a K-12 library and curriculum program, consistent with educational standards, with age-appropriate materials, and supporting student achievement goals," Pedersen said.
LGBTQ+ Legislation
Senate File 482 was implemented at the end of last school year, restricting transgender students from accessing bathrooms corresponding to their gender identity. Also in effect is Senate File 496, which mandates parental notification when a student requests a name or pronoun change differing from their official school records or when a student self-identifies as transgender or nonbinary.
Fraer believes legislation changes will cause students to conceal their identity.
"[This] legislation will lead to students not being able to present themselves the way they want to, [which] will lead to shame and being closeted," Fraer said. "All of that shame and repression leads to people not wanting to reach out for help because authority will report them to their parents, who may not be a safe space."
Ham thinks these changes are unwarranted because they result in patrolling LGBTQ+ children.
"The legislation has been horrifying," Ham said. "A lot of people will not be able to be themselves anymore … That doesn't mean they're going to not be trans or not be queer, it just means that they will be worse off."
A lot of people will not be able to be themselves anymore.
— Andy Ham '24
Although Ham is not directly affected by these legislation changes because their parents already know their gender identity, Ham acknowledges it's imperative that students understand the new legislation.
"There could be students that don't know about these laws and will confide in a teacher, [who] would have no choice but to out them," Ham said. "It would not surprise me if there were a lot of queer students who aren't out yet who are really scared and if a lot of people's mental health has declined."
A 2022 study from the National Library of Medicine found a positive correlation between increased censorship policies of gender and sexual identity within schools and students' declined psychosocial health. After exposure to such topics, LGBTQ+ students were less likely to engage in suicide-related behaviors, take illicit drugs or feel threatened at school. 
Henderson believes the West community is doing its best to provide students with a supportive environment.
"In regards to pronouns and gender-affirming name changes, we started being really conscientious about not putting any students in a position that they don't want to be in," Henderson said. "[We are] trying to focus on relationships and still create an inclusive and welcoming environment, while also giving students the information they need."
For students who feel like West is no longer a safe place, Ham recommends contacting student organizations such as Colors Club, which unites LGBTQ+ individuals and allies within a community. They also acknowledge how most West staff members do not favor the legislation. 
"In the past four years, almost every teacher I've interacted with has been supportive of queer identities," Ham said. "Even if they can't support you now, they still see you as a human being; you're still a person."