Profile: Ms. Robinson's travels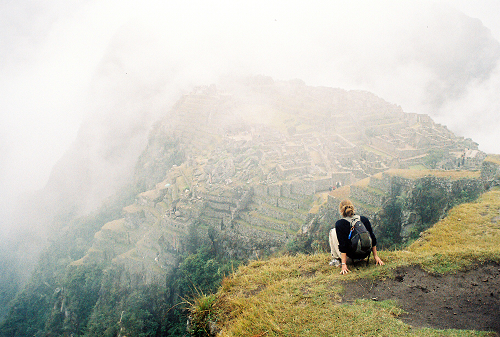 West Side Story investigates social studies teacher Ms. Robinson on where she has traveled.
West Side Story: How many continents have you been to?
Ms. Robinson: Five of seven.
WSS: How many countries have you been to?
Robinson: Over forty, I would say.
WSS: Why did you go to those particular countries?
Robinson: Why not? Curiosity. I enjoy being able to experience new cultures and food and meeting new people as well as history. Primarily, my travels have been from backpacking excursions, volunteer work, working as a civilian and experiences in the military. It has been a variety for the last fifteen years.
WSS: Where is your favorite place that you've traveled to? Why was it your favorite place?
Robinson: South America. I really love South America. In certain ways it's so much more untouched and you get to have a better feel of the culture.
WSS: Have you traveled around the US? Where have you been to in the US?
Robinson: Not as extensively as I have internationally. I have been to several of the deep South states. My brother lives there. The military has taken me out West. And of course surrounding states. I have some friends on the East coast. But I am certainly not even close to all of the states yet.
WSS: Could you tell me about anyone interesting you've met while traveling?
Robinson: I've met all kinds of people. People who are friendly and who want to know you just as much as you'd like to meet them. I've met hostile people who don't like Americans. And a lot of people in between.
WSS: Do you have any good travel stories?
Robinson: When I have been budget traveling during my college years, we stayed in a lot of hostels and a lot of random places in order to save money. We met some incredible people there, other backpackers. . . it's like this underground network of people. The experiences we had through that network was interesting because a lot of the best tips of places to go and some of the best travel secrets are found through meeting other people.
WSS: What kind of camera do you use?
Robinson: I used to have a Nikon D80, but then I dropped it and broke the lense and then they stopped making it. So I had to upgrade to a Nikon D90. Some of my photos were taken by point and shoot, too.
WSS: What has travel taught you? Can you think of the most important lesson travel has taught you?
Robinson: Tolerance. Probably most importantly it has taught me to appreciate what I have. When you've gone to all of these different places and seen so many different cultures, it makes you appreciate home. Home has a whole different meaning when you've been away.
WSS: Do you think travel has changed you?
Robinson: Absolutely. If I never would have started, I always wonder what kind of person I would be or where I would be in life, or even what my mentality would be. It has changed me immensely for the better.
WSS: What was your first travel experience?
Robinson: The first time I ever went overseas, I was in college and I did a study abroad program. I studied abroad in Poland at the Jagiellonian University.
WSS: When have you done most of your traveling?
Robinson: I started in college and I haven't stopped. I try to go someplace every year if I have the time or the funds.
WSS: What rewarding experiences have you gained from traveling?
Robinson: You force yourself out of your comfort zone. I've learned what I'm capable of overcoming and adapting to.
WSS: Where do you want to go next?
Robinson: I would love to go back to either central or South America. Maybe Ecuador or Belize.
I've also wanted to do more traveling in Asia. Maybe Mongolia.
Anywhere. I'd go anywhere.
WSS: Would you recommend traveling to students at West? Why?
Robinson: Absolutely. I think everyone should travel at least once in their lifetime. It's important. I really do think it gives you perspective when you come back home. I think people gain a better appreciation and understanding of the world and themselves. Some people miss out on a lot because they are too scared to venture out. I think it's a good step for people in understanding themselves and understanding the world.
Photos provided by Holly Robinson.