Fashion Friday: Emma Christison '16
West Side Story takes a deeper look at the Emma Christison's fashion insight during this Fashion Friday.
West Side Story: How would you describe your style?
Emma Christison: I think my style is reminiscent of the 70's, but also encompasses some modern styles.
WSS: Where do you like to shop?
EC: When I'm not thrifting, I mostly do my shopping online. My favorite store overall is Urban Outfitters. I really like Forever 21 and Free People as well … don't worry, I only shop the sales at Free People.
WSS: Why do you like to shop at these places?
EC: Although Free People is expensive, the sale rack is always stocked full of bohemian-styled items for great prices, especially for the quality. I mostly shop at Urban Outfitters because they have high quality clothing that is very versatile. You can buy simple pieces or very fashion forward statement pieces in all sorts of styles. Forever 21 is so cheap, yet their shoes look so expensive and modern.
WSS: Are there any local places that you like to go to?
EC: Yes, I love the store Revival in downtown Iowa City because, if you buy second hand, the merchandise is very unique and under ten dollars. Although this store is a little expensive for second hand clothes, White Rabbit is also a great store downtown. What I love about White Rabbit is that it has exclusive screen-printed shirts featuring artwork by some of the art students at the U of I.
WSS: Do you have any advice for people finding their style?
EC: Wear things that you like, clothes that look flattering on you and reflect who you are. No one should wear something that makes them feel uncomfortable. I found my style by picking out colors of clothes that I like and look flattering on me. Don't be afraid to pick up an item no one else has–style is all about being unique.
WSS: What is your go-to outfit?
EC: My army jacket with a top, jeans, and boots.
WSS: Do you have a favorite piece of clothing?
EC: No not really, I have so many pieces that I could not live without.
WSS: What is your favorite accessory?
EC: I love simple gold jewelry. I have a gold choker-necklace with the initial E and a thin chain. It looks very delicate and expensive, but it was only ten dollars.
WSS: Where do you get your fashion inspiration?
EC: Online for sure. I didn't really find my 70's style until I saw pictures of Vanessa Hudgens at Coachella on Instagram; I fell in love with her outfits. People are also posting all sorts of fashion blogs online, it leads me toward figuring out how to style certain items.
WSS: Does anyone at West influence your style?
EC: Morgan Hoeft '16 probably influences my style the most; she always looks so darn comfy and good in her sweatpants. Morgan reminds me that being comfortable in what you wear, as in how they look and how they feel, is first priority.
WSS: Do you have a favorite clothing season?
EC: I would say fall because it allows me to wear a variety of items and layer clothes. Fall also allows me to encompass my favorite colors into my outfits; I love neutral colors and I don't feel obligated to use bright colors in my wardrobe like I do in the summer.
WSS: What is a fashion no-no?
EC: When people wear clothes that barely cover their bodies. Showing some skin isn't a bad thing, but when it looks like someone is wearing underwear, it's very unflattering.
WSS: Has your style changed over the years?
EC: Definitely. When I was in elementary school, I wore a lot items my mom brought back from India and a lot of shirts with bugs on them, but I began to want to wear what everyone else wore when I was in junior high. It wasn't until the end of my freshman year that I broke off and just wore what I loved.
WSS: How does your lifestyle influence your fashion?
EC: Well I love being put together, but because of choir department activities I have to be at school for over 9 hours sometimes, so I like my clothes to be comfy. I tend to pick out clothes that are simple and soft. I'm also really bad at getting up in the morning, so I wear clothes that are statement pieces on their own. I can literally throw on a shirt and pants, or a dress and boots, and look put together with absolutely no effort since the clothes speak for themselves.
WSS: How do you think your style is different from others?
EC: I'm not afraid to pick out clothes with different textures and styles. For example, my (faux) leather pants … I don't think anyone at West has a pair of those. Also, my 70's based style, I think, is very unique to me.
WSS: How did you get into fashion?
EC: I'm always looking for new ways to be creative outside of music activities. Clothing is a great way to do that. I can try new styles and make interesting outfit combinations. Fashion is art and it is very expressive.
WSS: What is your favorite part about dressing up?
EC: I always feel like I have my life together, even if I don't at all, when I dress up.
WSS: How do you think your style reflects your personality?
EC: The bohemian feel to my fashion sense shows that I am someone who is really easy going. Also, I think I'm pretty out going and my style reflects that because I'm not afraid to wear what is not a trend.


Photos & Compiled by Paige Brazina
Must click photo to view entire album on Flickr.
Leave a Comment
Donate to West Side Story
Your donation will support the student journalists of West High School. Your contribution will allow us to purchase Scholarship Yearbooks, newsroom equipment and cover our annual website hosting costs.
About the Contributor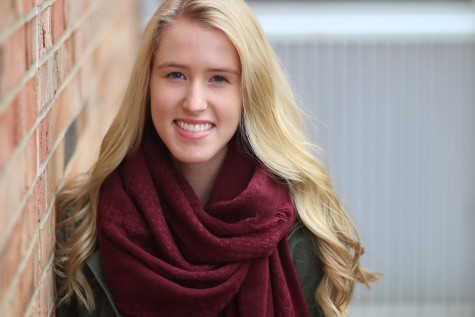 Paige Brazina, Design Editor
Paige is a Co-Photo Editor in her third year on staff.