Student mixtape: Eman Elsheikh '18
Junior Eman Elsheikh shares her favorite songs from over the years.
It's rare to find someone with as widespread of a music taste as Eman Elsheikh, with everything from K-Pop to classical in her daily playlists. She listens to different genres for separate activities, but enjoys them all.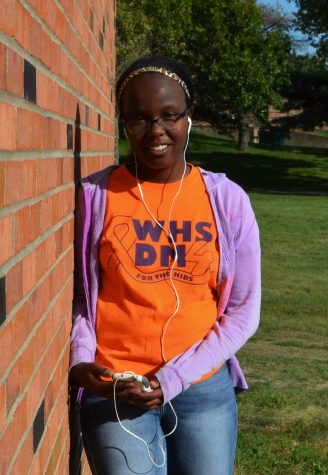 1. "Sentimental" – Winner
The K-Pop band, Winner, formed in 2014, and Sentimental is one of their most recent songs in their album 2016 Winner Exit Tour In Seoul Live CD.  "I like the feel of [the song], it's really mellow and the lyrics are kind of sad, but the melody is very pleasing."
[youtube https://www.youtube.com/watch?v=OV9NJGTLm-4]
2. "Carol of the Bells" – Pentatonix
Pentatonix, a popular a cappella group from Arlington, Texas has won several awards, and is the thirteenth most subscribed to music video channel on YouTube. Elsheikh enjoys listening to their music, and watching their videos in her free time. When she studies she likes to listen to their Christmas album, and classical music.
[youtube https://www.youtube.com/watch?v=WSUFzC6_fp8]
3. "Blood" – Day6
Day6 debuted with it's mini-album, The Day, which includes, "Congratulations", another one of Elsheikh's favorites.  Once tickets were on sale for their first concert, they sold out in five minutes. "I really like the voices of the artists. They're one of my top groups I like to listen to," Elsheikh commented. Her friend, Olivia Manaligod '18, got her into K-Pop last year, and since, she has enjoyed the music and videos that come with the culture, she added. 
[youtube https://www.youtube.com/watch?v=UtkbKS38Ikg]
4. "Undercover Martyn"- Two Door Cinema
Indie pop and rock, such as Mumford and Sons and Vance Joy, is another genre Elsheikh likes. Two Door Cinema Club is an Irish Indie rock band which consists of three members, and has released three albums over the years. Their song, "I Can Talk", was used in MTV's Teen Wolf, and a few of their other songs have been used in films. "I guess that their music keeps a really good balance between being calming and being entertaining, in my opinion," Elsheikh said.
[youtube https://www.youtube.com/watch?v=LLK4oaXUuLg]
5. "Sweet Sacrifice" – Evanescence
Taking another big turn in genres of music, Evanescence, is an American rock band and has sold seventeen million copies of their album, Fallen, worldwide. They have won two GRAMMY awards thanks to Fallen, in 2003. Elsheikh said she likes to listen to rock and metal when she's by herself, reading or just hanging out.
[youtube https://www.youtube.com/watch?v=XBYhQnjyrWo]