Student mixtape: Izaya Fullard '17
Basketball and baseball player Izaya Fullard '17 shares his diverse playlist for this weeks student mixtape.
While Izaya Fullard '17 may be best known for his abilities on the court and diamond, he has proved to have an eclectic taste in music. From Lil Wayne to Troy Bolton, Fullard shared his favorite tunes with the West Side Story.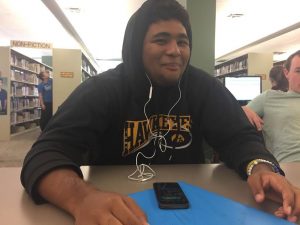 1."Lean On Me" – Bill Withers
This 1972 soul classic has been covered by endless artists and has been a staple of cheesy inspirational movies ever since. However, the message of camaraderie connects with Fullard. "This song just makes me happy. It's a good song with a great melody," he said.
2. "Slow Motion" -Trey Songz
Drifting away from the 70's, Fullard's next song comes courtesy of rapper Trey Songz. "Slow Motion" is from the 2015 album Trigga Reloaded and was certified platinum. Fullard has been a fan of the song since its release. "This song really calms me down and gets me ready to hit some buckets," he said.
3. "Gotta Go My Own Way"-High School Musical 2 Soundtrack
The High School Musical franchise reshaped the preteen movie genre and brought actors like Zac Efron and Vanessa Hudgens into the national spotlight. The songs and films still have a sizable fanbase ten years after its initial release, and Fullard has chosen a ballad from the second film as his favorite. "I just love this song, because the scene is so intense when Gabriella is leaving Troy. It's just so emotional." he said.
4. "Bed Rock"-Young Money Entertainment
While Lil Wayne has spent the last decade in and out of prison, his music is still resonating with fans across the globe. "Bed Rock," a single from the rapper's record label roster Young Money Entertainment, topped international charts when it was released in 2009. Fullard listens to this song before important games. "This song pumps me up and gets me ready for my basketball games." he said.
5."Ain't No Mountain High Enough"-Diana Ross
This empowering song from the 1960s was performed by a variety of successful artists; however, Fullard likes the Diana Ross version the best. "I just love the song, I can sing the whole song for days. It is an easy song to know, and I also happen to love mountains," he said.