The cost of college sports
Participating in athletics at the college level is a privilege that few people get to experience. Athletes take many aspects into account when deciding whether or not to compete in collegiate level sports. While the strict schedule may be beneficial to some, it can also cause a buildup of stress and anxiety for others. Other options to weigh are scholarships and the athletic division of the school. These aspects are very important for athletes considering different options.
Participating in any level of athletics can increase stress, especially when you reach the highest level of athletics that most will ever achieve due to the low number of athletes that will become professional . However, sports can also be a way to escape the frenzy of normal college life.
"Teenagers like their routines. Some people even say they would love it if a lot of kids could have that opportunity because you eat at certain times, you actually have to go to a training table to eat, you have to travel and so because of your travel you have to get things done ahead of time. You're at your best when you're scheduled," Karen Meyer, math teacher and former collegiate volleyball player said.
"So, I think in that way it can be really helpful. College sports can be really good. [They're demanding [and] you have to love the sport you do. You have to love it because that's what your life becomes."
On the other hand, participating in collegiate level sports can cause an amount of stress that some can not handle. There have been some cases over the past years of college athletes committing suicide because of the increased pressure. Some of the most prominent cases have been Madison Holleran, a freshman cross country and track team member at the University of Pennsylvania, along with Kasta Karageorge, an Ohio State wrestler and football player.
Karageorge's case differed from Holleran due to the possibility that his decision was affected by the numerous concussions he had endured during his football and wrestling careers. Permanent injuries, such as chronic traumatic encephalopathy, a condition developed from numerous concussions can have damaging effects to the athlete's mental being. Along with a chance for heightened stress, athletes must decide on the factors that are most important to them in a college.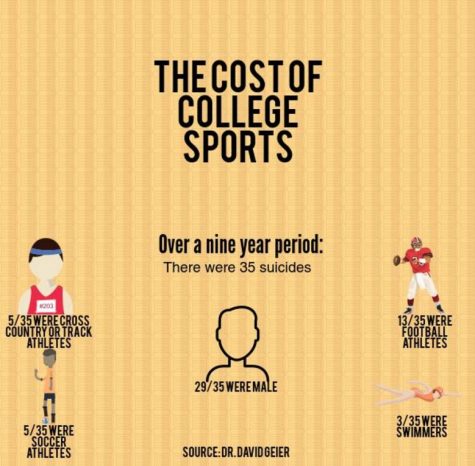 The odds of winning a full ride athletic scholarship is miniscule, with only two percent of college athletes doing so, according to CBS News. But the money is not the main reason Jessie Skopec '17 chose to participate in college athletics.
"[The University of South Dakota] had what I wanted to major in, which was very important. And then they have a great cross country/track program, with fantastic teammates, and I knew it would be a place I would enjoy running at, " Skopec said.
However, Skopec's reasoning is not always applied when deciding between universities and their athletic programs. Meyer admits that she did let the allure of a full-ride scholarship cloud her judgement when deciding where she wanted to continue her athletic career.
"I suppose at that time it was exciting that there was a school, they were clearly interested in me and admittedly I did not put an emphasis on the academics at the time…. I was actually only there for two years … [because] my shoulder got a lot of really bad tendonitis," Meyer said. "I ultimately decided that I did not want to continue my career … I think it was at that time that I realized that I chose the school to play at because I was going to get to play and I didn't choose it for the academics."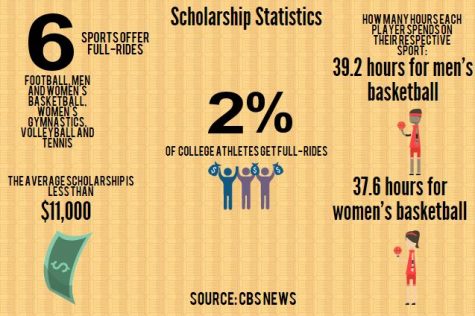 With so many options to choose from, athletes oftentimes have to make difficult decisions when deciding where they want to attend college. Factors such as the division of the school in which they will be attending can strongly affect their choice.
"I think that being in sports is being honest [with] yourself about what your real level is. Not everyone is a DI [Division I] athlete; I wasn't. It's about being at that level you can excel at and you can be your best [at]. If you truly want to be a DI athlete then do the work that it takes to get there. But, if not then be honest with yourself," Meyer said.