All about AnimeIowa
Everything you need to know about the largest anime convention in the state of Iowa.
Walk into the Coralville Marriott hotel on the last weekend of July, and the lobby will be packed. Not with people anxiously waiting for a room, though. There are people with wigs of all colors, dragon ears, giant televisions on their heads and even wearing elaborate dresses that they've sewn themselves. They're gathered together near the staircase watching robots face off, sitting in the restaurant eating lunch or walking around and laughing with their group of friends also decked in fantastical outfits.
Getting into that may be disorienting, but this gathering of people is actually the biggest anime convention in the state of Iowa. AnimeIowa brings together more than 3,000 people of all different fandoms into the Coralville Marriott for three days of fun. Not only do attendees get to meet guests like voice actors and writers at panels, but there are other events and places to be explored. Whether it's scarfing down snacks at ConSweet, looking through merchandise at the Marketplace or binge-watching shows in the video rooms, everyone gets the chance to do whatever they want.
Maeven Goodno, a West High graduate, former co-president of the anime club and attendee of the con for four years, is one fan of the video rooms.
"It's nice [that] they'll only show a couple of episodes so you can get a feel for whether it sucks or not," she said. "Plus it gives you more to watch and waste your summer on in case your list of [stuff] to watch is getting shorter. Mine sure isn't, though."
Jeffrey Conner, a West High science teacher and member of the con's treasury for two years, appreciates the environment the con builds for people.
"Attendees and staff welcome the diverse anime fanbase and create an atmosphere where people can feel happy to be themselves," Conner said. "We have an accessibility team which focuses on helping attendees with disabilities or those with social anxiety to have the best time possible. We also want attendees to feel comfortable expressing their sexual orientation or gender identity. We hope to create a safe space where everyone is happy and comfortable."
"
Attendees and staff welcome the diverse anime fanbase and create an atmosphere where people can feel happy to be themselves.
— Jeffery Conner
AnimeIowa is run by the Mindbridge Foundation as a non-profit project. Alongside sibling cons Gamicon and Icon, volunteers give their time on staff to make everything happen. As one of those staff members, Conner takes his job very seriously.
"My responsibilities [on the treasury team] include reimbursing staff members for purchases, keeping track of purchases in a budget spreadsheet, writing checks, counting cash at the convention, making deposits and helping with registration," he said. "The convention's budget exceeds $200,000 and there are hundreds of transactions involved. It's a lot to keep track of."
Those responsibilities will definitely increase in the future. As of this year, AnimeIowa will spend its last three-day stay in Coralville. For 2018, they will not only be moving dates but location. The con will open its doors on July 13th, 2018 at the Iowa Events Center in Des Moines. Of course, this decision comes with its positives and negatives.
"The Iowa Events Center offers us four times the space we have now," Conner said. "This means we can have much larger events and support tens of thousands of attendees. We expect that we'll lose some fans who don't think it's worth it to travel to Des Moines for the convention, but we know that many of the attendees are deeply loyal, and we hope to draw in more people from the western half of the state."
Goodno is one of those apprehensive about the move.
"I've heard [the Iowa Events Center] won't be a hotel, [which will make things] a little more difficult for out of state cosplayers," she said. "I don't really know the general area, to be fair, but [hopefully like] the Marriott location, there [will be] many different restaurants you can easily walk to."
Meanwhile, Conner is still considering reappearing on staff due to the move.
"We meet monthly to plan the convention, and those meetings are now going to take place in Des Moines," he said. "It's a lot more traveling, and I'm already very busy during the school year. At this point, [I'll] try it out and see how well it works with my schedule. Even if I don't remain on staff, I'll definitely be attending the convention."
The state capital awaits for next year's participants, staff and attendees alike. Even with it being an experiment, let's hope it pays off. For more information regarding the con, you can visit the official AnimeIowa website here. Registration for next year's con will start in December.
Leave a Comment
Donate to West Side Story
Your donation will support the student journalists of West High School. Your contribution will allow us to purchase Scholarship Yearbooks, newsroom equipment and cover our annual website hosting costs.
About the Contributor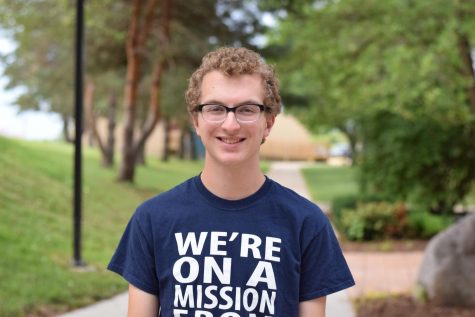 Luke Reynolds, Copy Editor, Anchor, Reporter
This is Luke's first and only year as a member of West Side Story. He'll be kept busy with anchoring, editing and reporting, but he's gonna have fun while...