Scheels draws crowd with third annual DockDogs
On July 29th and 30th Scheels hosted DockDogs, an international competition, in their parking lot.
Metal tags jingle on collars and dogs shout over the music as Dan Mussell kisses his golden retriever's head. He lets go of the dog. Maddie's paws race across the dock and she launches herself into the water, landing at 17' 4''.
"Her first jump was one foot 11 inches. She ran down the dock, put on the brakes and basically fell in. And then after the fourth, fifth jump, she understood it," Dan Mussel, dog handler and owner, said. "Now she's actually at the point where I'm just up there. She does everything."
Maddie is one of the thousands of dogs that compete in DockDogs worldwide. DockDogs is an international competition club where dogs can compete in different water events.
July 29th and 30th Scheels hosted DockDogs for the third time in the Coral Ridge mall parking lot.
"It's an attraction, it brings a lot of people out," Paul Roesler, Scheels employee said.
Roughly 75 dogs competed, with varied experience, age and skill. Dogs must be at least six months old and handlers can be as young as seven.
"
How much more fun can it be than watching a dog jump twenty plus feet through the air? It's really pretty spectacular."
— John Manaka
"The nice part is anybody who has a dog that likes water and toys, they can come out and try it, all they have to do is signup and pay your admission. People are friendly, they'll help you. It's a lot of fun. We have everything from little tiny dogs to huge dogs, old, young. It doesn't matter the breed or the age," Susan Barnes said. Barnes trains dogs to compete and to be good pets. This past weekend Barnes was competing with her sportmix dog, Trex.
Mussell and Maddie have been competing in dock dogs for eight years. "The very first year of competing was 2010 and her very first jump was in Cedar Falls, Iowa. She went one foot 11 inches. And then in October of that year she won the national championship in her division, and it happened to be my birthday too," Barnes said.
Maddie has gone to the World Championships four times, all invites because of an event called Iron Dog.
Jasmine, a young black lab is newer to the sport. "We did this once last year and it was the only time we had done it and it went really well and she actually won the semi-pro," Owner Casey Goetz said.
Several times a week Goetz will take Jasmine to a dog park with a dock and pond to exercise. "This isn't anything new for her but it adds another element when there's tons of people and tons of other dogs around, like all manners go out the window and they just get super wound. She actually jumps better here because of all the adrenaline," Goetz said.
President of Iowa DockDogs, John Manak, got started with DockDogs in 2010 with his chocolate labrador, Rover.
"He never did very well. His biggest jump was maybe 10 feet ever and he sort of got the nickname of Torpedo Dog because he'd do into the water like a torpedo. And so after a couple years of that I knew there was probably some good karma coming at me so I got my dog Murphy from the same breeder," Manak said.
"With Murphy he had a lot more sort of intense sort of drive for this sport. Actually at [eight weeks] of age, I already had him swimming and jumping off the small dock, and he took to it like that. So the first official DockDogs event we competed in he jumped 18 feet. And of course we hadn't worked on our technique or anything so I knew he was a really big jumping dog and he just got better and better as the years went on. His biggest jump to date was 26 feet seven inches."
After years of competing Manak was asked to start a club in Iowa. He's a big advocate for the sport. "The great thing about this type of event is even people who've never been here, never seen an event, if I tell them, come and just watch and you tell me if you like it, they invariably come back and tell me that's one of the coolest things [they've] ever done because it's a really family oriented sport," Manak said.
The event also had a rock climbing wall, paddle board area and a grill. With stores nearby there was something for everyone to enjoy that weekend. "How much more fun can it be than watching a dog jump twenty plus feet through the air?" Manaka said. "It's really pretty spectacular."
Leave a Comment
Donate to West Side Story
Your donation will support the student journalists of West High School. Your contribution will allow us to purchase Scholarship Yearbooks, newsroom equipment and cover our annual website hosting costs.
About the Contributor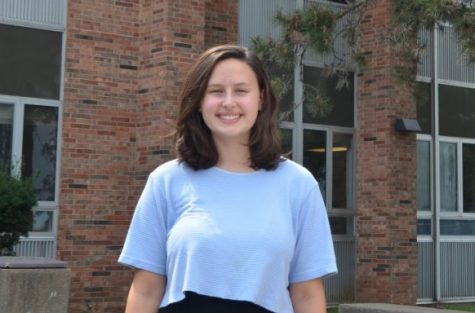 Natalie Dunlap, Online Editor-in-Chief
Natalie Dunlap is a senior and the Online Editor-in-Chief for the West Side Story. She is also involved in theatre and West High Democrats. When she's...