WSS photographer 1 of 10 finalists in national News Photo of the Year contest
While driving and jamming out to "Go Gina" by SZA, the realization that West Side Story News Editor and Photographer, Alyson Kuennen, was one of 10 finalists nationwide in the National Scholastic Press Association's annual News Photo of the Year contest began to sink in. "I was just in this state of disbelief, [Sara Whittaker] texted me the information and the link and I didn't realize how big [the] scope …was, that it was nationwide. I kinda put it out of my mind cause I was working on another post," said Kuennen.
Kuennen's photo was featured on wsspaper.com last November in "40 students leave class for sit-in protest." "I really thought about the image while I was doing it" said Kuennen, "and it was one of the few images that I really want[ed] to compose  this way." View all of the Picture of the Year finalists here.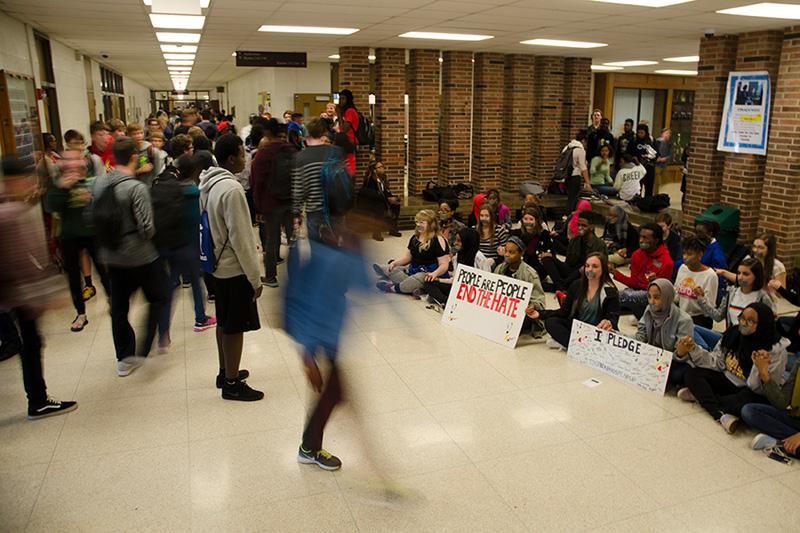 According to a press release from NSPA, competition was intense in all six categories of the 2017 NSPA Individual Awards with 3,500 entries competing. Judges selected 280 NSPA Individual Award finalists, representing eight percent of the entries. Of those finalists, 140 will be announced as winners and presented with plaques indicating their top-five ranking. The winners represent only four percent of the total entries.
Finalists in the following NSPA Individual Award categories were also announced for Design of the Year and Story of the Year contests. The following NSPA Award categories will be announced by Oct. 1: Broadcast Story of the Year, Cartooning Award and Multimedia Story of the Year.
For a list of previous WSS awards, visit wsspaper.com/awards.