10 seniors sign National Letters of Intent
On Wed., Nov. 8, seniors gathered in the cafeteria after school to sign to continue their respective athletic careers in college.
Deniz Ince, Print Editor-in-Chief, Co-Sports Editor
November 8, 2017
Balloons, posters and cookies filled the cafeteria after school on Wed., Nov. 8 as 10 seniors signed their National Letters of Intent to compete athletically in college. Of these students, five will continue playing at Division I schools.
Here's a complete list of the students who signed:
Logan Cook '18: University of Iowa – basketball
"Going to Iowa's just a dream come true. I'm so excited just for the opportunity to play for Coach Bluder and her staff. Growing up going to the camp since I was little and I've always looked up to the players so I'm just so excited."
Colby Greene '18: Southeast Missouri State – volleyball
"I chose Southeast Missouri because I fell in love with the university and the campus along with the coaches and the players."
Chandler Haight '18: Drake University – track & field
Kylie Heisdorffer '18: Kirkwood Community College – softball
Braden Houston '18: Southeastern Community College – baseball
"I really liked the facilities and the coaches and the atmosphere that was introduced to me when I got there. A lot of good things ahead coming in the future in terms of other facilities and good recruits coming in."
Maddie Laffey '18: Aurora University – volleyball
Keimoney Lang '18: Des Moines Area Community College – volleyball
Ruby Martin '18: Arizona State University – swimming
"I guess the part that really put the cherry on top, I'd say, for choosing Arizona State was when I went on my official [visit]. [I got] to meet the team and see the team atmosphere during practice and then just outside of the pool, them making me feel welcomed. It's probably one of the greatest feelings to feel like you fit in and the coaching staff there, them having a ton of enthusiasm and a ton of passion towards the kids. It was really great to see and seeing that just made me feel like I could really thrive there."
Rachael Saunders '18: Creighton University – basketball
Michael Schilling '18: Wartburg College – soccer
About the Contributor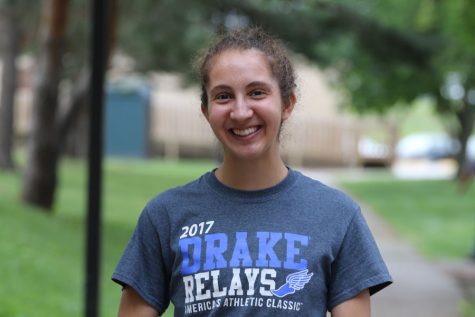 Deniz Ince, Print Editor-in-Chief, Co-Sports Editor
Deniz Ince is a senior in her third year on the West Side Story staff as the Print Editor-in-Chief and Co-Sports Editor. In her free time, Deniz likes...