Permissive topics will stay in secretary's contracts
After backlash over an initial proposal, the school board apologizes for suggesting the removal of permissive topics.
An elementary student breaks his finger. A flustered high schooler forgets their locker combination. A misbehaving student needs a playmate. Who handles all these situations?
In schools, secretaries do much more than just answering phones. They build personal connections with students. That's why there was so much community outcry when the school board gave an initial proposal on Feb. 9 indicating that permissive topics would no longer be negotiable in secretary's contacts.
Permissive topics include vacation days, hours, inservice training and overtime. The announcement caused anxiety in the secretaries' union as well as infuritation from parents.
"
A secretary is many things, smart, flexible, most of all we are caring. We come to our work with many talents, years of experience that can only be learned on the job, things like how to deal with difficult students."
— Shelly Maxwell
"Topics such as hours and vacation overtime going into a handbook would create a great concern in our group in that the difference between a contract, which is negotiable and binding, and a handbook, which is neither, would have left the secretarial group at the mercy of future administrators and board members, who may choose to change the handbook at anytime without our input," said Shelly Maxwell, president of the secretaries union.
On Tuesday, Feb. 13 many attended the Iowa City Community School District Board meeting to hear an update and give their opinion on a memo that was sent out by the board in days prior saying that permissive topics would no longer be negotiable. At the beginning of the meeting, board president Janet Godwin addressed the situation.
"Many of you know and are here tonight because of it, that the opening proposal for the board … was a mistake, no other way to put it. As board president I take responsibility for not insuring there was a robust process in place to develop, review and gain alignment on the opening proposal before it was shared with our union negotiators. I understand that the opening proposal caused significant anger, fear, anxiety and concern for our district workers' well being, and for that I deeply, sincerely apologize. I also understand that the opening proposal broke faith and significantly strained relationships with those groups that we have had a solid working relationship [with] in the past. Our goal, as we try to correct this mistake, is to begin rebuilding trust."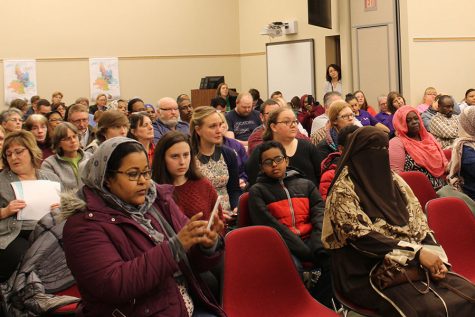 After the announcement was made, people still came before the board to share their stories about how secretaries have positively impacted their lives. One parent shared that each morning her son rings the buzzer at Twain Elementary and says 'Hi, it's me, Peter' and Twain's secretary Whitney Busling responds, 'Hello, Peter.'
"He's an anxious kid, and this is one ritual that helps him know it's okay to go into school every day," said his mother, Laura Crossett. "I have seen Whitney show that same level of individual care for all the students of Twain."
Although the proposal temporarily damaged the relationship between secretaries and the board, Maxwell appreciated how the board handled the situation and acknowledged their mistake.
"I'm looking forward to moving ahead with our plan for bargaining a contract that I hope will make everyone happy on both sides of the fence," Maxwell said. "And I'm glad that the public supported the secretaires so strongly."