Managing AP testing
The greatest plight of the modern student.
Spring has sprung. The world has turned green. Snow has turned to sunshine, and the harsh blasts of winter's winds have turned to bird song. But many academically ambitious students in high schools across the country have barely noticed. For them, spring does not mean renewed exploration of the burgeoning outdoor world, but rather the arrival of Advanced Placement (AP) testing. Beginning Monday, May 7, many students at West High will begin AP tests hoping to receive scores that could determine their academic futures.
AP tests are taken at the end of the school year to determine a student's level of learning in college level classes taken over the course of a year. The score a student receives on an AP test carries an enormous weight because it determines if they will receive college credit for taking the class.The pressure of studying for AP tests adds to the already hectic everyday life of high school students, and managing that stressful lifestyle can be one of the biggest challenges for students come test day.
According to Kelly Bergmann, a guidance counselor at West High, one of the most helpful things a student can do going into an AP test is maintaining a high level of self-confidence.
"You're going to be stressed, so know that you've been preparing for [the test] all year… make sure that you're just focusing on those areas that you're just a little weak in and then go in with confidence," said Bergmann.
Staying confident in one's abilities goes hand in hand with not cramming in the few days preceding the test.
"Study a little bit at a time, and try not to cram the night before because then you are going to be exhausted," said Bergmann. "Honestly, get lots of rest [and] don't stay up too late studying."
For Austen Mattingly '19, perfecting study habits for upcoming AP tests is vital. Mattingly, who is taking four AP classes and the corresponding tests at West, has chosen to self-study for three more AP tests this year.
"The ones I'm taking are AP chemistry, Spanish, Music Theory, Government, Human Geography, Psychology and Macro Economics," said Mattingly.
For students like Mattingly, AP tests do not only serve as a way to receive college credit, but also as a way to separate oneself as an outstanding student. For Mattingly, this meant becoming a national AP scholar by taking eight different AP tests.
"I want the national AP scholar because I know that it is really good in terms of showing how advanced you are and prepared for college academics," said Mattingly. "I feel like having that on applications can suffice for gpas that aren't perfect."
However, preparing for so many AP tests can heavily damage social and out-of-school life.
"In 100 percent honesty, I don't have much of a life… on a regular school day I study at least an hour per subject that I self-study."
Taking seven AP tests is not for everyone, and finding the right amount of AP classes can determine a student's success.
"
"You're going to be stressed, so know that you've been preparing for [the test] all year… make sure that you're just focusing on those areas that you're just a little weak in and then go in with confidence.""
— Kelly Bergmann
"It is really individual and it really also depends on what the students area of interest is. If they're really into the math and sciences, if they don't really like social studies then there isn't a real need to take an AP. It would still be great but you wouldn't necessarily have to," said Bergmann.
Perhaps the most essential part of student performance on AP tests is maintaining personal wellness.
"A lot of [handling the stress] is just music and I allow that to release all of my stress. To sit and play a couple pieces allows me to release and forget about everything I do," said Mattingly, who plays piano and guitar.
Bergmann also thinks finding ways to unburden can help students perform better.
"For some it may be going for a walk or a run or doing exercise, for others it may be blaring loud music on the way and having your headphones in until the last possible minute. I think do whatever it is that is going to clear your head a little bit and give you a little bit of confidence going in."
Leave a Comment
Donate to West Side Story
Your donation will support the student journalists of West High School. Your contribution will allow us to purchase Scholarship Yearbooks, newsroom equipment and cover our annual website hosting costs.
About the Writer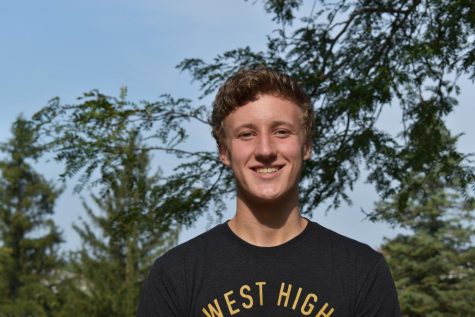 Ken Wilbur, Podcast Editor
Ken Wilbur is a senior at West and a third-year staffer on West Side Story. While not recording podcasts or writing articles, Ken can be found running...