Color overload
An evening of art was held at the University of Iowa Community Credit Union Thursday, May 3, with students showcasing their pieces from various schools.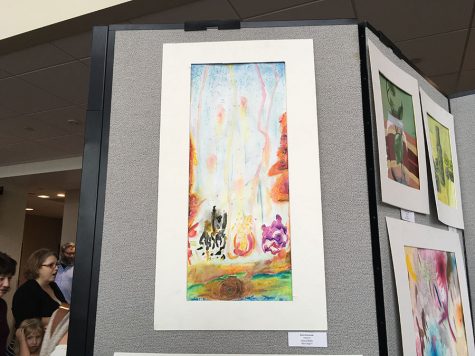 Earth can't be spelled without art, and luckily there is plenty of art in the world. Talented artists worldwide and locally have been creating incredible artwork for centuries. The tradition is still ongoing in Iowa City with the 27th Annual Hani Elkadi Artists' Reception that was held May 4.
This event took place at the University of Iowa Community Credit Union. Junior high to high schools from the Iowa City area all participated in the art exhibit.
As individuals walked around the colorful hall they could look at different types of art from watercolor paintings to stained glass pieces. Thirty students from West High were chosen to display their artwork for the special event.
"I'm really proud that it got hung up and chosen," said Anya Emerson '21. Created in Maggie Yocius' class, the artwork was based off a prompt to use colors in a way to explain an individual's personality. Emerson's painting had streaks of calming colors and was very abstract.
"The person I based mine off of is very calm and rational but they also have a very 'burstful' personality, so very colorful as well," Emerson said.
"
It was super cool because I just show up, I paint, I draw, I just relax and have a fun time but to get recognized is kind of stunning"
— Madeline Thompson '19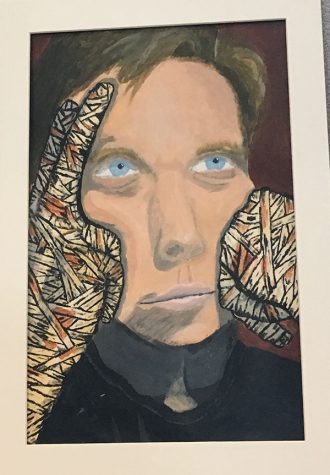 Another West High student chosen to display their artwork was Kyler Krupp '18. Krupp's piece of artwork was a self-portrait, but his hands were what caught people's attention. The hands were covered in a pattern and cupped around his cheeks.
"It's actually my favorite rap group's […] common symbol. To do hands like that."
Laurel Kelly '19 had a much more different approach to her piece than others, and the finished product all came from one idea being bored at home. The artwork had different shapes pieced together which popped out; making it three-dimensional. The shapes were also covered in designs of white ink.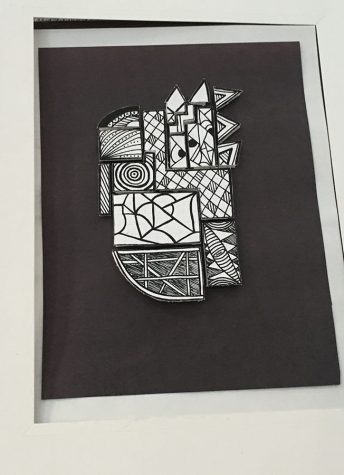 "I got this new notebook and a new pen so I was just like, 'okay I'm just going to start drawing shapes' and that came out," said Kelly. "I had to turn it in as a project for AP Art and [my teacher] Christian [Aanestad] really liked it and he wanted me to try new stuff with it so I decided to make it 3D."
When it was time for the awards to be announced, the crowd huddled into the back area, where refreshments and snacks were being served. There were various award categories that many talented young artists won.
Once the teacher's awards were being announced, Yocius came up to award the student that she and Aanestad individually picked and thought did an extraordinary job from West High. This young artist was Madeline Thompson '19.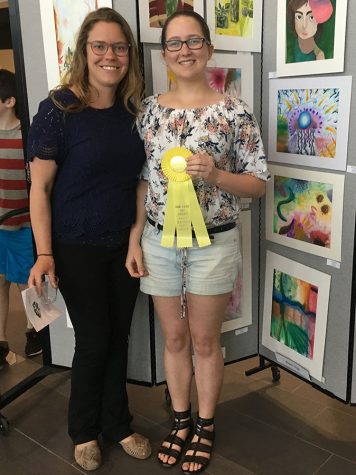 "She is very thoughtful in her art-making process," said Yocius. "Her planning time, and because of that, working time, is longer than other student's, but it shows in her product. So I chose her because she thinks so much about what she's doing and you can tell that she really enjoys art and the art-making process."
Thompson could not believe that she was chosen for the teacher's pick award and explained how she never thought it would be her. When Tompson heard her name called to come up and receive her award, she couldn't help but be in shock. She laughed as she told Yocius what she was thinking as she walked up to retrieve the yellow ribbon, which was 'don't trip, don't trip, please don't trip.'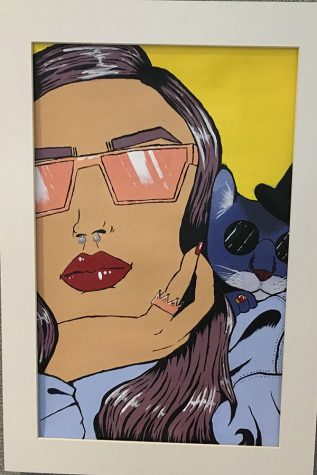 "It was super cool because I just show up, I paint, I draw, I just relax and have a fun time but to get recognized is kind of stunning, " she said.
Thompson had two of her art pieces shown at the exhibit that night. One was a portrait of her and her cat, while the other was a based on a prompt similar to Emerson's.
"In art class, I draw very literally, from reality, so my art teacher made me really break it up to more expressive drawing. So, I remembered a friend who moved away in elementary school and so I tried to use her personality and what she acted like to try and embody her," said Thompson. "The other one was a selfie I really liked of my cat and I."
The crowd enjoyed the colorful display, making their days a little more lively. Exiting, the murmur of people's pleasure could be overheard. It was one of those days where you notice people smile a little bit wider.
Leave a Comment
Donate to West Side Story
Your donation will support the student journalists of West High School. Your contribution will allow us to purchase Scholarship Yearbooks, newsroom equipment and cover our annual website hosting costs.
About the Contributor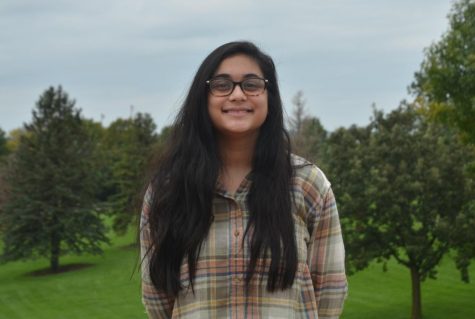 Fareeha Ahmad, Profiles Editor and Yearbook Copy Editor
Fareeha Ahmad is a senior at West High, and this is her second year on staff. She is the profiles editor for print and the copy editor for yearbook. When...