"Kidding" is the bittersweet tragicomedy we need
In the WSS review for "Kidding" staff critic Harry Westergaard tells you why the series is one of the most vital pieces of current TV.
Over the summer, many proclaimed Mr. Rogers, of the PBS television series "Mister Rogers Neighborhood"  to be just the person we needed in "times like these." A man who uplifted many with his unbridled kindness and notions of equality. Mr. Pickles, star of the fictional series "Puppet Time with Mr. Pickles," from the new show on Showtime entitled "Kidding" is just as essential to the times we live in, albeit in a much different, darker way.
This is no coincidence of course. Jeff Pickles, portrayed by Jim Carrey, is deliberately channeled after Rogers. In the world of "Kidding," he's been a national icon for thirty years on TV, mingling with puppets and upholding the same values that Rogers promoted. The difference?  Pickles has lost his son in a car accident and is overrun by grief. His wife has also left him and he's having trouble connecting to his remaining kid who's getting to an age where he finds his routine to be bland.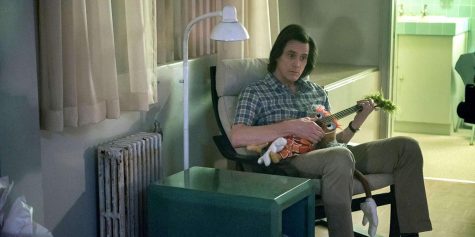 So, Jeff has it pretty rough. The role is the perfect playground for Jim Carrey's diverse talents. Despite getting typecast in obnoxious roles in the 90's, Carrey actually has a quieter, more melancholy side that is brilliant when put to good use. The most blatant example of this is 2004's "Eternal Sunshine of the Spotless Mind." In "Kidding," Carrey is able to express the best of both types of roles. When he's playing Jeff in his tv persona, he's doing classic Carrey material, i.e. lots of slapstick and silly talking. But when it goes behind the scenes, where the actual drama happens, he goes quiet and we get a stunning portrait of a broken man.
His voice gets whispery, and lots of emphases is put into his expressions. At times it borders on creepy, but thanks to Carrey's effortless performance, it works. The audience feels sympathetic, for the most part. Both sides of his personality are at odds with each other, and he's having trouble keeping the darker side bottled up. Especially after everything that's gone down in his personal life.
Carrey's captivating lead performance is bolstered by a strong supporting cast. Particularly, Frank Langella as his dad Seb, who is also the executive producer of "Puppet Time," and Catherine Keener, who plays Jeff's sister Didi who's serves as head puppet-crafter. Langella provides comments that are either dirty or simply in bad taste with a very frank, down to earth delivery. He has some of the best lines in the series so far. Keener is simply stellar in everything she's in. So far, in "Kidding," she's playing the voice of reason, at least on the exterior. She's also having marital complications, but is better at dealing with it than her brother.
Michel Gondry serves as the series' main director. Gondry previously directed Carrey in "Eternal Sunshine," and this reunion was hyped up in the press for the series. Much of the time, you forget it's Gondry directing. His style is much more subdued in "Kidding." The shaky camera flourishes and tricks he played with focus in the former aren't present. It's still somewhat dreamlike, just in a less urgent, frantic way. The colors all seem a little muted, the camera hoves around after the characters quietly, without drawing much attention to itself. This is good. The finished product sufficiently grounds the series in the required amount of reality, with a dash of dreamy whimsy.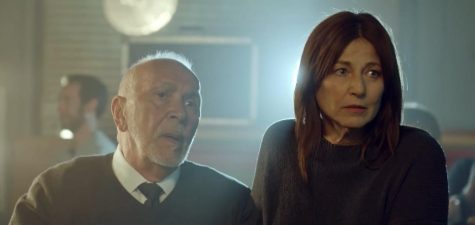 Although only five episodes have aired so far, "Kidding" has proven itself to be an intriguing new series. If you've stuck with me this far, you'll see that I obviously have a lot to say it already. The show definitely has potential. For the most part, the first few episodes have been pleasing television. However, I have a couple qualms. While I found the episodes engrossing, the comedy and drama ratio could be worked on. The first episode especially seemed low on laughs and left me wondering a couple times if I was actually watching a comedy, or if it was a drama in half an hour. This is inherently a problem since the drama itself was fairly engrossing, however, I needed a little more of a light at the end of the tunnel to be at least partially present early on.
The premise of darkness boiling beneath the surface of enthusiasm isn't necessarily an original idea, but it seems especially relevant. The dilemma that Jeff faces in the show is something that many of us can relate to in modern day culture. The values that he's been preaching for years are at odds with the tragedy in his personal life. As our values and the values of those around change, we are thrust in a similar position as Jeff. In this way, "Kidding" provides us with the protagonist we need in today's society. He's trying hard to keep his cool but is faced with a world where he has to stop hiding the negatives and wise up.
Leave a Comment
Donate to West Side Story
Your donation will support the student journalists of West High School. Your contribution will allow us to purchase Scholarship Yearbooks, newsroom equipment and cover our annual website hosting costs.
About the Contributor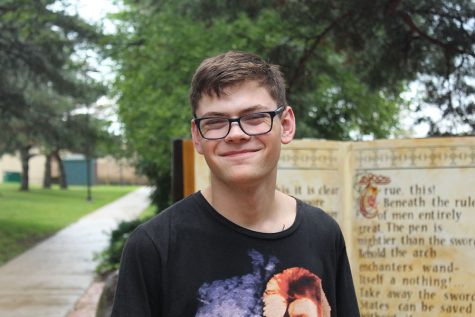 Harry Westergaard, Arts Editor, Co-Copy Editor
Harry Westergaard is a senior at West High and this is his third year on staff. He does a little bit of everything on staff, working primarily as the Arts...