Pakistan to the USA: the journey to paraeducation
Faith, family, education and ambition have shaped the life of Samina Naz, a paraeducator in the special education department.
Following the death of her parents, Samina Naz was devastated. Her mother passed in 1998 and two years later, her father died of a heart attack. The loss brought her from Pakistan, her home at the time, to the United States, where she became a paraeducator in the special education department.
Naz's parents were the most important people in her life. She credits her mother, a former teacher at Quetta Balochistan Sacred Heart school in Pakistan and her father, who directed sports at colleges in Quetta, for every success she has in life. They gave her a good education and instilled in her a strong faith in God which she still holds today.
"I'm still empty without them somehow," Naz said. "Whatever I do, I feel on one hand very happy and the other hand I feel a little bit sad because they cannot see me, what I'm doing now. But if they were here they would be very cheerful. They would be very happy and proud of me."
While Naz mourned their passing, her brother Nagam was concerned for Naz and wanted her to move forward with her life.
"I was crying a lot and I was very sad. So my brother was in the United States and he told me 'You should come and study or do something, otherwise if you cry, you will ruin your life,'" Naz said.
After being told about opportunities available in the United States, Naz left Pakistan and headed to Fairfield, Iowa, where Nagam was living at the time. She went to bible school and built friendships there, but there weren't many job opportunities in the small town, so in 2011, she moved to Iowa City.
Naz was first introduced to West's special education program while substituting for paraeducators. Though she had teaching experience, students with specialized needs had been taught separately from other students at her schools in Pakistan.
"When I came [to West] it was very interesting that … all the kids, can work together. And I [thought] 'Oh, that can be cool' then I start doing subbing," Naz said. "And then finally, I was taking interest in those kids, I can see that they need more help and love and the other kids can do more on their own; but they really need help… I did an interview and I was assigned this [job] and I say, 'God, I will take this job because it's from you.' It's just like my inner self is that I have to go to these kids."
In 2014, Assistant Principal Molly Abraham hired Naz because she believed Naz had the right kind of personality to be a paraeducator.
"She's a very consistent, stable person for a lot of the kids she works with," Abraham said. "She's kind, but she's not a pushover."
According to special programs teacher Steve Merkle, when Naz first started working at West, "she picked up on a lot of our projects real quick. She knew how to get involved and she was still good in listening for directions and how to follow plans. But at the same time, she knew when to make her decisions."
As a paraeducator, Naz assists students in their classes. Depending on the needs of the student this could include taking notes during lectures or even being a students' second hand in art class. She takes part in the production class where students do a variety of tasks such as making cookies, art or tie-dye.
Before landing her paraeducator position, Naz was already working as an associate at Walmart. For financial reasons, she still works there part time on Sundays, Mondays, Wednesdays and Thursdays.
"From eight o'clock to four o'clock I am here. So then six o'clock to 10:30 I am at Walmart," Naz said.
In the summer she picks up more hours at Walmart and does jobs such as sewing or creating jewelry.
Naz feels blessed to have the jobs she has, and she is successful in both. In 2011 and 2012 she was awarded Employee of the Year at Walmart and she is valued by teachers she works with at West. However, she feels the compensation for paraeducators is too low for the work they put in.
Payment is negotiated between the para association and the district. Abraham agrees paraeducators aren't paid enough, but it is out of the school's control to increase their wages.
"We're not out of line with what other districts pay," Abraham said, "but that just means that we all aren't paying them enough."
Eventually, Naz would like to earn enough money so she can move into a better home. She currently lives in a one bedroom apartment where she hardly has enough room to cook for herself. She wants a home that can host her friends from Fairfield who have become like family to her.
"I have Fairfield families [who think] I am like their daughters. I come and I go to their home once a month," Naz said.
Naz has also built strong connections with her colleagues at West. On May 31, she took the test to become a U.S. citizen. She passed, and to celebrate her new citizenship, the special programs department threw a party for her.
"I was so proud. When I came in the class … Mr. Steve, and all my paras made food, American food, for me that day and these kids are running with the flag," Naz said. "… I came in and I have a tear in my eye and I was so quiet, but I love them. They love me too."
Naz has grown close to West staff outside of her department as well. Christian Aanestad met Naz when she was helping students in his art classes and they grew closer during her citizenship application. Aanestad was an aid to her when she needed clarification and assistance when applying, and through that process they built up a level of trust.
"I would consider her family, and we try to treat each other in that way," Aanestad said. "She's another sister that I have here in town and so when she needs something, you do those things for people and she treats me the same way. And I think that's what's made that relationship work really well."
While her job, address and friend circles have changed over the years, her devotion to God has been deeply rooted in her since childhood.
"I was born as a Christian but several miracles happened in my life so I was more close to God and I was always praying for God. So when I was getting whatever job I get or wherever I go, I usually first pray and I say 'God you give me peace'."
Though raised as a believer, particular events, such as getting the jobs she has, have strengthened her faith. She sees working with her students as a blessing.
Another event Naz considers a miracle took place a year after she moved to Iowa, when she was traveling back to the US after visiting her siblings in Pakistan. She was stopped at a recreation center in a Chicago airport at on her way to Iowa. Her papers were looked at by an officer and Naz wondered if she would be sent back to Pakistan.
In this moment where her future was out of her control, Naz said to God, "If you have it written in your book that I will be in the United States nobody can stop me. And if you're ready and I have to be back home, you have a plan over there for me."
After her papers were checked, Naz continued her trip back to Iowa. She believes God was with her in that moment and it was His will to keep her here, so she became a citizen.
She currently doesn't have blood relatives in town, but Naz connects with her family and her roots by making food, dressing up and dancing with friends and writing poetry.
"Sometimes I feel like remembering my past, my country or my parents or my friends and then I feel like inside, 'Oh I am so away from them'," Naz said. "So then I say, 'Ok maybe I'm away from them, but I can write down something that could go in my books and remind me about them'."
In the future Naz would like to publish a book of poems. Of course, she would dedicate it to the most influential woman in her life, her mother.
Infographs by Natalie Dunlap
Leave a Comment
Donate to West Side Story
Your donation will support the student journalists of West High School. Your contribution will allow us to purchase Scholarship Yearbooks, newsroom equipment and cover our annual website hosting costs.
About the Writer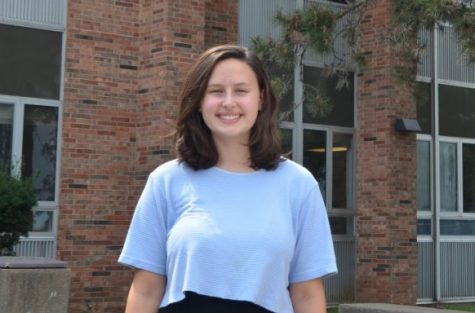 Natalie Dunlap, Online Editor-in-Chief
Natalie Dunlap is a senior and the Online Editor-in-Chief for the West Side Story. She is also involved in theatre and West High Democrats. When she's...