Bonding over the bonfire
On Oct. 24 English Language Learner students and teachers participated in American fall activities at a get together in the park.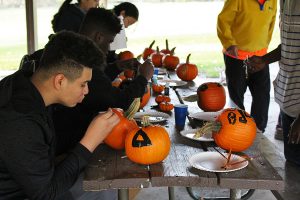 Pumpkins, paint supplies, marshmallows, graham crackers and chocolate occupied the tables under the pavilion at Willow Creek Park. On Wednesday, Oct. 24 English Language Learner (ELL) students and teachers gathered at  the park to bond over roasting marshmallows and painting pumpkins. Victor, a black lab service dog, joined in on the fun as he romped around the field, playing fetch with any student that would pick up his slobbery tennis ball.
This was the second year in a row that ELL teachers organized the fall event for students who have come to Iowa from all over the world. The goal is for students feel closer to each other and the school while enjoying American activities.
Jessica St. John, a new ELL teacher at West said, "[The ELL students] all very involved or like to be involved as much as they can. They just like to have fun so it's good to provide them opportunities for that."
Teachers and students enjoyed spending time together outside of school. The students have a variety of schedules so they might only see each other for one class period a day. ELL teacher Chelsey Parrott said seeing students interact with each other was the highlight of the event.
Rody Gessner, ELL paraeducator and designated fire-starter of the day said his favorite part is "seeing the smiles on the faces of kids who have probably never had smores before" and when Zheyi Li '22, a student from China was asked her favorite part, she echoed Gessner's sentiment, holding up the treat she had just finished creating, she said, "Eating this."