Behind the new AP
Registration for AP exams underwent many changes this year at West, including an earlier deadline and a changed method of enrolling.
A new year at school typically yields an innumerable amount of changes. This school year was no different. The cafeteria received a lavish makeover, new exercise facilities were constructed, new school wide policies were formed–you name it. One modification that was sure to surprise students the most, however, is the new curriculum for Advanced Placement (AP) exam registration.
At the start of the school year, it was announced that registration for AP tests would occur in October, four months prior to the usual February registration deadline.
The process of signing up for AP exams this year also differed from the past. Instead of turning in a physical form to satisfy testing needs, all registration and payment was required to take place online. Students were directed to the College Board MyAP website, where they would create accounts or log in to previous accounts depending on whether they had prior experience with testing composed by the College Board. After locating the website, any students taking an AP class would go to each of their classes in turn and indicate their testing plans. Lastly, payments would take place on an external website where registrations would be finalized.
The beginnings of the modified curriculum span back to over one year ago. West High, City High and Liberty High were handpicked by the College Board to become three of several hundred pilot schools in the United States to test out their new annual ordering process, which College Board believed would make AP registration easier than ever before.
Predicted benefits from making registration earlier and registering online were streamlined exam ordering, the elimination of pre-administration and increased student engagement throughout the course.
In order to ensure that everything went as smoothly as possible at West, the school's guidance counselors underwent several months of training starting in May of this year so that they could become special coordinators to oversee the program in the fall.
"Since last Spring, AP has provided AP Coordinators such as myself numerous webinars and resources to ensure we had all of the tools and information we needed to successfully implement this new change," said counselor Kelly Bergmann.
After their training, the counselors held conferences where they affirmed that all teachers instructing an AP class knew the processes that had to be done and could pass the information on to their students.
"I held a series of meetings with all AP teachers to ensure they also had the information they needed to help all AP students," Bergmann said. "Not only in order to follow all of the steps to order exams, but so they could help students make informed decisions about taking the AP exam."
The changes initially stirred apprehension in the minds of several AP teachers. AP European History teacher Dominic Iannone was one of those who anticipated faults in the program.
"I was concerned it might negatively affect the number of students that chose to take the test," Iannone said. "October is a tricky time, particularly for sophomores, many of whom are taking their first AP class. We are still at a pretty early stage in the curriculum, and many of them haven't yet developed a full confidence that they will be ready for the test in May."
When registration began, Iannone found his sense of foreboding confirmed. One inconvenience was the logistics that had to take place in having everyone become up-to-date with exam registration.
"Getting everyone registered required getting them signed into the system, and there were some complications involved with that," Iannone said. "It required several rounds of following up with students to make sure that everyone was registered in the system."
Stacey Noble, who teaches AP Government, was also concerned because of the shorter timetable that was enacted.
"I had concerns about the timeline, as it does ask students to make a decision about taking the test very early in the year," Noble said. "While a majority of the students who take our AP courses do tend to take the tests, the move in registration is certainly more beneficial to the company than it is to the consumers."
Even though reactions to the landing for the new curriculum were varied among the AP teacher and student population, Bergmann says the shift was successful as a whole.
"Given it was a major change, we had relatively few issues total," Bergmann said. "Most students could either access their existing CollegeBoard Account or had no issues creating one. Once they were in their account, teachers were able to help students join the class and order their exam. We only had to track down a handful of students to submit after the deadline."
"
It is a change, but that's the way things go. Over time, issues will be ironed-out and any controversy involved in the shift will be forgotten."
— Dominic Iannone
Now over a month after registration started, people have began adopting less critical attitudes towards the new program and have accepted it as the new norm for AP testing.
"The new system did not, as I initially feared, have a significant effect on the number of students who decided to take the AP test," Iannone said. "It is a change, but that's the way things go. Over time, issues will be ironed-out and any controversy involved in the shift will be forgotten."
Leave a Comment
Donate to West Side Story
Your donation will support the student journalists of West High School. Your contribution will allow us to purchase Scholarship Yearbooks, newsroom equipment and cover our annual website hosting costs.
About the Writer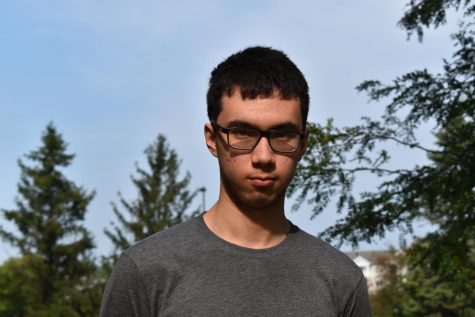 Edward Keen, Arts Editor
Edward Keen is a senior and this is his second year on staff, where he is Arts Editor. In his free time, he enjoys reading.