Parent perspectives
Athletes attend weekly practices, out of town games and team bonding, but this is only a fraction of what it takes to be an athlete. Behind every athlete is a dedicated support network of parents that are always working to help their kids better their skills.
The stands are filled with cheering fans decked out in green, gold and the student section theme for the night. The illuminated scoreboard shows that you are down in the last quarter. It's hard for you and the team to stay positive when the game isn't going your way. You look back into the stands before the next play starts and see a face you know is full of support despite the score. Even if they know you are discouraged, they smile and cheer you on. For a small section of the stands, the most important thing is watching you play.
For Rylee Goodfellow '21, having her parents attend every volleyball, basketball, softball and golf competition of hers means always having someone cheering and supporting her despite her performance.
"Even if I'm having a bad game or I'm not hitting well, I look at them and they always have a smile so they are encouraging me and or they'll just give me weird looks and make me laugh," Rylee said.
Parents may not be attending two-or three-hour practices five times a week, but they are still an integral part of the process. Whether it's traveling to games, taking tickets or simply doing extra loads of laundry, the parents of West athletes are as committed to the process as their children. Raising an athlete doesn't come without a time commitment of their own.
For Denise, having her son Alex Boxwell '19 on the varsity football team means almost three months of Friday nights spent at the football field, which brings changes to day-to-day life.
"You're really committed for the next ten-to-twelve weeks," Denise said. "Your life is kind of on hold. You don't really clean your house as thoroughly as you did before because you're kind of on the go. … You're doing laundry late at night trying to get his stuff clean for the next morning and it just alters your lifestyle for a good three months. … First you think, 'Oh God ten-to-twelve weeks' now you think, 'Wow, that was fast.'"
With most sports spanning about three or four months, typically with two games per week, the parents become a close-knit community. By watching each other's kids grow over the years and having shared experiences of tournaments and travels, the parents grow just as close as the children do with their teammates.
"Since these kids have been together for so long, we have such a long history with the families. We traveled a lot with them, so we were in hotels and lobbies and dinners and washing uniforms in laundry rooms at hotels together," Denise said. "We really just spent more time with them and that's what was a unique thing about the group. It brought the kids together as well as the parents."
Beth Hochstedler's daughter, Kennedy Hochstedler '19, has been an athlete since she was a kid. After trying out various sports, Kennedy is now involved in year-round soccer with both West and club teams. For Beth, soccer season means a lot of cheering, traveling and fundraising. She has also met parents, both of other West athletes and from schools around the district.
"You look forward to the season coming up so that you can see everyone because sometimes you don't get to see them as much when it's off season," Beth sad. "It's a great time to reconnect."
Mary Goodfellow was always supportive about the amount of time her youngest daughter, Rylee, was spending in athletics. Mary's philosophy is "the busier they are, the better they do in everything."
Rylee is currently involved in four sports through school and plays on a club softball team as well. This commitment means Rylee is in season for roughly 75 percent of a calendar year. Her mom's desire to have her stay busy has helped her focus on athletics and improve over the years.
"If they didn't come to any games or talk about practices after I don't think I would have stayed involved in all four sports, but them encouraging me to do all four and stay involved has really helped my mentality," Rylee said. "They like it that I'm in these sports and it's good for me. … They are always like, 'We don't want you coming home and sitting on the couch all night.'"
"
If they didn't come to any games … I don't think I would have stayed involved in all four sports."
— Rylee Goodfellow '21
Being the girl's golf head coach at West means Mary has to balance her commitment to the golf team with her commitment to Rylee, including playing both mom and coach to Rylee during the golf season. This includes talking to the softball coach for Rylee when softball and golf schedules overlap.
Although a lot of time is spent in athletic environments, Mary loves the competitive setting. With so much of the family's time being spent in athletics, it makes it easy for Mary to be involved in Rylee's growth as an athlete.
"She'll think she did terrible and I'm always like 'No you didn't, remember that pass? Remember that assist?'" Mary said. "I like to focus on the positives, she kind of still tries to dwell on the negatives."
"
Since these kids have been together for so long, we have such a long history with the families."
— Denise Boxwell, mother of Alex Boxwell '19
Parents are one of the biggest motivators for an athlete. They are the people who accompany their kids through the changing climates of sports, from Tiny Tots to high school; they motivate their kids to stay in sports and overall help guide athletes to an athletic career they enjoy.
Denise always made sure that no matter what, either her or her husband, Brian, would attend Alex's practices as he was growing up. They wanted to be there to watch him play, grow and help him if needed. Their constant presence at practice was one way of motivation, but they also made sure to be involved in their kids decisions for choosing which sports they would partake in.
"We told the kids when they were little 'You are welcome to try anything and everything you want to, but once you start, you will finish. You're committed. The team is counting on you. Even if you are miserable you are going to make the best of it," Denise said. "So they knew whatever they started they had to finish. We wouldn't let them just up and quit mid season and leave their teammates hanging."
Parents of athletes are often just as dedicated to the athletic program as their children are. For them, the easiest way to support the entire team is by attending games, even if they may be the only ones in the stands.
"The kids always knew what parents were there," Denise said. "Even up until the last game of the year Alex always looked up into the stands to see where we were and if we were watching or socializing or not paying attention to him or whatever. I think it meant a lot to him to be there, and we wouldn't have missed it."
Leave a Comment
Donate to West Side Story
Your donation will support the student journalists of West High School. Your contribution will allow us to purchase Scholarship Yearbooks, newsroom equipment and cover our annual website hosting costs.
About the Contributor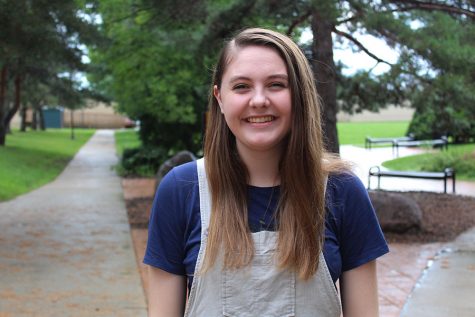 Sophie Stephens, Online Managing Editor
Sophie Stephens is a senior at West; this is her second year on staff and her second year as an editor. She is the managing editor for the website and...