High school student goes to American Idol Hollywood Week and releases EP album
Student Abbie Callahan '20 has just done what few other high school students have done – sing on the national TV show American Idol and release her first album. WSS reporter sits down with Abbie to discuss how the process has changed her as a performer.
Just after Abbie Callahan '20 let everyone know that she had auditioned for American Idol in front of judges Katy Perry, Lionel Richie and Luke Bryan, she announced that she had won the shiny gold ticket.
During her audition, she sang 'Maneater' by Hall & Oates and 'IDGAF' by Dua Lipa. She remembered only bits and pieces of what the judges said, as the experience felt like a whirlwind to her. Lionel Richie said that she had a confident walk coming in, Katy Perry said that her guitar playing was good, and Luke Bryan said that there was something in the Iowa corn with all the talent after the season one winner Maddie Poppe came from Iowa.
When she was given the golden ticket, she burst into tears and got the opportunity to hug the judges, as well as move on to the Hollywood Round with about 200 others who passed the gold ticket round.
WSS reporter Jenna Wang '20 had the opportunity to sit down with her to talk about her American Idol experience.
—————
West Side Story (WSS): What was your favorite moment of the entire experience?
Abbie Callahan (AC): Seeing my family for the first time after receiving my gold ticket to Hollywood was probably the best feeling in the world. I was so overcome with gratitude and excitement, I just wanted to be with the people who have supported me the most thought out not only my music career but my life.
WSS: Tell me about the Hollywood experience and how it was. Lines of 10, group experience, after that?
AC: It all feels like a dream looking back at it. The whole experience was absolutely incredible. I would take Hollywood week over a beach vacation any day. When you get to Hollywood there about 175 contestants. There are two days of the Lines of 10 round — I was on the first day and I was in the second row of 10. Everyone was singing and then we all stepped onto stage they told you to either step forward or stay where you where. They told me to step forward along with six other contestants. They said,"front row you are moving through to the next round, back row you will be leaving us." The seven of us bolted through the theater doors and there were screams of happiness. The rest the day was filled with interviews and because I'm a minor I had to go to school as it is a requirement in the state of California. 98 contestants made it to the group rounds. Group rounds started the next night after the minors went to school. I was originally in an all girls group with three other girls but one of the contestants got a little bit controlling when it came to the song choice and how to sing it so when two singers came out and said that they needed one more singer to be a group, I volunteered immediately and we ended up working so well together. We ended up working until about 2 AM so we named ourselves the "2AM Icons." [The producers] gave us a list of songs to choose from and we chose "Grenade" by Bruno Mars. We got 30 minutes to work with a vocal coach and then we were on our own. We nailed our choreography and harmonies in front of the judges and were so happy with our performance. I'm so happy that I got to work with them.
WSS: What did you sing for Hollywood week?
AC: For the Lines of 10 round of Hollywood Week, I sang "Piece by Piece" by Kelly Clarkson. The song is to beautiful and a topic I could really relate to. So, I was able showcase a more vine table side of me. For group rounds I sang "Grande" by Bruno Mars who I have always looked up to as an artist. He really inspires me with his stage presence.
WSS: Was the process stressful?
AC: It was without a doubt the most stressful week of my life. Getting four hours of sleep was a blessing. The week was go go go, no breaks, no mistakes. I had my dream on the line and I was up against like-minded, best of the best, musicians.
WSS: What's the next step for you after American Idol?
AC: My next step in my music career is to release an EP called "Me and My Music" after my Instagram handle when I started my career. It has five songs on it and I just released my single "One of a Kind" and it's available on iTunes now and will be on Spotify and other streaming services at the end of the month. I also plan to go to Belmont University in Nashville, Tennessee to study songwriting and music business. And you never know, I might go back to American Idol or go back to The Voice.
WSS: What's one takeaway you learned from the experience?
AC: From this experience I truly learned who I am as an artist and learned how to express that and be different from other people. I know exactly the path I want to go down with music and that's a pop sound with a folky vibe to it and a bunch of experimenting. I think that's the best way to keep it interesting and always have fun with my music. I learned that these shows are very political about finding talent but they also are a great platform to share your music on and get recognized by the public eye.
—————
Abbie was not aired on American Idol, but was in short clips. She made the Top 90 out of more than 100,000 contestants and was cut before Hollywood Week Solo Rounds. You can find more of her experience in the photo album and the links below.
What she sang for her Golden Ticket round: https://www.youtube.com/watch?v=p8lVEaMcJgU
Her website: https://meandmymusic.co/music
Instagram: https://www.instagram.com/iamabbiecallahan/
Spotify: Me and My Music (Album Title)
Leave a Comment
Donate to West Side Story
Your donation will support the student journalists of West High School. Your contribution will allow us to purchase Scholarship Yearbooks, newsroom equipment and cover our annual website hosting costs.
About the Contributor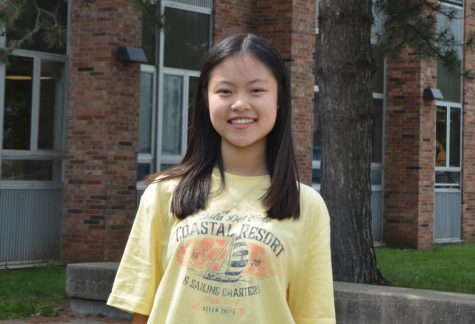 Jenna Wang, Editorial Editor
Jenna Wang is a senior at West High. It is her third year on staff and she is the Editorial Editor, Co-Copy Editor and a reporter for the print publication....