WSS reporter moves to blind audition round of "The Voice"
Abbie Callahan '20 gets the opportunity of a lifetime amidst California lights.
13 million people around the country crowd around their TVs Monday and Tuesday night to witness who will thrive on "The Voice". Abbie Callahan '20 may be one of them.
It all began when Callahan submitted a video last winter of her performing "What's Up?" by 4 Non Blondes. Then she was called back and moved on to the next round. For that, she went to Chicago to audition in person.
"… I waited to hear back [about that], and during spring break I found out that I moved on to [a round in Hollywood]," she said. "There was psychological testing, interviews and [another] audition…. After that I waited some more, and in May I found out … I had the opportunity to live in Hollywood for a month to prepare my blind audition."
(Abbie Callahan)
A lot more work goes into the blind audition process than what the show may make you think. Callahan met with a vocal coach and stage coach to assist her in making her performance the best it could be, a cover of judge Miley Cyrus's "Malibu." Although she didn't choose the song, that wasn't the point of the process. "That day was all about getting in the right head space to make it my best performance," she remarked. "We got to run the song on stage about a week before our blind audition so I knew what to expect…."
A platform that helped Callahan before she stepped on that famous stage was Instagram, where she's been posting a variety of song covers for two years @me_and_my_music.
"Instagram has helped me meet so many new people, and I'm so grateful for it," Callahan said. "Also, looking back on my first videos, I was so stiff and I've grown a lot in that aspect. Now I have some facial expression and [am] not afraid to move in my videos."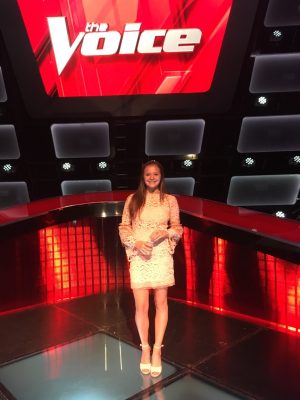 Sometimes, Callahan even features original songs she composed herself on her social media. Back in April, she uploaded one to her YouTube channel, AbbieCallahanCovers, called "Mother of Two," a tender and heartbreaking song. However, she has a unique way of going about writing songs like that.
"I don't really have a songwriting process," she admitted. "When a song comes to me, that's when I write. I need about two hours to mess around with the lyrics and chords. It's a really free process [for me] personally, but it's really different for everyone."
And even with that process, Callahan has always felt like her truest self when performing.
"I feel like [it's] where I belong," she said. "My favorite part…is getting to make people feel something: happiness, passion or [a reminder] of someone. It makes me feel like I'm performing with … good energy."
Callahan thanks "The Voice" for getting her there. "I … learned what it truly means to perform; it's not just about singing, there is so much more behind it," she said.
"
I … learned what it truly means to perform; it's not just about singing, there is so much more behind it.
— Abbie Callahan '20
Although Callahan's blind audition hasn't been confirmed to air, there's only one way to find out if it will. Tune in tomorrow or Tuesday night at 7 p.m. to see if her performance will be featured.
(Abbie Callahan)