Please stop extending Gary Barta
Jack Harris '22 explains why Gary Barta shouldn't be the University of Iowa AD
Gary Barta was hired as the new athletic director (AD) for the University of Iowa on Aug. 1, 2006. On Aug. 7, 2019 the University gave him a $3.35 million extension to keep him at the University until at least 2024. Why the University would do this is incomprehensible, considering that you can make a very strong argument that the last good decision Barta made was on March 22, 2007 when he fired infamous basketball coach Steve Alford. Since that day, Barta has waged war on the concepts of logic, accountability, and basic human decency.
"
In the eyes of many fans, he became a villain who didn't care about right or wrong
— Jack Harris '22
The most troubling part about the recent extension is that it's Barta's first extension since two lawsuits that cost the University a combined $6.5 million, although the nature of these lawsuits might be even worse than the price tag. Barta fired four-time Big Ten champion field hockey coach Tracey Griesbaum. Months later, Barta also fired senior associate athletic director Jane Meyer, who was also Griesbaum's partner, for speaking out against the firing. Barta claimed the firing of Griesbaum was because of allegations of her verbally abusing players, even though an internal investigation a few weeks earlier had proven that nothing of that sort occurred. Several of Griesbaum's players and Meyer complained about the firing, saying there was no reason for it. As a result Barta fired Meyer. Both Meyer and Greisbaum filed civil lawsuits, and a jury unanimously decided that Meyer was discriminated against based on her gender, sexual orientation and for speaking out about not making as much as male colleagues. The University eventually settled with Griesbaum out of court. At no point did Barta show a sliver of regret or shame and many people nationwide called for his firing.
The Greisbaum-Meyer debacle wasn't even Barta's first major scandal. In 2007, Barta covered up the sexual assault of a female student by two football players. The very next day Barta and the University met with the student and her father telling them that there would be immediate and severe punishment for the players if the University was allowed to handle the incident internally. The University's "action" was to do nothing. Both players continued to verbally harass the victim and one of the players moved into the dorm room three doors down from the victim. The student's family was outraged by this and proceeded to report the incident to the police. Chaos ensued internally, with some expecting the UI president, Barta, the assistant AD and the head football coach to get fired. But Barta was able to convince the independent investigation that a non-athletics dean and an attorney were at fault. This dramatically changed the way he was seen at the University. In the eyes of many fans, he became a villain who didn't care about right or wrong, but to then University President Sally Mason, Barta was the one who had saved her job.
"
Barta has waged war on the concepts of logic, accountability, and basic human decency
— Jack Harris '22
Barta has had several major scandals, but let's say the University's main concern is success, and they're willing to put up with Barta's shortcomings if it brings said success. Even then, they should still replace him. By any measure of success the Hawkeyes have been awful under Barta. Since his hiring in 2006 the Hawkeyes have only won 8 Big Ten championships across their 24 sports, 4 of which came from wrestling. According to the NACDA Directors Cup, an annual national ranking of every university's athletic success, Iowa has only finished in the top nine of the Big Ten twice in Barta's entire 13 year tenure, and have overall been 2nd worst in those 13 years. Iowa has also finished last in the NACDA's Big Ten rankings 6 times under Barta. Even when it comes to wrestling, Iowa's best sport, the Hawkeyes have begun to lag behind, being overtaken by rival schools Ohio State and Penn State.
Arguably the worst part of Barta's tenure is how far they've fallen under him. Barta was hired after the former athletic director, Bob Bowlsby, left to take the same job at Stanford. Bowlsby was the AD at Iowa for 16 years, three more than Barta. During those 16 years Iowa won 9 national championships, 36 Big Ten championships, and had an average place of 6th in the NACDA Big Ten rankings. Instead of achieving greatness, Barta has shown complete ignorance towards his job, and it often seems like he neglects to use logic when it comes to making important decisions, such as giving a 61 year-old coach a 10 year extension and trying to cover up the hospitalization of 13 football players after excessive offseason workouts.
Barta seems to be incapable of change. He's had several major scandals and hasn't succeeded in his job as an AD. The University has wasted years and millions of dollars putting their faith in Barta. How does the University undo all the damage he has caused? Fire him. Now. Or at the very least stop extending him.
View Comments(1)
Donate to West Side Story
Your donation will support the student journalists of West High School. Your contribution will allow us to purchase Scholarship Yearbooks, newsroom equipment and cover our annual website hosting costs.
About the Writer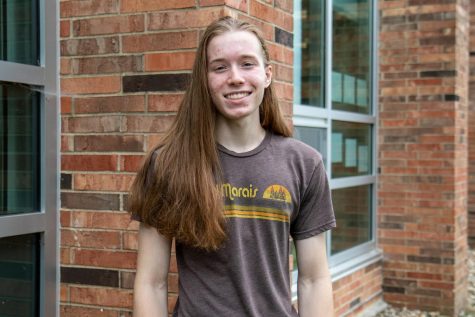 Jack Harris, Online Copy Editor and Arts Editor
(he/him) Jack is the online copy editor & arts editor for WSS. He's a senior at west and is also involved in the west high Orchestra as a cellist....